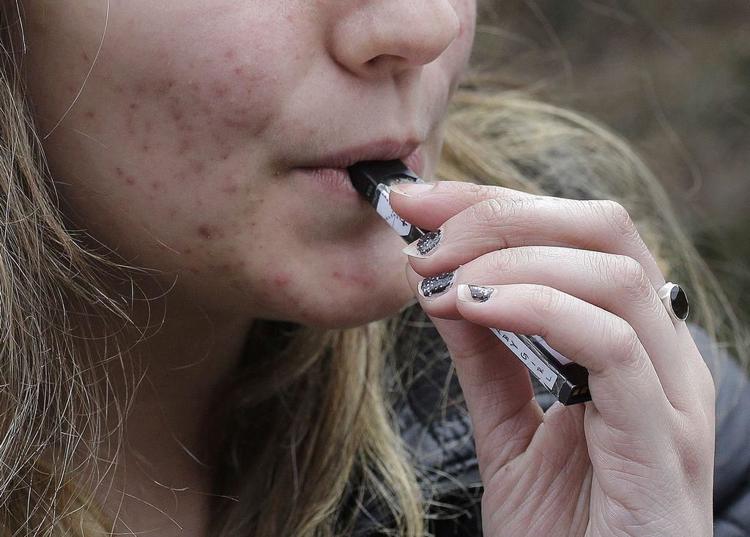 Whether or not you smoke cigarettes or support legalizing marijuana, you probably don't want your kids lighting up. But the rise of e-cigs vaporizers like the Juul, and decriminalized pot may make your standard anti-smoking arguments — "it causes cancer," "it's illegal" — feel a little shaky. Add in celebrities posting pictures of themselves smoking various substances, and you might wonder: Is it possible to raise drug-free, smoke-free kids in the era of Smoking 2.0? Yes, but it helps to have a little ammunition.
Vaping is an especially tough one, because kids encounter tons of information about it online. According to a November 2019 survey conducted by Common Sense Media and SurveyMonkey:
Vaping is popular among teens, and it's happening regularly at school. One-third of teens (33%) say they see classmates vaping in school a few times a week or daily. More than half (54%) say they see it monthly. Nearly eight in 10 (78%) say vaping is popular among people their age where they live.
Most teens think vaping is as harmful as smoking. Just over half of teens (52%) say vaping is "about as harmful as smoking," while 31% say it's more harmful and 17% say it's less harmful. Among those teens who say vaping is less harmful than smoking, 43% say they've gotten messages online telling them that "vaping is healthier than smoking cigarettes."
One in four teens first learned about vaping on social media. A plurality of teens (44%) say they first learned or heard about vaping from someone they know, while 23% first heard about it on social media, 9% from TV or a movie, and less than that from outdoor ads, in a store, on a website, on the radio, or on a podcast.
Vaping is common in teens' social media experiences. When thinking about their typical experience using social media, 59% of teens say they're likely to see a post that mentions or shows vaping.
If you're feeling outspent, out-messaged, and out-cooled, take heart. There are plenty of ways to fight back. Here's how to help your kids resist the marketing of traditional cigarettes, vaporizers, e-cigs, and pot.