KETCHUM — Most photographers don't walk for days in avalanche terrain to get a shot, but Jeffrey Lubeck makes a habit out of long-distance touring to snap a peak in perfect light at the ideal moment.
"I'm always looking for scenes people can identify with but can't capture," Lubeck said. "I want them to see those images in an extraordinary manner."
The photographer and mountaineer regularly plans his shoots a year out, then pursues them on foot over three to seven days in the backcountry. On Saturday, alongside his son and business partner, Kyle Lubeck, the artist welcomed the public into MESH Gallery at Heritage Hall, on Ketchum's iconic town square, to showcase new works of his own, and that of fellow resident artist Ed Cannady for the "Get Ahead of the Holiday Party."
Lubeck also signed copies of his new fine art hardcover book, Capturing the Valley, compiled from four years of backcountry photoshoots.
The Detroit native moved to the mountains from Los Angeles in the early '80s and never looked back. Now 62, Lubeck has forged his own way in the field of photography. With a longstanding background as an ultrarunner, who raced competitively until age 55, the avid outdoorsman treks into his shoots either alone, or alongside Chris and Sara Lundy, professional mountain guides and co-owners of Sawtooth Mountain Guides.
"They are my team," Lubeck said. "They are extraordinary guides who know what I want to accomplish. They aren't guides to me; they are associates because we are distributing the weight evenly."
The trio splits their food, gear and emergency equipment evenly across three packs that range from 40 to 65 pounds and Lubeck compensates his guides at their daily rate.
"They are not making up the tent for me. They are not there for me to appear to take the shot," he said. "They are there to keep me safe and protect me from myself."
Together, they have traversed the Sawtooth Range from east to west and north to south. The range sports 57 peaks with an elevation of over 10,000 feet. What drives Lubeck to haul heavy gear across high-consequence terrain, climb peaks for the perfect light and ski avalanche paths in the backcountry to access his shots?
"Absolute beauty," he said. "I'm dreaming about it and thinking about it all the time."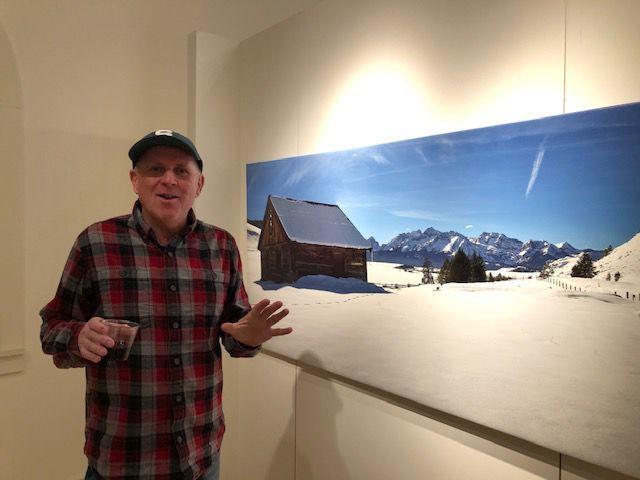 While his work is entirely self-funded and self-supported, he depends on his guides to keep him in check — and he abides by their rules, ranging from water availability to safe avalanche terrain practices.
"If we can't meet the criteria, we have to go down and I am not going to get that shot," he explained. "I'm not the photographer who comes in at the last second, dropped in by helicopter. I like to be in the backcountry, but if you are crossing the Sawtooths, you shouldn't be doing it alone."
On one tour, he had to ski what is known as "Garbage Can," a 62-degree slope with a hidden cliff face beneath it, carrying 50 pounds on his back. While he does not consider himself a thrill-seeker, he is more than fit for the challenge.
"I'd like to tell you I was skiing it beautifully, with a scarf flowing behind me…" Lubeck joked. "Ironically, I do better in the steeps than I do in the flats."
He's captured authentic images of iconic peaks and landmarks across the Sawtooth range including Decker Peak, Finger of Fate, Mystery Peak, McGown Peak, Birthday Cake and Elephants Perch, among others.
He is no stranger to a 33-hour approach for a shot. For a frame of 10,205-foot Snowyside Peak, shot at sunset from the west looking east, Lubeck's team embarked on a four-day expedition — one that involved traversing two drainages and climbing a peak.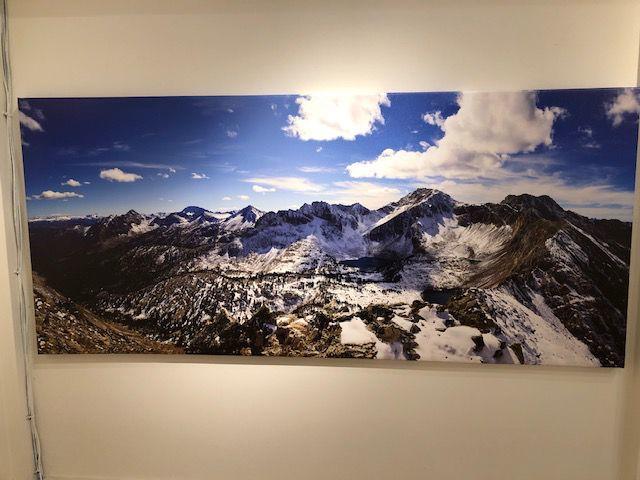 "I'm always working for these shots," he said. "They are hard to get to, but not impossible."
Lubeck doesn't forget to have fun. On his cross-range traverse of the Sawtooths, he and the Lundys brought 5½-pound Alpacka rafts and picnicked on all the lakes.
"We wondered if anyone had ever had lunch floating on some of those lakes before," he said, "We did, day in and day out."
You have free articles remaining.
Inside gallery life
Now a sophisticated, regionally focused modern art gallery, the building that houses Lubeck's artwork was once the oldest place of worship in the valley. Built in 1884, it used to be Ketchum's Catholic church.
In 2014, Lubeck and his son bought the building and the one next to it, but since it housed local tenants, the pair had to wait a couple of years before moving in. They officially opened their doors on the photographer's birthday two and a half years ago.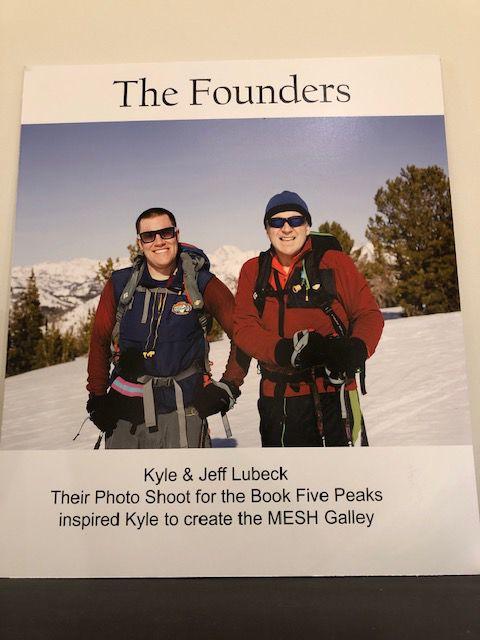 Jeffrey Lubeck credits his son, an equal owner, for not only bringing the business plan forward but also for restoring the building.
"I had a clipboard and safety glasses," Lubeck said. "Everything you see here is his idea. He gets all the credit."
Beyond mountainous landscapes, Lubeck's side passions include equine shoots, on which he partners with Claire Porter, another of the gallery's resident artists. He also loves to track and capture mountain goats in their element.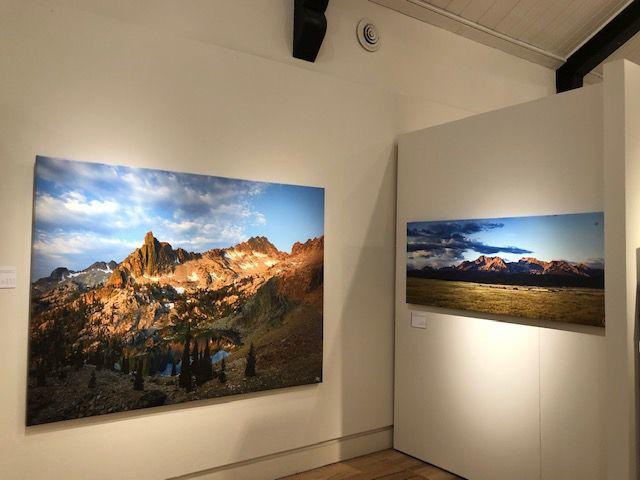 The photographer uses a 16-bit color camera with 256,000 levels of gray and 150-megapixel resolution. The advanced resolution means he doesn't have to do a lot of post-production enhancement.
"I don't have to do a lot of adjustments to make it something that it wasn't," Lubeck said.
Instead, he can focus on conveying the authenticity behind the image, like in his shot of the Woolley Cabin in Clayton — once the home of Dan Woolley until 40 years ago when Walt Mason shot his friend dead in a bar for allegedly having an affair with his wife.
"I've got these popular pieces, and I've got this story behind them, which is the whole point behind all this stuff," Lubeck said.
The nitty-gritty
An accomplished mountaineer, the artist has been witness to minus double digits in frozen terrain. In his camera pack, he carries five lenses, emergency gear, and doubles of everything including headlamps, batteries, knives, gloves and repair kits. He stashes his food and dog food in his camera pack as well.
The team he travels with is savvy. They employ a "mid" or a modular, wind-resistant shelter that serves as a living and cooking space with no floor. In it, they build finely crafted snow benches for insulation and they only use their tents to sleep.
He admits that the long-term planning and preparation — along with backcountry travel in high-consequence terrain — isn't easy.
"I will not deny that it is hard to do it," he said. "You have to have the strength, willingness and discipline to dig that out every night."
Four years ago, Lubeck purchased a cabin at the base of the Sawtooths, where he now spends 40% of his time, plotting his adventures.
"I got it purely to do the photography," he said. "For me, the mountains and the backcountry are it. I am totally dialed in when I am in the backcountry."
The remote abode has made it possible for Lubeck and his team to access high points like the saddle between Thompson Peak, the highest in the range, and Williams Peak in one day — and then ski the entire length of Goat Creek back down.
"I'm not an extreme junkie who has to climb all these peaks," he said. "It's just that I am in extraordinary terrain that is absolutely beautiful and I can live here. In art, you can do whatever you want."