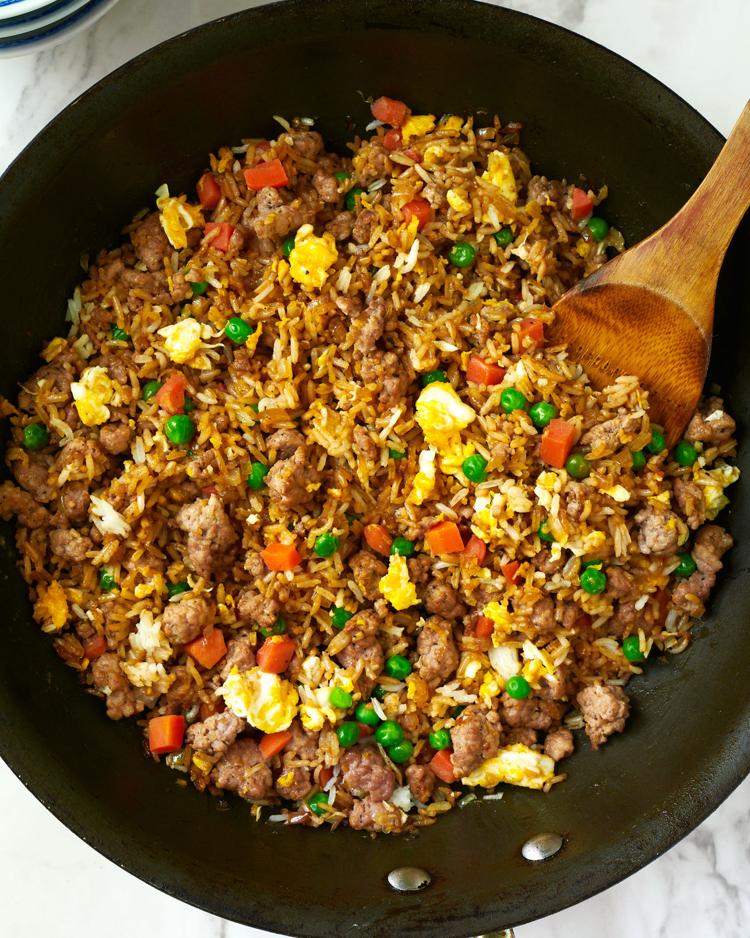 A quick skillet of fried rice is one of the easiest, most satisfying ways to transform leftover rice into a complete meal. Here, we've added crumbles of ground pork, a couple of eggs, and whatever vegetable you've got in the freezer to create a winning dinner the whole family will enjoy.
Cold, cooked rice — either white and brown — is actually a better choice for fried rice than starting with a pot of freshly cooked rice. As the rice sits in the fridge, the grains begin to dry out, which means they're much less likely to stick together or get gummy or soggy when stir-fried. If you notice that the rice is clumped together when you take it out of the fridge, just break it up with a fork or your hands before adding it to the wok or skillet.
Starting with ground pork eliminates any prep work (a lot of pork fried rice recipes call for pork cutlets), while still providing the same savory flavor. With that said, use what you've got; or swap the pork altogether for tempeh, tofu, chicken or shrimp.
Pork Fried Rice
1 small yellow onion
3 tablespoons vegetable oil, divided
2 large eggs
8 ounces ground pork
1 teaspoon kosher salt
1/4 teaspoon freshly ground black pepper
2 cups cold cooked white or brown rice
1/2 cup frozen peas and carrots
2 tablespoons soy sauce or tamari
1 teaspoon toasted sesame oil
1. Dice 1 small yellow onion.
2. Heat 1 tablespoon of the vegetable oil in a wok or large nonstick frying pan over medium-high heat until shimmering. Add 2 large eggs and gently scramble with a rubber spatula until just softly set, 1 to 2 minutes. Transfer to a bowl or plate and set aside.
3. Add the onion, 8 ounces ground pork, 1 teaspoon kosher salt and 1/4 teaspoon black pepper to the pan. Cook, breaking up the meat with a wooden spoon into small pieces, until the pork is cooked through and the onion is tender, about 5 minutes.
4. Add the remaining 2 tablespoons vegetable oil and let heat for a few seconds. Add 2 cups cold cooked rice, 1/2 cup frozen peas and carrots, and 2 tablespoons soy sauce or tamari, and stir-fry until the rice is heated through, 2 to 3 minutes. Return the eggs to the pan. Remove from the heat and stir in 1 teaspoon toasted sesame oil.
Recipe notes: This recipe is best with day-old rice. But if the craving hits and you don't have any prepared rice, you can make fresh rice, spread it out on a sheet pan, and refrigerate to cool. Leftovers will keep in an airtight container in the refrigerator for up to three days.
(Kelli Foster is associate food editor at TheKitchn.com, a nationally known blog for people who love food and home cooking. Submit any comments or questions to editorial@thekitchn.com.)
Satisfy your cravings
With our weekly newsletter packed with the latest in everything food.