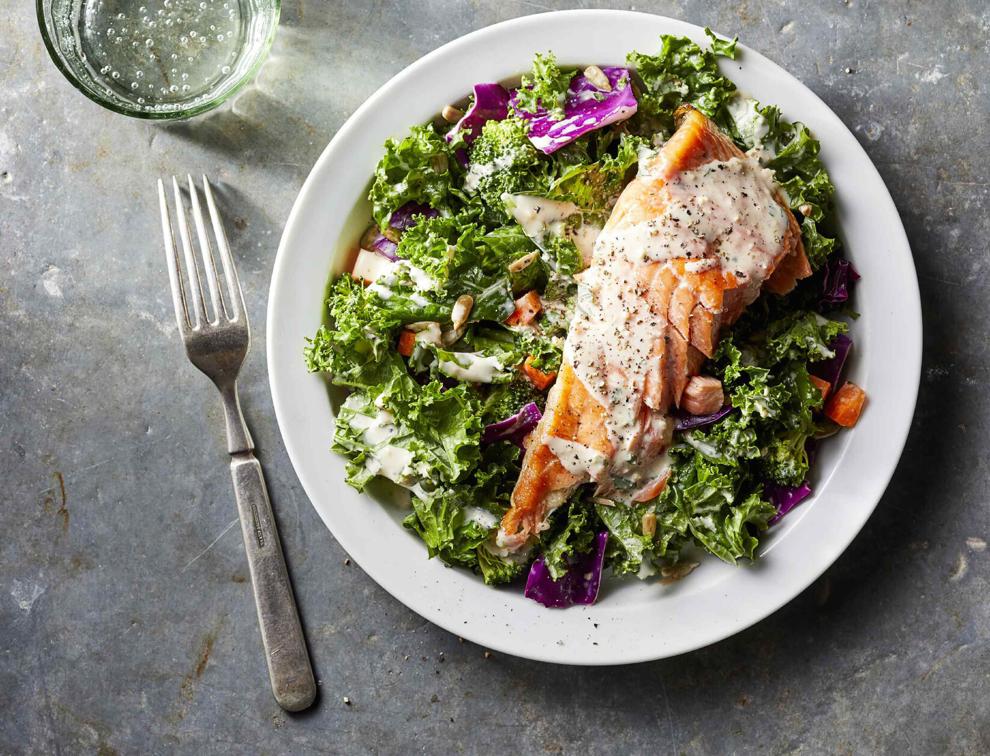 Curly kale forms the base of this salad, but you could use chard or spinach. To the greens, add a multitude of chopped veggies, such as broccoli, cabbage and carrots. Finish with rich salmon for protein and a drizzle of creamy yogurt dressing to bring it all together.
Superfood Chopped Salad with Salmon & Creamy Garlic Dressing
1 pound salmon fillet
1/2 cup low-fat plain yogurt
1/4 cup mayonnaise
2 tablespoons lemon juice
2 tablespoons grated Parmesan cheese
1 tablespoon finely chopped fresh parsley
1 tablespoon snipped fresh chives
2 teaspoons reduced-sodium tamari
1 medium clove garlic, minced
1/4 teaspoon ground pepper
8 cups chopped curly kale
2 cups chopped broccoli
2 cups chopped red cabbage
2 cups finely diced carrots
1/2 cup sunflower seeds, toasted
1. Arrange rack in upper third of oven. Preheat broiler to high. Line a baking sheet with foil.
2. Place salmon on the prepared baking sheet, skin-side down. Broil, rotating the pan from front to back once, until the salmon is opaque in the center, 8 to 12 minutes. Cut into 4 portions.
3. Meanwhile, whisk yogurt, mayonnaise, lemon juice, Parmesan, parsley, chives, tamari, garlic and pepper in a small bowl.
4. Combine kale, broccoli, cabbage, carrots and sunflower seeds in a large bowl. Add 3/4 cup of the dressing and toss to coat. Divide the salad among 4 dinner plates and top each with a piece of salmon and about 1 tablespoon of the remaining dressing.
Recipe nutrition per serving: 409 1/3 Calories, Total Fat: 24 1/5 g, Saturated Fat: 4 1/5 g, Cholesterol: 62 4/5 mg, Carbohydrates: 18 2/3 g, Fiber: 5 4/5 g, Total Sugars: 7 g, Protein: 31 7/8 g, Sodium: 356 2/5 mg, Potassium: 1151 3/5 mg, Iron: 2 2/3 mg, Folate: 145 2/3 mcg, Calcium: 235 2/5 mg, Vitamin A: 10301 7/8 IU, Vitamin C: 109 1/2 mg
(EatingWell is a magazine and website devoted to healthy eating as a way of life. Online at www.eatingwell.com.)
©2020 Eating Well, Inc. Distributed by Tribune Content Agency, LLC.