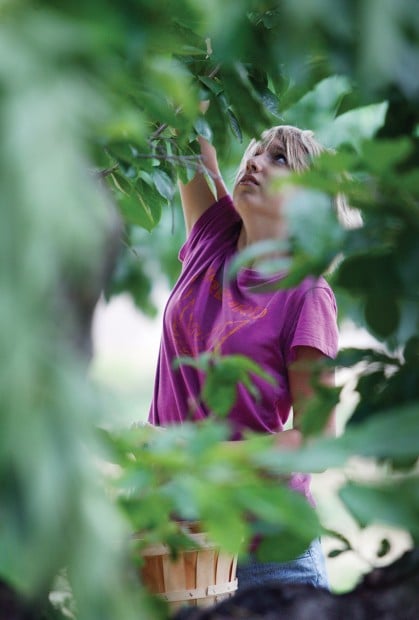 BUHL • Driving along Buhl's River Road, you might notice rows of fruit trees with branches pulled to the ground by the hefty crop that's ripening. Among the trees are people moving ladders or plucking the low-hanging fruit.
Some Magic Valley fruit orchards offer you-pick programs, allowing customers to pick their own produce for a discounted price. With cherries already in season and apricots, peaches, plums, pears and apples ripening in the summer heat, these orchards are now open for business. And customers are pouring the cherries into buckets and baskets by the pound.
"We started doing you-pick in the 1920s," said Richard Kelley of Kelley's Canyon Orchard in Buhl, which has been open since 1908.
The draws to these locally owned orchards are numerous. The fruit is fresher. The experience is a tradition. And the prices can't be beat: Cherries go for about 95 cents per pound.
"We're going for two buckets," said Jacci Dannenhauer, who was picking cherries with her daughter July 14 at Kelley's Canyon Orchard. Jacci used to pick cherries here when she was a child, but this was her daughter Emily's first time. "At first she kind of grumbled coming down here, but I think we are having a good time now," Jacci said. The Dannenhauers had a bucket nearly filled after only 15 minutes.
Last year was a different story.
"We didn't have a crop at all last year," said Lea Stone of Rivers Edge Orchard in Buhl.
Due to a late freeze and high winds in 2010, most Magic Valley orchards didn't have fruit to sell. But this year is a complete turnaround. The wet spring helped trees produce an above-average crop, and orchard owners are boosting their you-pick sales to keep up.
"Growers like you-pick because it keeps the harvesting going even when we can't get out and do it all ourselves," Stone said.
Rivers Edge Orchard allows customers to pick the low-hanging fruit that can be reached without ladders, then orchard workers get to the produce at the treetops. However, Rivers Edge has already sold all of its cherries for the season. It will offer you-pick starting this week for apricots and shortly after for peaches and pears.
Akland Orchard is just opening for the start of its cherry season, with both Bing and Lambert varieties.
"It's only three weeks late," owner Roger Akland said.
The staggered growing seasons at different Magic Valley orchards are great for you-pick customers who want to enjoy local tastes all summer.
"We've been coming for three years," said Robert Orloski of Jerome. On July 14, Robert was at Kelley's Canyon Orchard picking cherries with his wife, Angela, and 6-year-old son, Robert Jr.
"It's a good thing to do as a family," Angela Orloski said. "We usually stay for about an hour."
Abelardo Arteaga brought his 3-year-old daughter, Fatima, and his two sons, Caesar and Anthony, all the way from Paul to Buhl to pick cherries for the first time.
"It's a family thing," Arteaga said. "The kids love it."
One cherry picker told Eva Stutzman that you can easily remove the pits from cherries with a bobby pin so that they are ready to freeze or preserve.
Satisfy your cravings
With our weekly newsletter packed with the latest in everything food.