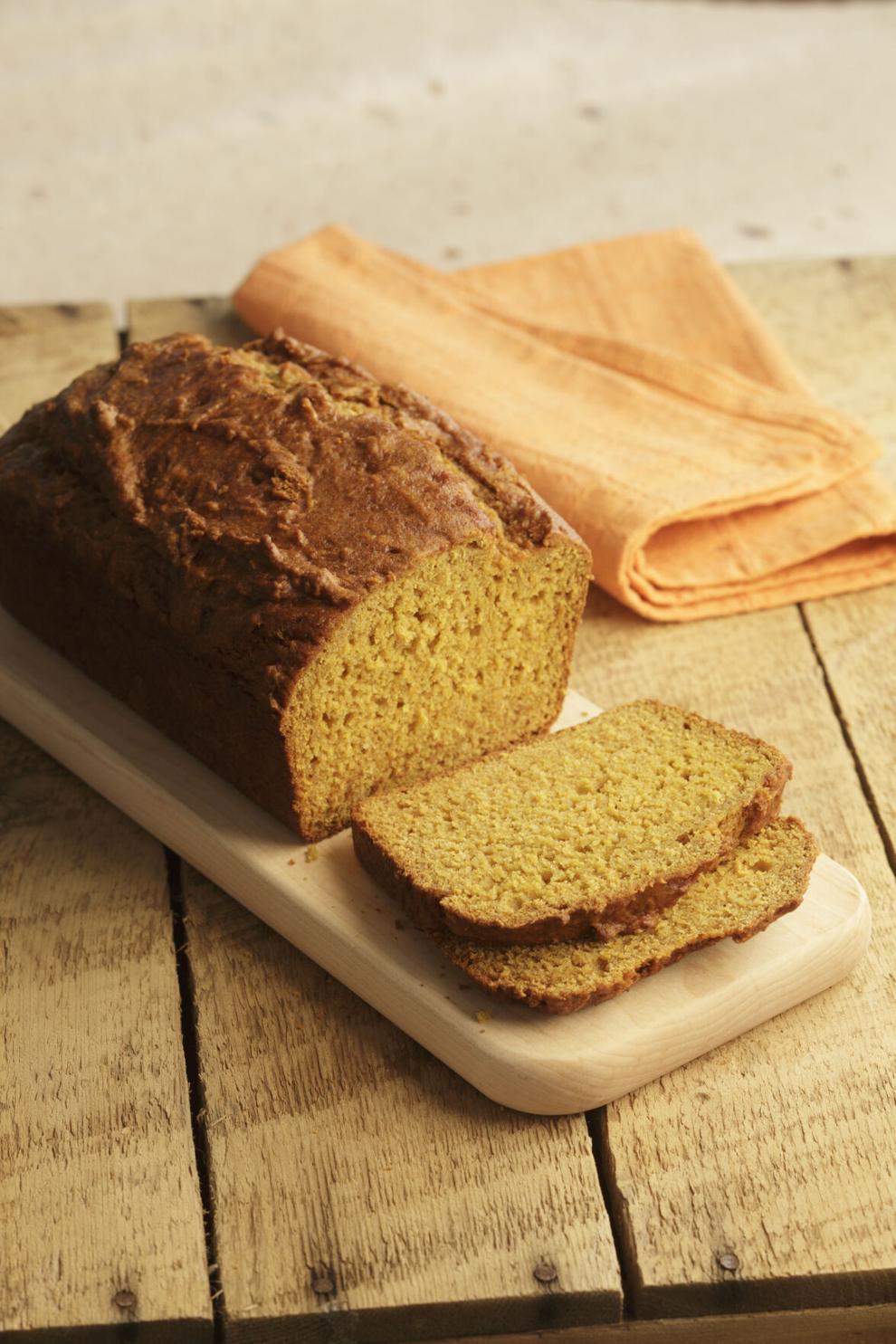 Canned pumpkin puree and whole-wheat flour come together in this healthy homemade pumpkin bread. The canned pumpkin helps keep the bread moist and tender. If you like the flavor of pumpkin pie spice, feel free to add a pinch or two to season the bread.
Pumpkin Bread
Makes 2 loaves, 12 slices each
Total Time: 3 hours (including cooling time)
2 1/2 cups all-purpose flour
2 cups whole-wheat flour, preferably white whole-wheat
1 tablespoon baking powder
2 teaspoons baking soda
2 teaspoons salt
2 large eggs
2 large egg whites
2 cups packed light brown sugar
3 cups canned unseasoned pumpkin puree
1/2 cup canola oil
1. Preheat oven to 350 F. Coat two 9-by-5-inch loaf pans with cooking spray.
2. Stir all-purpose flour, whole-wheat flour, baking powder, baking soda and salt in a large bowl. Whisk eggs, egg whites, brown sugar, pumpkin and oil in another large bowl. Add the pumpkin mixture to the dry ingredients and mix until just combined. Scrape the batter into the prepared pans and smooth the tops.
3. Bake the loaves until the tops are golden brown and a cake tester inserted in the center comes out clean, 50 to 60 minutes. Cool in the pans for 10 minutes. Turn the loaves out onto a wire rack to cool completely.
Try white whole-wheat flour in place of all-purpose flour in baked goods. It's made from hard white wheat berries, which makes it lighter in color and flavor than regular whole-wheat flour, but with the same nutritional properties.
Recipe nutrition per serving: 210 Calories, Total Fat: 5 g, Saturated Fat: 1 g, Cholesterol: 16 mg, Carbohydrates: 38 g, Fiber: 2 g, Total Sugars: 19 g, Added Sugars: 18 g, Protein: 4 g, Sodium: 377 mg, Potassium: 125 mg, Folate: 44 mcg, Calcium: 62 mg
Carbohydrate Servings: 2 1/2
(EatingWell is a magazine and website devoted to healthy eating as a way of life. Online at www.eatingwell.com.)