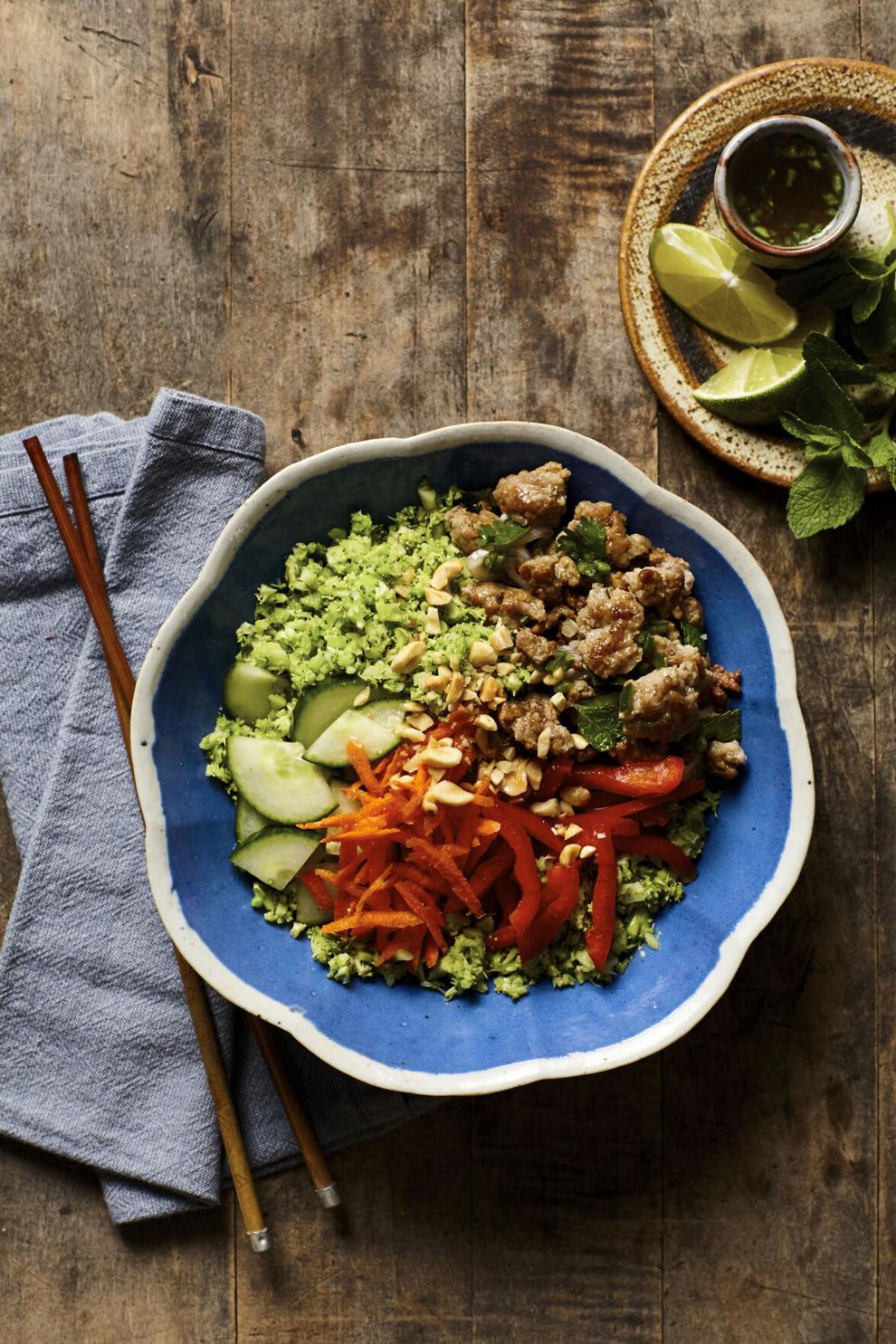 Broccoli gets a whirl in your food processor, with rice-like results, in this healthy dinner recipe. Serve with hot sauce and limes for an extra kick.
Vietnamese Pork & Broccoli "Rice" Bowls
1/2 cup warm water
2 tablespoons packed light brown sugar
1/2 cup fresh lime juice
2 tablespoons rice vinegar
1 tablespoon fish sauce
1 to 2 tablespoons minced serrano or jalapeno pepper
1 pound broccoli with stems (not crowns)
2 tablespoons peanut oil, divided
1/2 teaspoon kosher salt, divided
1 pound lean ground pork
1 tablespoon chopped garlic
1 tablespoon chopped fresh ginger
1/4 cup chopped fresh cilantro and/or mint
1/4 cup thinly sliced shallot
1 cup julienned red bell pepper
1 cup grated carrot
1 cup diced English cucumber
1/2 cup coarsely chopped unsalted roasted peanuts
1. Combine water and brown sugar in a bowl; stir until the sugar dissolves. Add lime juice, vinegar, fish sauce and chile pepper to taste. Set aside.
2. Peel the broccoli stems. Coarsely chop all the broccoli. Pulse in a food processor into rice-size pieces.
2. Heat 1 tablespoon oil in a large nonstick skillet over medium-high heat. Add the broccoli "rice" and 1/4 teaspoon salt. Cook, stirring occasionally, until softened, 4 to 6 minutes. Divide among 4 bowls; cover to keep warm.
3. Wipe out the pan. Add the remaining 1 tablespoon oil and pork and cook over medium-high heat, stirring and breaking up, until browned, 3 to 5 minutes. Stir in garlic, ginger and the remaining 1/4 teaspoon salt. Cook for 1 minute. Remove from heat. Stir in herbs, shallot and 1/2 cup of the reserved sauce.
4. To serve, top each bowl of broccoli rice with equal portions of the pork mixture, bell pepper, carrot, cucumber and peanuts. Serve with the remaining sauce.
Recipe nutrition per serving: 422 Calories, Total Fat: 23 g, Saturated Fat: 5 g, Cholesterol: 66 mg, Carbohydrates: 30 g, Fiber: 7 g, Total Sugars: 13 g, Added Sugars: 7 g, Protein: 32 g, Sodium: 700 mg, Potassium: 998 mg, Folate: 120 mcg, Calcium: 123 mg
EatingWell is a magazine and website devoted to healthy eating as a way of life. Online at www.eatingwell.com.