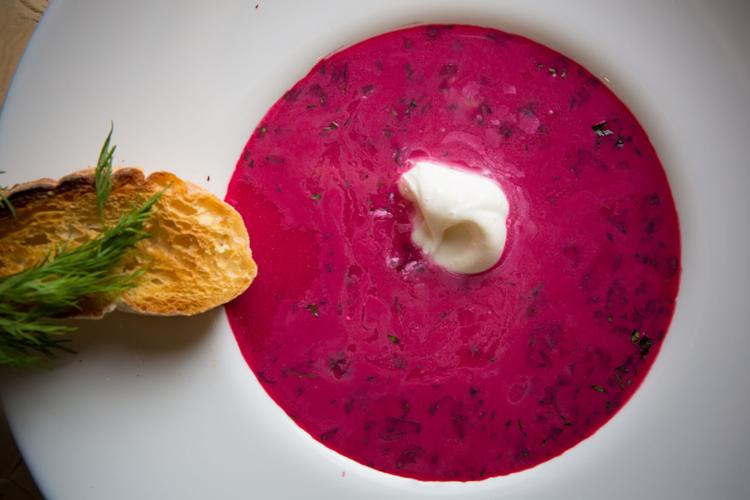 Cold beet borscht, one of my favorite summer soups, is an Eastern European classic, but it has been a staple in many American kitchens for years. The following recipe is a far cry from the bottled borscht I grew up on, which was just shredded beets with beet juice in a bottle. This version elevates that basic soup with vegetables and fragrant dill weed. Sweet julienned carrot and refreshing cucumber added just before serving give it extra crunch.
There are additional embellishments you can add depending upon your tastes. Chopped or sliced radishes and cooked egg add a pretty and colorful look. Sometimes I blend half the amount of the sour cream into the soup with a whisk or an immersion blender, which gives the soup a rosy color. Any way you decide to serve this, accompany the soup with slices of your favorite whole grain bread and butter.
This is a lovely lunch entree or a first course for a more elaborate dinner. I like to serve the soup in oversized glass balloon goblets for a dramatic presentation. You can also serve this in shallow white soup plates for an elegant look.
Cold Beet Borscht with Carrots, Cucumbers, and Sour Cream
Recipe notes: When peeling the beets, use disposable plastic gloves and place the beets on a foil lined board so you don't discolor the board or your hands when cutting them.
2 pounds beets, well-scrubbed and trimmed with roots and 1/2 inch of the stems attached
2 quarts chicken stock
1 1/2 cups dry white wine
1 tablespoon plus 1 teaspoon sugar
2 medium carrots, peeled and julienned
2 medium cucumbers, peeled, seeded, and julienned
2 tablespoons finely chopped fresh dill
2 tablespoons fresh lemon juice
2 tablespoons red wine vinegar
Salt
Freshly ground black pepper
1 cup sour cream
2 tablespoons finely chopped fresh dill
1. In a large nonaluminum soup pot, combine the beets, chicken stock, white wine and sugar. Bring to a boil over medium-high heat, reduce the heat to medium, cover and simmer until the beets are tender, 30 to 40 minutes, depending upon their size. Check for doneness by inserting a knife in center of beet; it should go through easily.
2. Using a slotted spoon, transfer the beets to a bowl and let cool. When cool enough to be handled, peel and cut into julienne strips. (You can also grate them with a grater, if you prefer. Cover and chill.
3. Strain the stock through a fine-mesh sieve lined with cheesecloth into a large bowl. Cover and refrigerate until chilled, at least 4 hours.
4. Blanch the carrots in a saucepan of boiling salted water for about 1 minute. Drain in a colander and run under cold water to stop the cooking. Drain, cover and chill.
5. When ready to serve, skim the fat from the surface of the chilled stock and discard. Add the beets, carrots, cucumbers, dill, lemon juice, vinegar, and salt and pepper to taste. Mix well. Taste for seasoning.
6. To serve, ladle into bowls and garnish with the sour cream and dill.
Advance preparation: This may be prepared two days in advance through Step 5 and refrigerated until serving.
Diane Rossen Worthington is an authority on new American cooking. She is the author of 18 cookbooks, including "Seriously Simple Parties," and a James Beard Award-winning radio show host. You can contact her at www.seriouslysimple.com.
Satisfy your cravings
With our weekly newsletter packed with the latest in everything food.