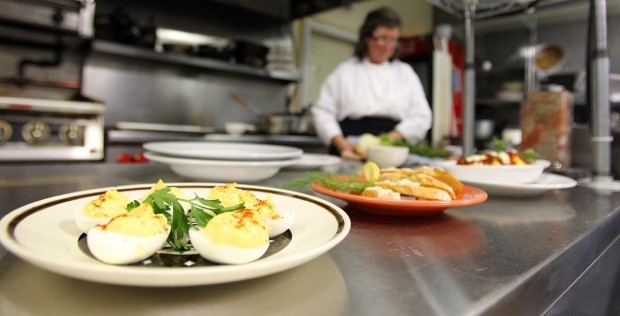 The paint is drying, the curtains are hung, the kitchen is nearly put together.
And chef Lynn Sheehan is ready to serve up some delicious Italian food.
Sheehan and her business partner and fiance, Matt VanderNoot, will open classic Italian restaurant Cucina Gemelli on Tuesday on Twin Falls' Blue Lakes Boulevard.
Sheehan is the former chef and owner of a Ketchum restaurant, Papa Hemi's Hideaway, which closed in October. While Papa Hemi's served American cuisine, Cucina Gemelli will combine classic country Italian food with dishes that showcase local ingredients.
But you won't see just spaghetti on the menu.
"Americans' version of Italian is probably quite dated," VanderNoot said. Each of the country's 20 regions boasts its own cuisine — agnolotti in Piedmont, pizza in Naples. Cucina Gemelli's menu represents that diversity with seafood, roasted asparagus with pancetta and polenta as well as the familiar shrimp scampi and lasagna.
And Cucina Gemelli's food isn't entirely Italian. Sheehan wanted to feature local producers, so she fit in some dishes based on Idaho products. Deviled duck eggs from a Boise producer are on the menu next to tomatoes stuffed with corn bread. Lamb comes from Lava Lake Lamb in Carey and Blue Sage Farm in Shoshone, and veggies from Springs of Life in Hagerman. When they couldn't get it locally, the restaurateurs went regional. Their pasta is from a Montana producer and their buffalo from Nyssa, Ore.
Those who are gluten-intolerant will find a safe haven here. Sheehan will offer gluten-free spaghetti and fusilli, as well as gluten-free menu items like the polenta.
Despite the strip mall location, the food will be served in a classy, rustic dining room. The front bar will have plenty of wine and beer — some local, some imported. And Cucina Gemelli will eventually have a banquet room.
Because VanderNoot and Sheehan didn't have much money to work with, they brought a lot of the furnishings from Papa Hemi's Hideaway. The wood door leading to the Cucina Gemelli entryway came from the Ketchum restaurant, as did one of the large wood tables in the dining room. The side of the bar is decorated with distressed doors that they scored at Habitat for Humanity's ReStore. Most of the kitchen appliances are from Papa Hemi's as well. The two even took down the large wood beams from the old restaurant and talked carpenters into using those for wood trim in the new dining room.
Papa Hemi's Hideaway was successful, but a rent dispute with the landlord nudged Sheehan and VanderNoot to close it down. They immediately turned their attention to Twin Falls.
You have free articles remaining.
Local foodies already know Sheehan's name as an occasional instructor of culinary classes at Rudy's — A Cook's Paradise. She graduated from the California Culinary Academy and started her career in San Francisco. Before coming to Idaho, she ran an inn in the Monterey Bay Area that featured breakfasts and a Winemaker Dinner series.
VanderNoot started working in kitchens as a teen and cooked in resort kitchens. He left the kitchen when he was 23 to move to Tokyo, where he lived for 13 years. 
Sheehan and VanderNoot met on an Internet dating site six years ago. After looking up Sheehan online and  seeing that she had been recognized by the James Beard House's "Women and Wine Series," VanderNoot got nervous. He usually cooked for women he liked, he said, but he had no idea what to make for her that would impress her.
The two have been engaged for five years, VanderNoot said, and in 2005 they came to Idaho to open Papa Hemi's.
Some of the couple's acquaintances questioned their decision to come to Magic Valley instead of moving to Boise or opening a new Wood River Valley restaurant. But for Sheehan and VanderNoot, it made sense. When the two first visited Idaho five or six years ago, they were impressed by the hospitality in Twin Falls. Everyone they met was invested in the community — unlike other places they had been, VanderNoot said. And everyone wanted to help them succeed, setting them up with producers and distributors.
"It's synergistic," Sheehan said.
And, contrary to their friends' beliefs, there is a market for fine dining in Magic Valley. In Boise and Wood River Valley, the fine dining market is flooded and competitive. In Twin Falls, there are no other upscale Italian options, Sheehan said. Besides, she added, a restaurant owner doesn't have to have the whole market — just a piece of it. Plenty of Twin Falls residents enjoy fine dining and locally sourced food, Sheehan said, pointing to the successes of Local Dish, Rudy's — A Cook's Paradise and Canyon Crest.
So how did Cucina Gemelli end up in a strip mall? The location is actually close to ideal, VanderNoot said. The strip mall has plenty of parking and is near both Fred Meyer — where all the foodies shop, Sheehan said — and the busy intersection of Falls Avenue and Blue Lakes Boulevard. The landlord's willingness to work with them and let them change the decor was a huge selling point.
It's another sign, VanderNoot and Sheehan said, that they are meant to land in Twin Falls.
"We're really happy to be here," VanderNoot said. "We really genuinely are."
Be the first to know
Get local news delivered to your inbox!