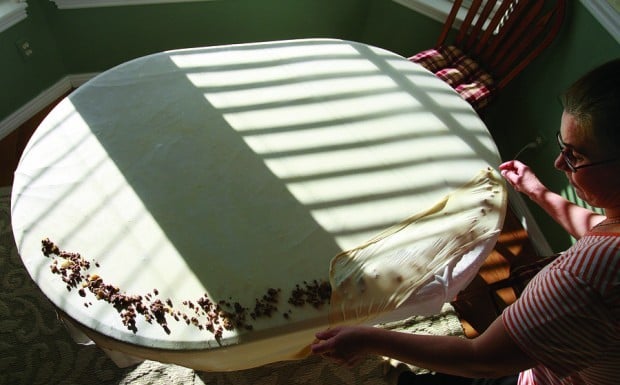 BeforeSunija Mustafic moved her family from Bosnia to Twin Falls in 2001, her mother gave her baking pans in which to make her specialty: Bosnian pita.
Pita from Bosnia is nothing like the pocketed, gyro-filled Greek pitas available at restaurants in southern Idaho. This pita is made of filling rolled in a thin, phyllo-like dough, shaped into spirals that look like cinnamon rolls, baked and eaten with sauerkraut. It's a staple in many Bosnian homes, including Mustafic's.
The stuffing can be made of anything, Mustafic explained through Mirela Sulejmanovic, a Times-News employee acting as interpreter. Mustafic described various fillings — spinach, potato, cheese — as she prepared her own batch of beef and onion.
After Mustafic cubed the onion and browned the beef, she turned her attention to the ball of dough that had been rising for an hour. She put a clean cotton cloth on her dining room table, floured it and rolled out the dough with a long wooden rod — longer and thinner than standard rolling pins.
After she got it as thin as she could with rolling, she further stretched the dough by hand.
"It's not good if it tears, so you have to be very careful,"Sulejmanovic explained as Mustafic worked. By the time she finished, the dough was translucent, larger than the table top and draped off the sides like a cloth.
And there wasn't a single tear in the surface. As the saying goes:If you tear the pita dough, you can't get married, Mustafic joked.
Mustafic grabbed the beef filling from the countertop and spread it along one edge of the dough. She flipped up the flap of dough hanging off the edge, then used the cloth to swiftly and evenly roll the stuffing into a rope.
She cut the rope from the remaining dough, then fashioned it into three spirals and placed them in the cooking pan. She repeated the process three more times. By the end, the pan was filled with pita — the beef and onions still visible through layers of thin dough.
You have free articles remaining.
Pita is a staple in many Bosnian households, she said. Her 18-year-old son, Bekir Mustafic, is a picky eater and hates onions, so she often has to make two batches of pita with different fillings to satisfy everyone in the family. This afternoon, she made another batch of cheese and egg.
Mustafic makes pita so often that she never measures out her ingredients.
"Maybe four!Maybe five!" she said in English as she cracked eggs into a bowl. She mixed her four-or-five eggs with homemade cheese, added Vegeta seasoning — a must-have in Bosnian kitchens, Sulejmanovic said — and flattened another ball of dough. Within 10 minutes, another pan of pita was ready for the oven.
While the pita baked, she explained some of the photos on the fireplace mantle. One is of a younger Mustafic holding her baby niece in Bosnia. That baby just got married, she said with a grin.
Aframed picture off to the side shows a pixilated image of her mother and brother, taken from television. In 2005, Mustafic was watching CNN as it showed file footage of the Bosnian War when she saw them on the screen.
"Iwas in shock,"she said. Her brother had died during the war, and her mother had died in 2002. She snapped a picture of the screen, capturing the last moment she saw her family members.
Mustafic doesn't like talking about her brother or the war, instead preferring to focus on the future. She and her sister, who also lives in TwinFalls, have made a good life here, she said. She recently bought a new home by O'Leary Middle School. She works at College of Southern Idaho as a cafeteria dishwasher, and her husband works at WinCo Foods. Through European food stores and the local Bosnian community, she maintains her connection to her home country. While she cooked, a Bosnian music satellite channel played on her television. She demonstrated a folk dance in her living room, raising her hands above her head and side-stepping.
Bekir walked through the door as the pita came out of the oven. This is his favorite dish, he said, along with a chicken and potato bake. He ate the cheese-and-egg pita with sauerkraut, which Mustafic makes in a plastic tub in her garage. She mixes cabbage with salt and water, then lets it ferment for two to three months.
Bekir might not like the smell of the sauerkraut — he and his brother don't let Mustafic keep the bin inside because of the odor, she said — but the taste of his mom's homecooked food can't be beaten.
"It's delicious,"he said, taking another bite.
Be the first to know
Get local news delivered to your inbox!