TWIN FALLS — With Halloween over for another year, not all costumes have been put into storage.
Students at St. Edward's Catholic School wore a specific type of costume on Friday: They dressed as saints for All Saints' Day.
Mary Little's fifth grade class took their show on the road, so to speak, visiting other classrooms to tell the stories of their particular saints.
Vivianna Anderson wore the black cap and dress of St. Elizabeth Ann Seton.
Seton wasn't born Catholic, but during a bout of scarlet fever, she read about the church and converted, later founding the Sisters of Charity, Anderson related.
"Some of the parts of the story were sad," Anderson said about her research.
St. Kateri Tekakwitha lived in the 17th century, according to Peyton Saldana's research. A member of the Mohawk tribe, St. Kateri suffered from ill health, including very poor eyesight.
Dying at age 24, "She knew the exact moment she would die," Saldana said of St. Kateri's fate. "Fifteen minutes after she died, her face cleared up of all signs of illness."
Carson Visser dressed as St. Joan of Arc.
"I like war," Carson said of his reason to research the French saint. "She was burned to death."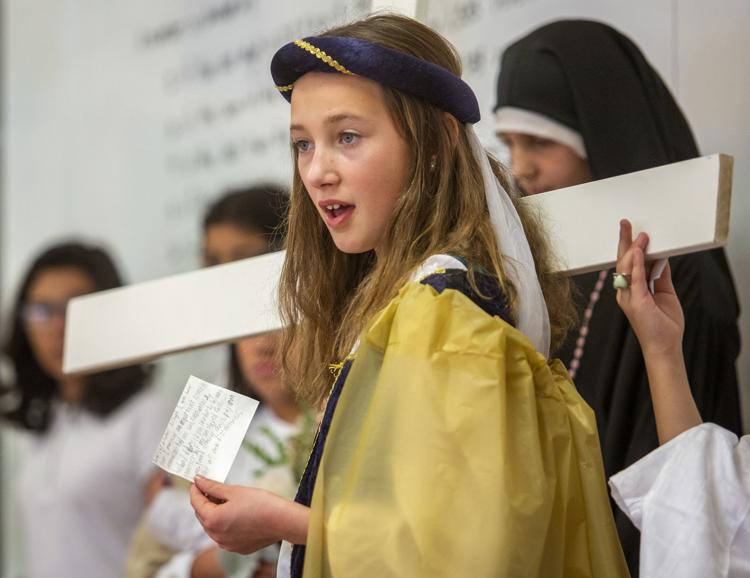 Other students in the class created poster boards about their chosen saints.
You have free articles remaining.
Sebastian Varela created a poster about St. Benedict.
"They tried to poison him," Sebastian said. "A snake came out of the wine and the chalice broke."
Sebastian has visited the Benedictine monastery in Jerome, as well.
"He's my dad's favorite saint," Sebastian added.
These days almost part of a triduum, or three days of celebration, All Saints Day has been celebrated on Nov. 1 since the eighth century, according to Catholic Online.
Halloween, or hallow's eve, falls the day before, and All Soul's Day, or Dia de la Muertos, occurs on Nov. 2.
Depending on the source, such as History.com, All Saints' Day is said to be a Christianized version of Samhain, the pagan celebration of the harvest and start of the dark half of the year.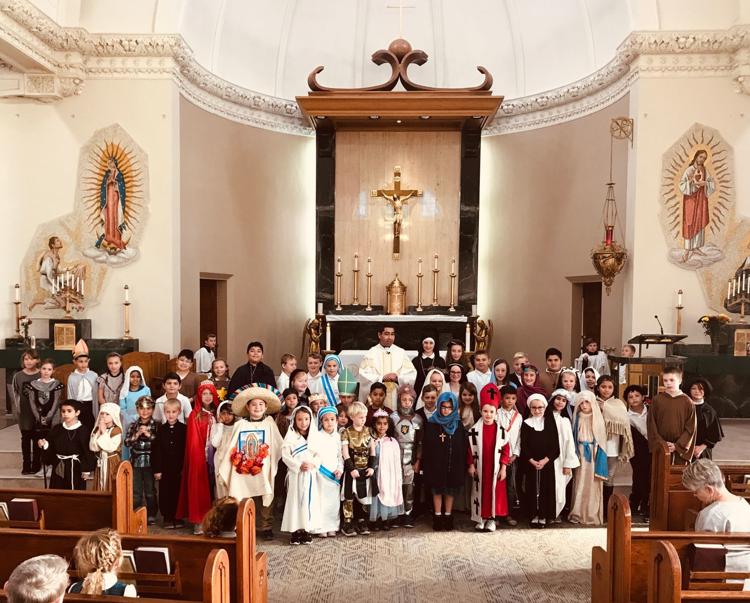 Other sources, such as the Encyclopedia Britannica, indicate All Saints' Day evolved independently of the pagan feast, and celebrates all saints of the church.
The Roman Catholic, Methodist, Anglican, Episcopal and Lutheran churches celebrate All Saints' Day, along with other Protestant denominations.
The students at St. Edward's enjoyed the chance to learn about some of the saints.
Samuel Zamora, who dressed as St. Ignatius of Loyola, acknowledged, "It was fun."