TWIN FALLS — In the old First Church of Christ, Scientist building on Ninth Avenue East, a banner said, "God is love."
Malcolm Richman didn't disagree with the statement, but he took it down and replaced it with a banner that had images of the cross, a Yin-Yang symbol and practically every other imaginable religious image.
This building is now the first permanent home of Magic Valley Unitarian Universalist Fellowship, and members want everyone to know that they are welcome.
"A lot of Unitarian Universalists are religious refugees," said Richman, a member of the fellowship. "We accept all people here."
The fellowship has always bounced around. Don Morishita, a member since 1998, said the quest for a permanent location has been a long time coming.
The fellowship started in 1992, followed by a long history of drifting.
It started with meetings at the Elks Lodge then moved to the Church of the Brethren building and shared space with the Episcopal Church for years. From 2010 to 2015, it used the Twin Falls Senior Center, and from 2015 to late 2018, it held services at the Vendor Blender facility.
The fellowship jumped on the opportunity when it saw the building at 160 Ninth Ave. go up for sale, secretary Michael Becerra said.
"It's nice to have a place where we won't have to worry about spilling coffee," member Ken Whiting said.
On Sunday, Rev. Elizabeth Greene held a service in the new church. Greene comes from Boise once a month and serves as a part-time pastor for the fellowship.
"It takes vision, patience and perseverance to establish a religion in a town," Greene said. "I think that Unitarian Universalism is a force for good in communities. I'm proud of this congregation."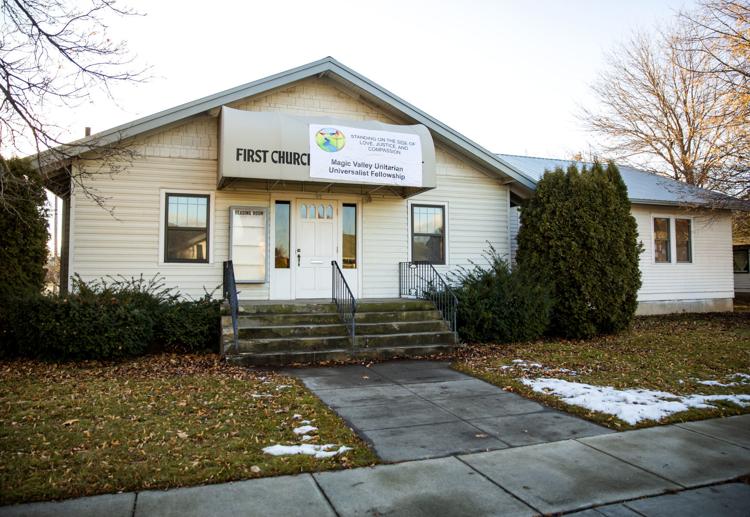 The building was constructed in 1920 and the fellowship plans to update its new home with an ADA-compliant restroom, energy efficient lights and by replacing its 1959 heating system, Becerra said.
"We haven't be able to grow because we haven't had a place that allows us to," Becerra said. "If we can't do it here then we can't do it anywhere."