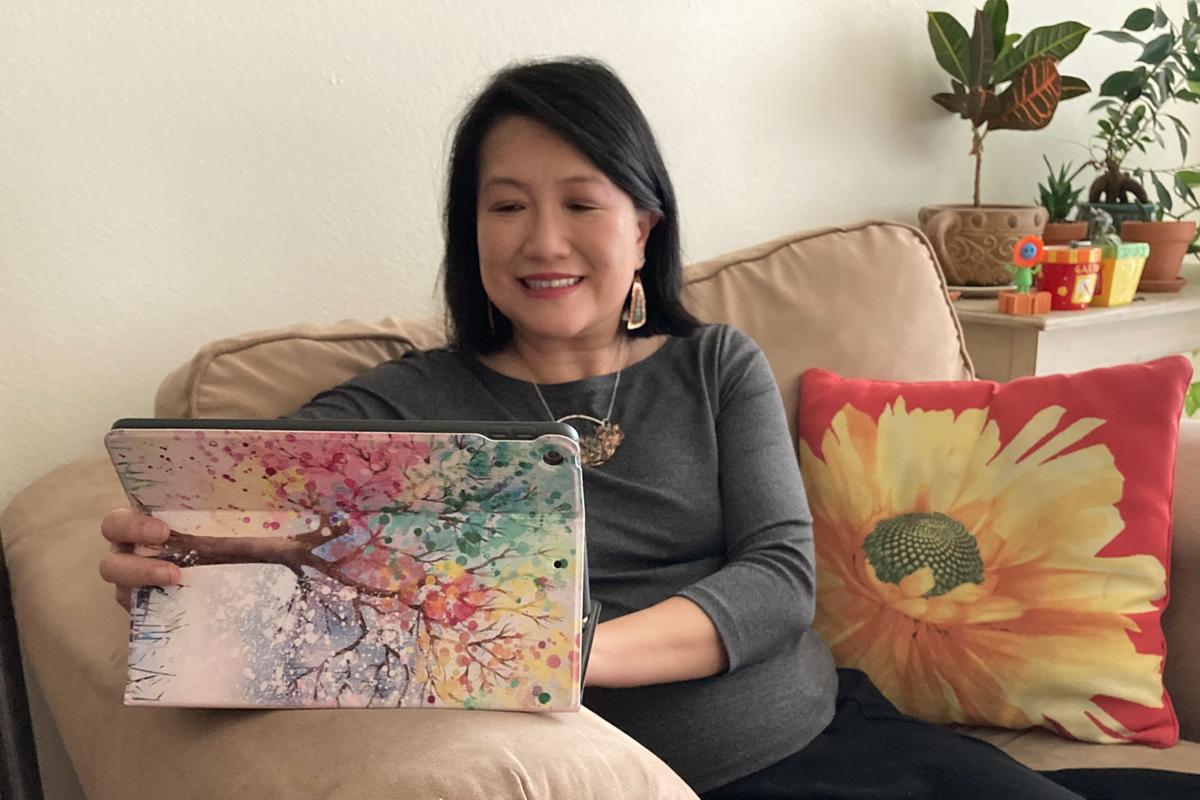 Idaho resident Julie Freitas has been hard of hearing since the age of 2, and American Sign Language is her primary language.
Although she grew up in a Buddhist home, she had a strong desire to learn more about God and Jesus and was determined to get her hands on a Bible. Freitas saved her money and, at 12 years old, she rode her bicycle to Kmart to purchase the King James Version.
Through diligent effort, Freitas became a serious student of the Bible, and at the age of 25, she was baptized as one of Jehovah's Witnesses. However, comprehending the written English language remained a challenge, and she longed for a clearer understanding of difficult verses.
In 2005, Jehovah's Witnesses began work translating the Bible book of Matthew into ASL and announced that additional books would be made available as they were completed.
Grinning from ear-to-ear, Freitas reminisced about receiving her personal copy, "I was in tears, I couldn't stop crying … I couldn't wait to go home and put it in the DVD player, and I was so grateful to God."
Danny Bench also knows how important it is to have access to the Bible in the language of one's heart. Deaf since the age of 3, Bench has always been drawn to the outdoors. This love of nature sparked a curiosity in his heart to know the One who made all these things.
In 1997, he too became a serious student of the Bible and was able to draw closer to his Creator. Although he reads well in English, Bench explained that understanding the "deeper things" takes a lot of mental energy.
"It's easier to learn visually … the real heart touching language is ASL," he said.
Finally, after 15 years of diligent effort, on February 15, 2020, Jehovah's Witnesses reached a milestone regarding the ASL Bible translation. Roger Biles, an ASL interpreter in Boise, attended the historic event in Florida where the release of the complete Bible in ASL was announced.
"It was thrilling," he said.
A behind-the-scenes tour of the translation office further deepened Biles' appreciation for this translation. Hearing and deaf translators worked together to convey a clear and accurate meaning of the scriptures, despite the tedious process.
"It was a delight to meet the translators," he said, "they're just ordinary people, just humble people."
"God wants all people to have access to his word on an equal basis as hearing people. He doesn't neglect deaf people."
Robert Hendriks, U.S. spokesman for Jehovah's Witnesses calls this historic undertaking "a labor of love."
"The goal is that every person in the world can have free access to God's word in the language of their heart. It's like a gift, a love letter to them," he said.
"Their reaction has been, 'I can finally take control of my own spirituality. I am not dependent on anyone. I can finally have a relationship with my Creator,'" he said. "The Bible is now in their own language, hitting their heart, affecting them in this powerful way. All of a sudden they feel closer to God."
The ASL Bible is conveyed by well-dressed translators using their hands, face, and whole body to communicate the message of each verse.
"The love really shines through in the gestures and the expressions of the translators," said Cheri Hoogs a resident of Idaho Falls, who has been hard of hearing since birth.
Previously, DVDs were used, which would require a player and a library of discs. Today, the ASL Bible can be easily accessed for free on multiple platforms, including jw.org/ase, and through various mobile app stores provided by Apple, Google and Microsoft.
"According to the Idaho Council for the Deaf and Hard of Hearing, there are 232,310 deaf and hard of hearing citizens in the state of Idaho. It will be exciting to see how this new tool will be put to good use in our local ASL community," Idaho Jehovah's Witnesses spokesperson Royce Porkert said.
The ASL translation is only one of 33 Bible language projects the Witnesses completed in 2020. Currently, the New World Translation of the Holy Scriptures has been translated in whole or in part into 195 languages, with 36 additional languages to be added in 2021. Jehovah's Witnesses provide all of their Bibles free of charge on their official website, jw.org.