JEROME | Sandra Love is trying to reach elderly Latinos in Jerome.
Pushing to get them involved in the College of Southern Idaho's "Over 60 and Getting Fit" program, Love makes English and Spanish banners to display on Lincoln Avenue. She takes flyers to businesses, health clinics and pharmacies.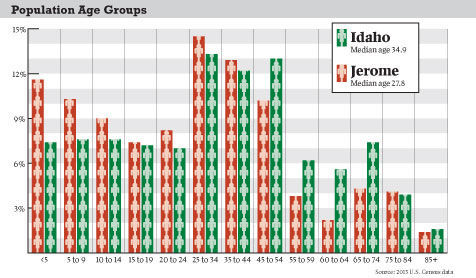 But few Latinos come to the classes.
"It has been difficult to get any of them there," Love said.
That's unfortunate, she said, because conditions such as joint disease and diabetes can be helped by exercise. And when people from different backgrounds participate, they get to know each other and find commonalities.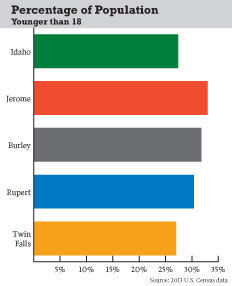 "Barriers start to go down."
That matters in Jerome, where 18 percent of the population is foreign-born, 28 percent speaks a language other than English at home and Hispanic schoolchildren now outnumber their non-Hispanic white classmates.
It's also a surprisingly young city, thanks to an influx of young Hispanic families. Jerome's median age is 28 — seven years younger than the state's median — and a third of the city's population is younger than 18.
As Love sees it, Jerome's young immigrants and natives are adapting to each other better than each culture's older generations.
And across the city, Jerome's youth is driving the shape of the rapidly changing community.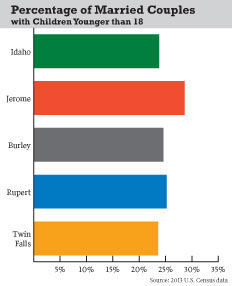 The city's strategic plan emphasizes park development and better educational opportunities. A growing number of young Hispanic families are in the congregation at St. Jerome Catholic Church. More children are taking swim lessons and playing sports at the Jerome Recreation District.
It's the kids who knock down the barriers.
St. Jerome Catholic Church sees an average of 1,400 people attend four weekend Masses: two in English and two in Spanish. A trend has emerged: a dwindling number of non-Latino members, who are primarily elderly, and a growing Hispanic congregation filled with young families.
Many regular attendees are younger than 30 and fluent in English and Spanish. About 180 teenagers are involved in St. Jerome's youth group, and at least 350 younger children attend religious classes. The church performs about 350 infant baptisms per year.
For many Latino families, church is the primary way to plug into the community, said Janey Miller, St. Jerome's business manager. It's the social center.
The parish hall is usually booked six months to a year in advance for wedding receptions, anniversaries, baptism celebrations and quinceaneras — Spanish coming-of-age parties for girls' 15th birthdays.
"One beautiful thing about the Hispanic culture is their ability to come together and celebrate life," said the Rev. Robert Irwin, known as "Father Rob."
At St. Jerome, a big part of the church's vision is "trying to be a model to integrate the cultures without assimilating," Miller said. That means striving to preserve aspects of each culture.
The church uses a "Best Practices for Shared Parishes" document which outlines six stages of accommodating people of different cultures. It starts with denial and gradually moves toward acceptance and adaptation. The last stage is integration, where people from different cultures are on the church's leadership teams and make decisions collectively.
"Here, everyone is welcome," Irwin said, and a Catholic parish as mixed as this one is unusual. The congregation includes immigrants from places such as Mexico, Portugal and the Philippines.
The Mexican influence is apparent, though, from the image of Our Lady of Guadalupe put on the altar during the Spanish Mass to the cross on a hallway wall decorated with Mexican folk art of angels.
Irwin spent some time in Mexico, and he delivers both the Spanish and English Masses. When a reporter stopped by one weekday afternoon, Irwin was talking to the office staff in both languages with equal ease and wearing a cross tucked into his pocket with a red, white and green band around his neck.
Attendees at Sunday Mass come from as far as the Wood River Valley, where Catholic churches don't have Spanish Mass on Sundays.
Ten or 15 years ago, the church's annual October feast with traditional German food expanded into an October fiesta serving German, Spanish and Portuguese food; each community prepares food to share with the congregation. And the church now holds a yearly fundraiser near Valentine's Day. The name: Noche Romantica.
One of the church's biggest days of the year is the celebration of its patron saint, St. Jerome, on Sept. 13. This is marked with an outdoor Mass at noon, followed by a carnival that lasts for several hours and brings thousands of people to Gayle Forsyth Memorial Park.
Many of the younger men played soccer that day, while a smaller group played volleyball. The bouncy house was full of children. Thousands more people socialized in the park, listening to local folk bands or enjoying tacos, aguas frescas (usually a fruit-flavored drink; it translates to "fresh water" literally) and other Mexican snacks served by families from the parish.
Church member Kathy Burgess, 66, moved to Jerome when she was 11 months old. She has attended St. Jerome for more than 50 years.
"Growing up as a child, we were an Anglo church," Burgess said. But now, "having two cultures is really invigorating our parish. It adds a whole new dimension."
She grew up near a labor camp, and Hispanic children came to the camp in spring and fall with their parents. Occasionally, a few migrant workers came to Sunday Mass.
In time, the church's demographics evolved. Burgess moved away from Jerome for nine years; when she came back in 1976, the city was beginning to have a year-round population of Latinos. And as dairies came into the area, more Latino residents started coming to church.
"We simply outgrew our old church," Burgess said, adding it used to have just two Masses. At the Spanish service, the church was so crowded that people stood outside, even in rain or snow, listening through loudspeakers.
So the parish built a new building, attached to the old one, that opened in 2005 and now seats about 1,200 people. On big occasions, Irwin said, it's "filled with well over that number."
"The Spanish Masses are usually pretty full," Burgess said. "We've been really working to build more bridges between us."
Another goal: create Latino leaders in the church to join committees, organize events and lead classes.
"It's really working, and there are a lot of people that are really stepping forward," Burgess said. The biggest obstacle: the language barrier.
City government, too, is embracing a younger population in its planning: more sidewalks, more bike paths, budgeting for park and playground upgrades.
"We're trying to develop our parks a little bit better," City Administrator Mike Williams said. "We're trying to develop our partnerships with the school district and the College of Southern Idaho to develop better education opportunities. We want to be able to meet the demands of young families for housing arrangements, as well."
For example, new playground equipment was recently installed at Camozzi Park. The tennis court there should be converted to a basketball court before the end of this construction season.
Williams has heard from some businesses and the school district that employees, particularly young ones, have a hard time finding the right kind of housing. He said apartments and duplexes, typically affordable for young families or young professionals, are lacking in Jerome.
Jerome's City Council approved an "Activity Connection Plan" this summer and put money to build sidewalks between Horizon and Summit elementary schools into the 2016 budget.
"We have a stronger emphasis on (that) because that demographic kind of demands it," Williams said.
What else do young Hispanics want? Sometimes, it's as simple as asking.
The Jerome Public Library has a growing collection of Spanish materials, including books and movies. When Spanish speakers check out books, employees ask what items they'd like to see added.
"It's a staff goal to make that area more inviting," library director Linda Mecham said.
The library has one bilingual front desk employee, and a job application lists Spanish language skills as preferred.
"Is it a necessity? No, but we recognize the need," Mecham said.
Often, children translate for their parents when they come into the library, and the library's after-school programs for children are in English. The library provides English storytime four times a week at Jerome's Head Start center, and many Spanish-speaking children attend.
Jerome residents with library cards have free access to an online program through Mango Languages that teaches 60 languages, as well as English as a Second Language classes. The library also provides in-house use of Rosetta Stone's language-learning software.
The library tracks how many people use online language-learning software and has seen a dramatic increase in the use of Mango's ESL courses.
While CSI's senior exercise classes struggle to attract Latinos, the Jerome Recreation District is seeing its participant demographics become more reflective of the community: young and Hispanic.
At least 50 percent of Jerome Rec's members are Latino. More children are taking swim lessons, and Latino women are participating in adult volleyball and fitness classes, said Director Gary Warr, who has been with the district since 2003. Jerome's Latino residents also use parks frequently, for family picnics, group gatherings or playing sports.
One of the biggest challenges with youth recreation is the lack of Hispanic parents volunteering to coach teams.
A language barrier may be a factor, Warr said. "Sometimes, it creates a fearful situation."
One evening in early September, about 25 cars were parked outside the recreation district. The two-story facility includes group fitness rooms, gymnasiums, a swimming pool and exercise equipment.
Elementary-school children in a gymnastics class worked on roundups and cartwheels while parents and siblings watched from the bleachers. Upstairs, Rigo Zavala peddled a stationary exercise bike as he listened to music through headphones.
Zavala graduated from high school in Wendell and later moved to Boise. He returned to Jerome about three years ago to be closer to family. Now he comes to the rec district about four times a week. One of the draws: playing basketball on Mondays and Wednesdays.
In the rec district's lobby, Maria Martinez and Ofelia Ayala waited in their workout clothes. They started coming to the gym together two years ago and try to come every day.
Martinez enjoys CrossFit classes and using the exercise equipment. There's a good atmosphere at the gym, she said, and people are kind.
With interpretation help from Martinez, Ayala said she also enjoys running outdoors and playing tennis. She'd like to see a bigger pool and a shopping mall in Jerome.
The women don't often go to Twin Falls for entertainment. "We stay here in Jerome," Martinez said.
Jerome Rec helps keep non-Hispanics at home in Jerome, too.
Jenna Spencer, who arrived for a Zumba class that evening, used to drive to a Twin Falls gym but switched to the rec district because it's closer, cheaper and has a variety of offerings.
In a park across from the Catholic church that day, Merrinda Hamilton sat on a bench in the shade of a tree rocking her infant in a front pack. Her two older children, 2 and 7, played on a swing set.
The non-Hispanic family moved from Brigham City, Utah, to Jerome a few months ago after Hamilton's husband accepted a job with Union Pacific in Shoshone. They decided Shoshone is too small and opted for a larger nearby city.
So far, they enjoy living in Jerome, Hamilton said. "They have really good parks."
Hamilton's family also loved the Jerome County Fair parade, the longest parade she'd seen in years.
This parade is long, quite simply, because a lot of people are in it.
More than any other Jerome institution, the annual parade reflects the city's demographic mixture. It suggests an integration that has yet to develop in daily life.
Before the evening parade in early August, men on horseback gathered in a dirt parking lot near El Parralito Salon, many wearing chaps over their jeans and carrying Mexican and U.S. flags. They were among about 30 people in a parade entry from Garibaldi's Mexican Restaurant.
They've been in the parade for about four years, said Fernando Alvarez. "It's to show people that we still ride horses."
Gabriella Ascencio and her 7-year-old daughter wore pink-and-red dresses with white ribbons intricately sewn in. They planned to walk beside the Garibaldi's float and toss candy to children in the crowd.
Hundreds of Jerome residents — including many young families — lined the streets, sitting in front yards and along curbs or watching from the balcony of the Holiday Motel on West Main Street.
Before the parade started rolling, riders on horseback headed up the street toward Jerome High School as they shared the road with cars. Parade entrants lined up in a staging area on 100 East near Tiger Drive.
D.L. Evans Bank employees — a mixture of Hispanic and non-Hispanic colleagues — waited near their covered wagon float, representing the fair theme: "Let's get a little Western!" Financial services representative Veronica Pimentel has been in the parade for three years. She didn't grow up in Jerome, but some of her co-workers did. Being in the parade was a chance to see customers, she said, and get out into the community.
Nearby, Spanish music played on a float for La Campesina Restaurant. In the distance, Jerome High's drum line warmed up for "Tiger Rag" and "Louie, Louie."
On one float, in particular, the parade's apparent integration reflected the real Jerome of 2015.
For the Jerome Rec District, dozens of children from many demographic groups sat on a flatbed trailer. The float looked a little like the deliberately diverse images popular in advertisements across America. But this was the real thing: the same cultural mix that populates the rec district's soccer fields and swimming pool.