JEROME • Brant Hagen watches soccer games on television at a neighbor's house. He speaks English and his neighbor speaks Spanish, but they recognize enough words to communicate.
Another neighbor gives Hagen homemade tamales and expects nothing in return.
One street over in Jerome's Stoney Ridge subdivision, Tyson Barkes' 4 1/2-year-old son bicycles and skateboards with other neighborhood children. The boy, Barkes said, knows "every kid in every house."
With its mixture of Latino and non-Latino residents, Stoney Ridge reflects the changing face of Jerome. And here, the neighbors' interactions suggest a future of friendly integration in the city if the rest of Jerome can follow Stoney Ridge's example.
The neighborhood — along 21st and 22nd Avenues East in northeast Jerome — attracts many young families who say they enjoy the peaceful setting. And it's affordable, with home prices typically hovering between $110,000 and $140,000.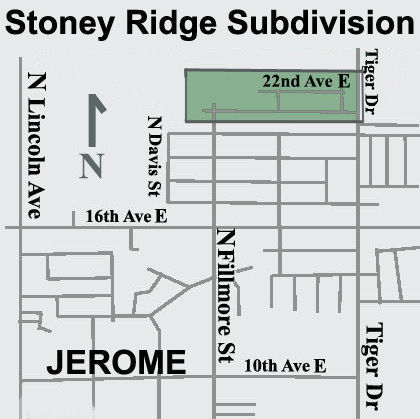 The subdivision's first phase was recorded in 2006, followed by another in 2010. Some neighborhood lots are still bare. On others, the houses are in various stages of construction or sport "for sale" signs.
As construction continues in Stoney Ridge, it gives Barkes' son more friends to play with. His house is a hub for his son's friends from around the neighborhood.
Given Jerome's population trends, many of Stoney Ridge's newcomers are likely to be Hispanic.
A year ago, Hagen — a special education teacher at Jerome Middle School — moved his family into a house on 21st Avenue East. They came from Montana, where they were 110 miles away from Great Falls.
Jerome has a small-town feel, Hagen said, but it's close to the amenities of Twin Falls. "I like it here. It's quiet," he said. "The people seem very polite."
Hagen's wife speaks Spanish — she learned it in school and was an exchange student in Toluca, Mexico — and they interact daily with their neighbors.
When 2-year-old Damian Garcia Eudabe was hit and killed by a car in September 2014, "I was the first one on the scene," Hagen said.
The tragedy "kind of bought us all together," said Hagen, father of a 4-year-old boy and a 9-year-old girl.
Now, Hagen yells at speeding drivers. This summer, he called Jerome police after someone drove about 80 mph on his street.
Neighbors watch each other's children while they're outside. And they invite each other's families to birthday parties.
Hagen was pleasantly surprised by those interactions with his Latino neighbors. He didn't have a good experience while living in San Diego, he said, but living in Stoney Ridge has altered his perspective. Hagen discovered his neighbors are loving people, and that's the environment he wants his children to grow up in.
As a teacher, however, he sees a different environment at school, where he worries about bullying, drugs and gangs.
The Stoney Ridge subdivision has newcomers like Hagen, but some residents have been in Jerome for years.
Among the residents from Mexico, a cluster came from the same region along the country's western Pacific coast — some a decade or two ago.
Josefina Cervantes and Guadalupe Eudabe, for instance, both came from Colima. Other neighbors — such as David Avila, Avelino Salinas and Marta Abalos — moved from bordering states such as Michoacan or Jalisco.
Despite similar geographic backgrounds, some residents don't interact much with their neighbors. Cervantes said through an interpreter that she knows a few neighbors — and a few church goers elsewhere in town — but not many.
On the other hand, Vanessa Diaz — a Jerome High School alumna — has lived in Jerome since she was 4 or 5 and knows many of her neighbors. She and her family moved into a house on 21st Avenue East in December, and they like the neighborhood.
"It's quiet," Diaz said in mid-August. "It's clean."
Diaz's husband works 12-hour shifts, six days a week, as a feeder at a dairy. The couple has two sons, ages 1 and 4. The family occasionally goes to neighbors' houses to sit outside and let their children play together.
Esmeralda Gonzalez and her husband live with their three young children on 22nd Avenue. Gonzalez has been in Jerome for about 15 years, while her husband moved eight years ago. In Stoney Ridge, where many of their neighbors are young parents, they've found plenty of friends.
Homes with neatly manicured lawns and newly planted trees line 21st and 22nd Avenues in Stoney Ridge. Again and again, the people who live here told reporters they love the quiet.
But the quietness they relish isn't always literal.
One hot evening in early June, an ice cream truck drove slowly around the neighborhood. Children ran to ask their parents for money as a high-pitched song played continuously.
Three men worked on a black Ford F-150 beside the curb on 22nd Avenue East, wiping sweat off their foreheads. Their toolbox sat in the flatbed of another truck nearby.
Across the street, sisters Victoria Rivas, 6, and Valentia Rivas, 2, played in the grass.
One July morning, dark clouds gathered — a brief respite from the previous two weeks' three-digit heat. A few people came and went, but drapes were closed at many houses. On 22nd Avenue, music blared from a car stereo as a construction crew framed walls for a new home.
At several houses in late morning, sleepy-eyed children answered the door wearing pajamas and rubbing their eyes. Their parents were sleeping.
On a rainy evening in early July, a Stoney Ridge family sat inside its garage, the overhead door open invitingly. The adults didn't speak English, but Jonathan Lopez, a 14-year-old with a gelled tuft of hair on the top of his head, talked with a reporter.
The Jerome High School freshman has lived in Stoney Ridge since he was in second grade. He likes the neighborhood and lives next door to one of his friends. "I guess I can't really complain."
The open garage door is a hallmark of Stoney Ridge.
It shows someone is home and available to spend time with neighbors. Like many others here, Eduardo Maciel keeps chairs in his garage — in case anyone wants to come over and chat.
Welcome, the garage says. Come on in.