SUN VALLEY — The snow has already turned Sun Valley into a Winter Wonderland.
Now Santa's elves will finish off the job.
The Christmas season gets underway for real at Sun Valley on Saturday, Dec. 8, when Sun Valley Resort launches its Winter Wonderland. The resort will hold a kick-off party from 1 to 4 p.m.
Santa will climb into his throne letting youngsters confide their innermost wishes. The village train will rumble through the village collecting chubby cheeked youngsters as it rolls.
There'll be holiday music culled from groups like Colla Voce, roast chestnut and other seasonal food offerings.
And there will be a kid's gingerbread and cookie decorating in the Boiler Room. For $7 kids can get a big gingerbread man to decorate and all the decorating materials they want from M&Ms to sprinkles.
Warren Miller's Face of Winter will be shown at 2 p.m. in the Sun Valley Opera House. There is a $5.50 admission. The movie will be repeated on Friday, Dec. 14.
And adults and children alike can participate in the annual Sun Valley scavenger hunt.
The scavenger hunt involves window shopping as detectives try to spot Sun Valley's mascot—Sunny the Bear—doing an activity in each of the stores in Sun Valley Village.
Those who successfully match Sunny to the store on the scavenger hunt will win a Christmas ornament from the Sun Valley Guest Center in the Sun Valley Village.
Sun Valley's Winter Wonderland Festival just starts the ball rolling.
On Saturday, Dec. 15, and Sunday, Dec. 16, the Open-Air Holiday Market returns to the Sun Valley Village Inn Lawn from 11 a.m. to 7 p.m. for the third year in a row. Vendors will offer everything from Sun Valley T's and towels to traditional wreaths and nutcrackers to roasted nuts, spiced cider and Linzer cookies.
"The Open-Air Market has actually become one of my favorite parts of the holiday season," said Mike Fitzpatrick, director of marketing for Sun Valley Resort. "It's nice to see all the tents on the lawn, and they have some interesting items for sale. It's just like a European-style market."
Duck in out of the cold for the holiday classic "Home Alone" at 2 p.m. at the Sun Valley Opera House on that Saturday.
You'll be out in time for the annual Tree Lighting Ceremony in the front of the Sun Valley Inn.
The fun starts at 5:30 p.m. Saturday, Dec. 15, when the Sun Valley Carolers ring in the holidays with handbells and Christmas carols.
There'll be ice carving demonstrations, free cookies and hot cocoa. And the tree lighting will take place at 6 — right about the time Santa rolls up on either a golf cart or pony-pulled sleigh.
Another holiday classic, "Elf," will be shown at 2 p.m. Sunday, Dec. 16, at the Sun Valley Opera House. And, yes, you knew it had to happen —"Sun Valley Serenade," the 1941 movie that put Sun Valley Resort on the map for many, will be shown at 2 p.m.
Locals doubled for ice skater Sonja Henie as she hurtled down the slopes of Bald Mountain in the madcap musical adventure featuring Milton Berle. And the Glenn Miller Orchestra provided the music for the movie, including such hits as "Chattanooga Choo Choo" and "It Happened in Sun Valley."
Dec. 19 — There'll be a Holiday Vintage Sweater contest and Party from between 5 and 7 p.m. Wednesday, Dec. 19, at the Duchin Lounge in Sun Valley Lodge. Prizes for first, second and third place.
Dec.20 and 22 — On Thursday, Dec. 20, and Saturday, Dec. 22, things take an upscale turn with Holiday High Tea at noon and 3 p.m. in the Sun Valley Lodge Lobby.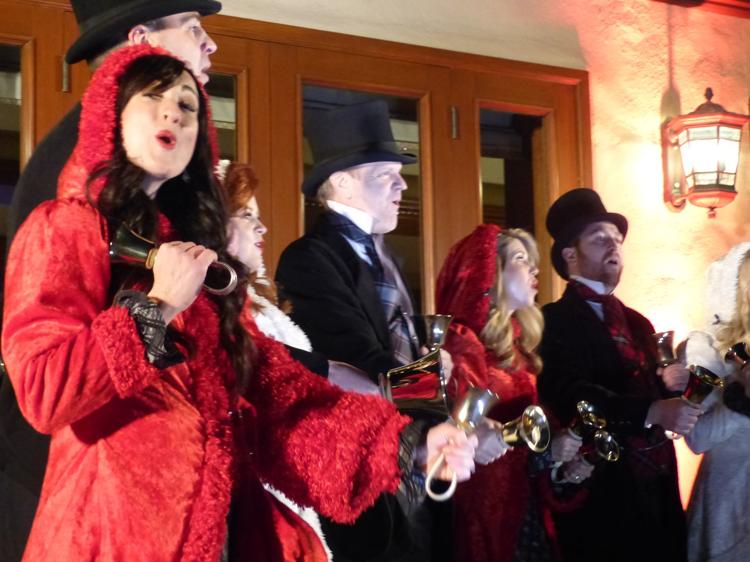 Hot teas will be paired with savory finger sandwiches and delectable pastries. Cost is $55 for adults with sparkling wine and $35 for adults without sparkling wine. Cost is $20 for children.
For reservations, call 208-622-2097.
Dec. 23-24 — Santa will preside over the always-popular Brunch featuring kid-friendly dishes and traditional favorites set amidst live and festival holiday music from 9 a.m. to 2 p.m. Saturday, Dec. 23, and Monday, Dec. 24, at the Sun Valley Club. Cost is $48 for adults, $24 for children and free for those 2 and under. For reservations, call 208-622-2270.
Dec. 24 — Of course, all of this builds up to the traditional Christmas Eve Ice Show that Sun Valley has offered as its gift to the community for decades.
The free event starts at 5 p.m. with free cookies, cocoa, cider and coffee served on the terrace of the Sun Valley Lodge.
This year's Skating in a Winter Wonderland Ice Show will feature performances by pairs skaters Frank Sweiding and Anita Hartshorn, Ashley Clarke and other professional skaters. The Sun Valley Figure Skating Club will trot out cute little youngster skating to holiday music. And the Sun Valley Carolers will serve up a few a cappella numbers, even as Santa Claus makes yet another appearance.
Sun Valley Resort staged a mini version of "Nutcracker" for several years but changed to Winter Wonderland as it fits in well with the theme of Sun Valley's Winter Wonderland Festival, said Kelli Lusk, public relations and communications manager.
The event will be capped by the traditional torchlight parade on Dollar Mountain as fireworks burst overhead.
"The torchlight parade is pretty spectacular," said Pam Arno of Hailey. "It's real pretty watching the light bounce off the snow. But be sure to dress warm. It gets cold even on a warm day once the sun goes behind the mountain."