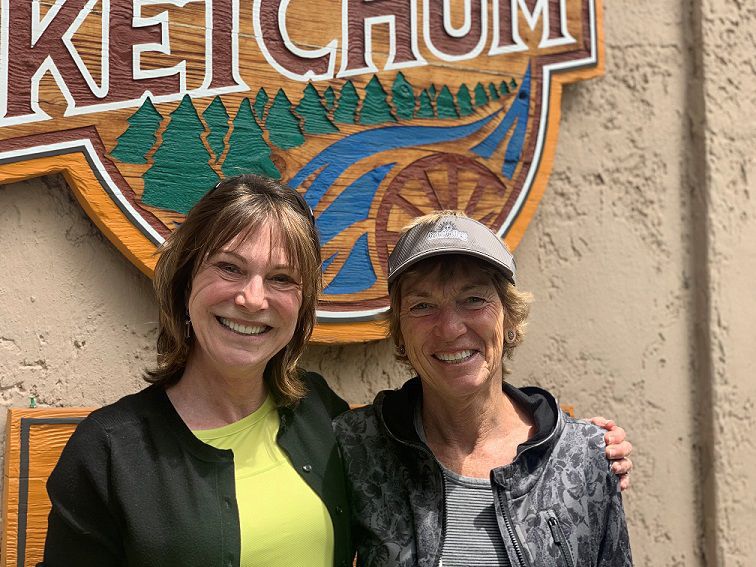 KETCHUM — Mayor Neil Bradshaw has named Kathy and Patsy Wygle as the 2019 Wagon Days grand marshals.
For more than 50 years, Kathy Wygle has remained at the center of theater arts in Ketchum. She served for 20 years at the helm of the nexStage Theater, ensuring the tradition of theater and culture remains in Ketchum. She and her sister Patsy introduced generations of Wood River Valley children to the arts.
Kathy Wygle founded Laughing Stock Theater in 1977. She became executive director of the Sun Valley Repertory Company in 1992, which later became the Sun Valley Performing Arts/nexStage Theater. When the nexStage owners decided to sell, Wygle led a community effort to raise money and purchase the property. Years later, as she planned to retire, Wygle rallied the community again to raise funds. Tim Mott and the board of the nexStage mounted a campaign which culminated in the construction of the Argyros Performing Arts Center.
Patsy Wygle has been a theatrical force in the valley for decades. She and her late husband, Keith Moore, began performing musicals for Laughing Stock Theater in 1988. Although they were both New York City devotees, they decided to come out for a year to help Kathy Wygle run the nexStage. That was 12 years ago. While working and teaching at the nexStage, Patsy and Keith Wygle also headed the Upper School Theater program at the Community School for six years. Patsy Wygle is led by the conviction that everyone should have the experience of art and theater in their lives.
The Wygles continue to run Laughing Stock Theater in Ketchum, producing the annual Shakespeare Festival and "A Christmas Carol." They also run after-school classes and Summer Stages, a summer performing arts camp held in July.
"Kathy and Patsy have made significant and lasting contributions to this community and its culture for many years," Mayor Neil Bradshaw said in a statement. "They are the perfect pair to celebrate at this year's Wagon Days event."
The community is invited to honor the Wygles as the 2019 grand marshals at a reception from 5 to 7 p.m. Aug. 30 at Ketchum Town Square, 480 Fourth St. E. Food and beverages will be available. A barn dance will follow the event from 7 to 9 p.m. at the Ore Wagon Museum, 500 East Ave., with music by Old Death Whisper.
Wagon Days 2019 gets underway at 11 a.m. Aug. 30, with the traditional reading of cowboy poetry at the Ore Wagon Museum. The centerpiece event is the Big Hitch Parade, one of the largest, non-motorized parades in the Pacific Northwest featuring museum-quality buggies, carriages, carts, stagecoaches and wagons. The Big Hitch Parade starts at 1 p.m. Aug. 31.
Weekend festivities come to a close after the Street Party following the parade with music by one of country music's promising newcomers, Brandon Lay.
For more information about the 2019 Wagon Days Weekend, visit wagondays.com.