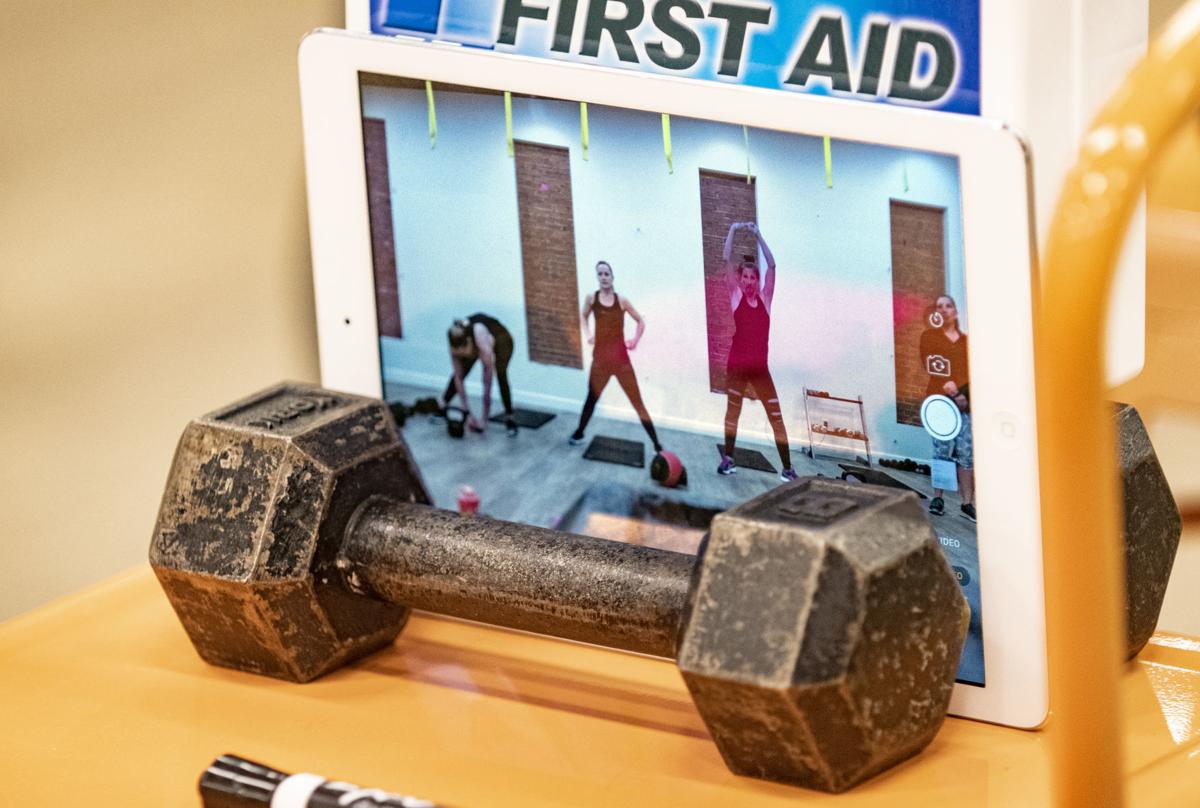 Exercise has always been a great way to relax during stressful and uncertain times.
If you've been social distancing to help stop the spread of COVID-19, there are still ways you can get in a good workout or just get moving. It just might be good for your physical and mental health.
Studio G in downtown Twin Falls has stopped its in-person fitness classes but is making many of them available online.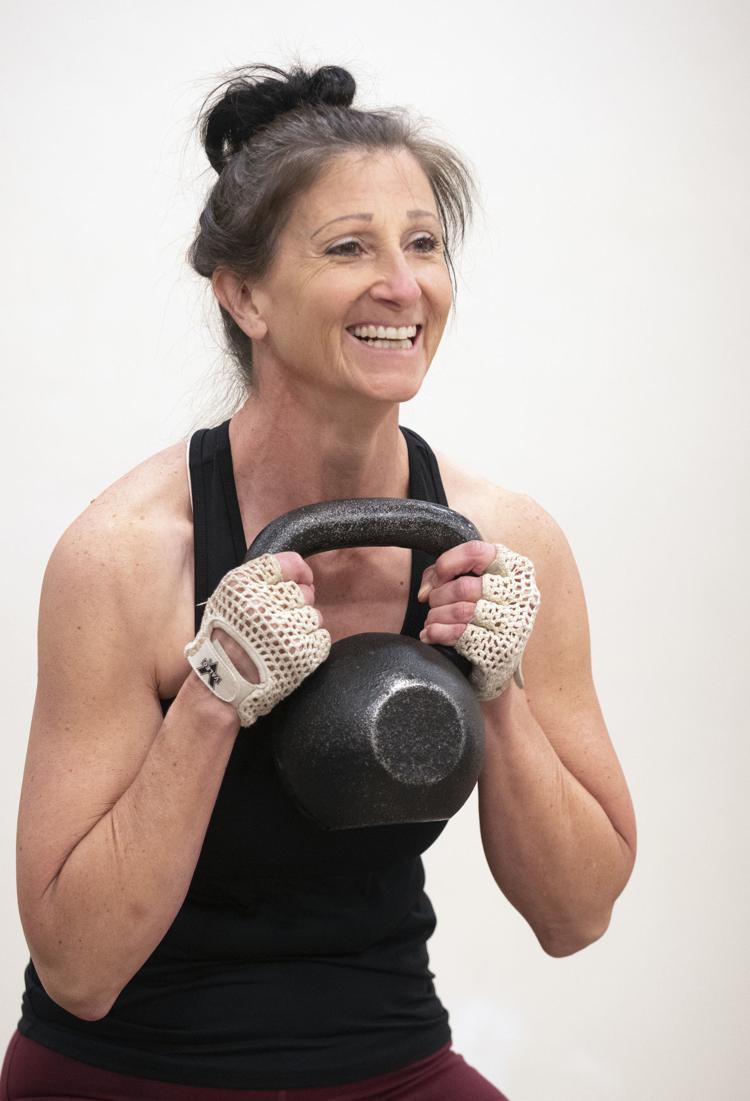 "As a small business it was hard to make that choice," said owner Gilly Funk-Shillig. "Since we are a smaller studio, we stay connected with our clients. We know their goals and we know them personally and we did not want to stop delivering services to them."
Funk-Shillig said for many of her clients, coming to Studio G was a positive part of their day. So she wanted to bring those services to them.
"So we started Studio G at Home as a way for not only our current clients, but also to anyone in the community, to stay moving and active with help from fitness professionals," she said.
Studio G at Home features live fitness classes daily and also trainer-approved workouts.
"We show modifications for all fitness levels because we have clients anywhere from 18 to 75 years of age," she said.
Classes offered are kickboxing, barre, dance fitness, lower body and upper body circuits and pilates.
"So what's really cool, we already see that even though it's not ideal to be home, we are staying connected," she said. "Clients are cheering each other on, we are staying social and being active. Making the most of a temporary situation."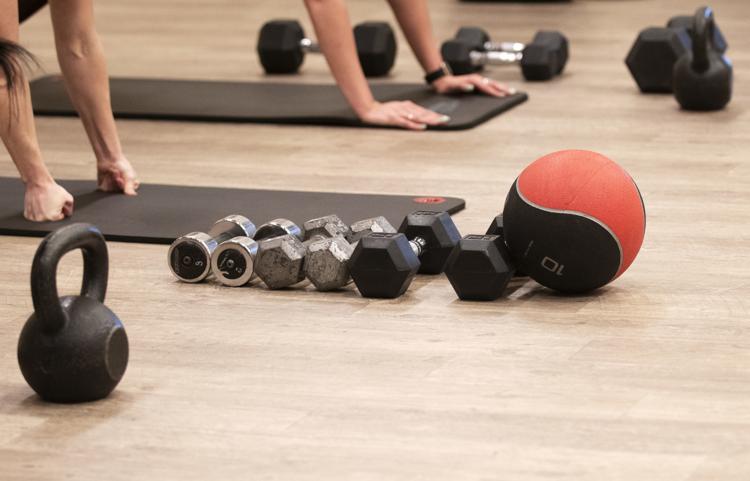 Studio G at Home costs $25 for a month.
"We are also hoping to have guest instructors from other gyms and studios in town," Funk-Shillig said. "It's all about pulling together and supporting each other."
Peace of mind
Kim DePew is trying to do her part by bringing some peace to people's lives.
DePew has taught yoga for eight years and is using her knowledge to hold free outdoor yoga classes for the public — with all participants spaced at least 6 feet apart.
"I will go out every single day if the weather is permitting and people want to show up," she said. "Especially right now with the craziness, my classes are free. I'm just doing my part keeping people sane and healthy."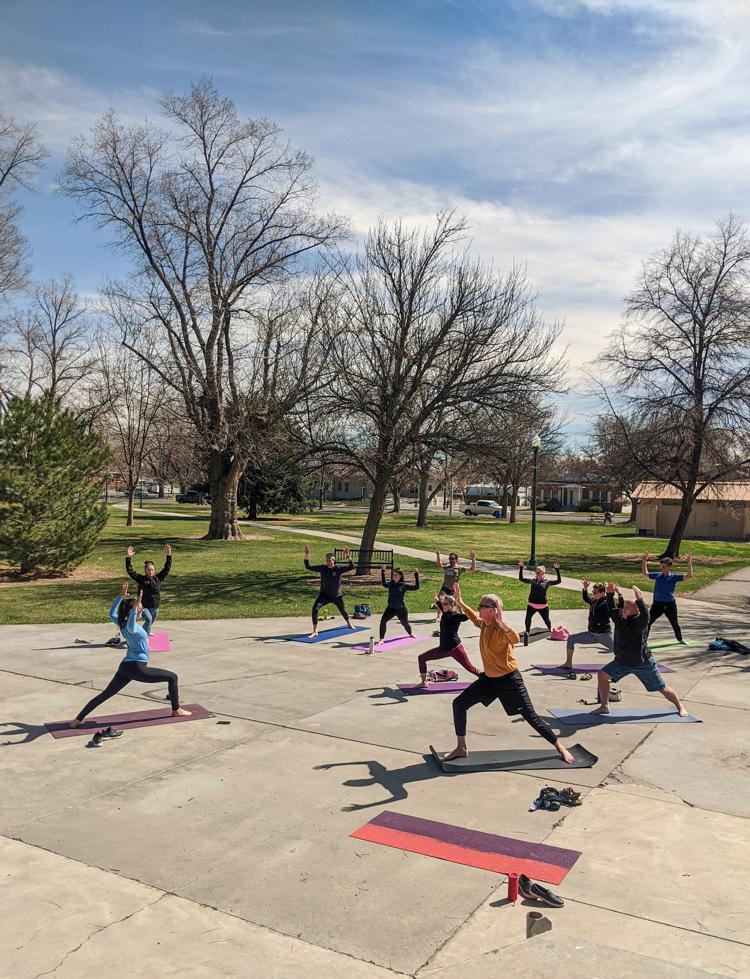 On Sunday she held her first class in Twin Falls City Park with another yoga instructor. She posted it on her social media platforms and invited past clients.
"It's an hour of release from this craziness," DePew said.
Fourteen people attended, and she plans to invite other yogi friends to help her co-teach classes.
"I had no idea who was coming," she said. "They just seemed so happy to be outside. Human beings need a connection. Even if we are 6 feet away we can still say 'Hi, how are you?' We can spread out as far as we need."
DePew is planning more weekend classes and will post on her social media accounts when and where the next class will be held. Eventually, she would like to hold a class mid-week. Interested? You can find her on Facebook and Instagram under Kim Sue DePew. For more information, you can also email her at kimdepew@msn.com.
DePew said people should wear layers and bring their own mats. She will also have a few disinfected mats available.
"No mat?" DePew said. "Just go on the grass."
Just Dance
Social Monday's are usually well-attended dance classes at Xrossway Fitness.
Dance instructor Kaishon Hamann said he usually teaches between 20 to 30 people every Monday, with probably another 20 to 40 who show up on an irregular basis.
But on the night of March 23, Hamann danced alone. He, like others, is practicing social distancing to help contain the spread of the coronavirus.
"Usually I have a demo partner, but because of the virus, she thought it best to also watch from a distance," Hamann said through Facebook Messenger. "I'm used to teaching classes solo, and I'm certified to teach both the lead and the follows parts, so it's really no factor."
Hamann has taught dance for about four years. He has a lot of experience working with homeschooled teenagers and used to run social dance clubs at the two major high schools.
"Pretty much any teaching opportunity there is, I'll take," Hamann said.
On Monday, he held his first Facebook live class. And though it went well, Hamann hopes to make improvements.
"The first one was a little rough," he said. "Because it was just me running it, and there was only one camera angle."
Hamann hopes to add more graphics to explain what's going on, and at least two cameras.
It's important to stay active in these trying times, and you might as well have fun while you do," Hamann said. "At the very least, the music we recommend in those classes can add a little flavor to your playlists."
The live shows will air on Xrossway Ballroom's Facebook page at 7:30 p.m. on Mondays. It is supposed to mimic his Social Monday's class. Hamann will be teaching two to three dances and adding supplementary instruction in between. For his first Facebook live class on March 23, he taught the hustle, rumba and the waltz.
"The students are able to participate with me and ask questions, via the comments section, so that also determines what and how I teach," he said.
Hamann said he is working to host other live styling and technique classes, as well as another beginner class.
Want to keep updated on new classes? Text "@socialmon" to 81010, and you will be added to Xrossway Ballroom's text message announcement system. The text system also allows participants to communicate directly with Hamann.
"There is nothing to lose because you're within the comfort of your home," he said. "If you have been potentially sitting out because you were worrying about not getting the dances and whatnot, these give you the opportunity to take that first step."
Concerned about COVID-19?
Sign up now to get the most recent coronavirus headlines and other important local and national news sent to your email inbox daily.