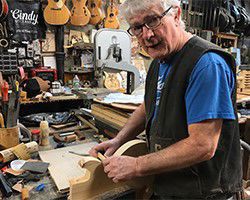 KETCHUM — As part of the Sun Valley Center for the Arts Big Idea Project "Marketplaces: From Open Air to Online," "Carmine Street Guitars" will show at 4:30 and 7 p.m. Sept. 19 at the Magic Lantern Theater, 100 Second St., Ketchum.
Once the center of New York City Bohemia, Greenwich Village is now home to lux restaurants and buzzer-door clothing stores catering to the nouveau riche. But one shop in the heart of the village remains resilient to encroaching gentrification: Carmine Street Guitars.
At the shop, custom guitar maker Rick Kelly and his young apprentice Cindy Hulej build handcrafted guitars out of reclaimed wood from old hotels, bars, churches and other local buildings. Nothing looks or sounds quite like a Rick Kelly guitar, which is the reason they are embraced by the likes of Bob Dylan, Lou Reed, Patti Smith, Jim Jarmusch and many others.
Featuring a cast of prominent musicians and artists, the film captures five days in the life of Carmine Street Guitars while examining an all-too-quickly vanishing way of life. This film is a testament to the power of craft and that, while technology and the internet plow on relentlessly, there is no substitute for handmade, unique instruments that reflect the personality and needs of both the maker and user.
Tickets are $10 for center members and $12 for non-members.  To buy tickets, call 208-726-9491 or go to sunvalleycenter.org.
Stay up-to-date on what's happening
Receive the latest in local entertainment news in your inbox weekly!