TWIN FALLS — The initial sketch for a piece of art can be deceiving.
It serves as less of a blueprint but more of a warm-up. Betsy Morishita's mixed media piece "Lifeline" started as a house on a curved hill with fish swimming nearby. The art turned out to be nautical life swimming around curved waves on the 29-inch by 42-inch cotton canvas.
"I want people to feel happy when looking at it," Morishita said. "Sometimes people look at art and wonder if it would go with their couch. I want people to look at it for what it is."
"Lifeline" sits at the Wabi Sabi Gallery on Main Avenue for Art & Soul of the Magic Valley. This is Morishita's eighth year participating in the competition. The hardest part is creating something new every time she enters, she said. She doesn't enter to win, she just wants to challenge herself.
"You just have to go for it and enter a piece," Morishita said. "There are professional artists and people who are trying it for the first time. It's just a wonderful way to get people to look at art."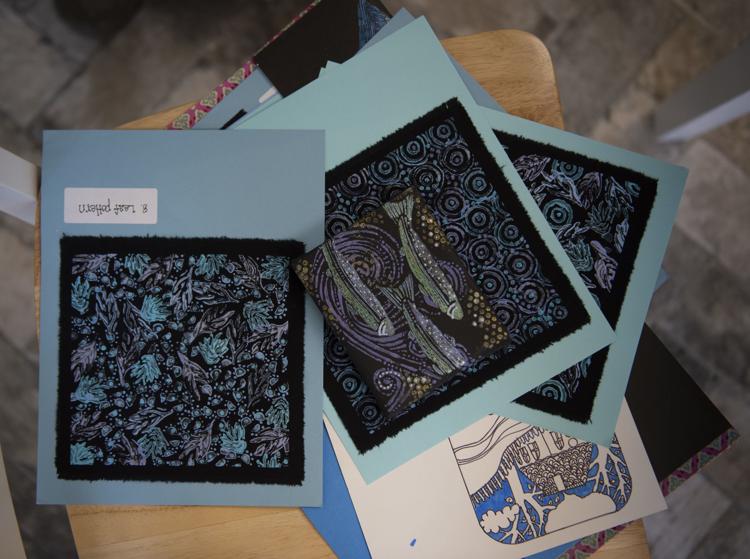 As the art scene in the Magic Valley continues to grow, so too does the Art & Soul contest.
The Magic Valley Arts Council's ninth annual Art & Soul of Magic Valley started Friday and features artists from 13 states with work in 99 businesses around the Magic Valley. Five years ago, the Art & Soul of Magic Valley had 147 artists. Now it has 202 artists in the main contest and 121 in the student contest.
You have free articles remaining.
"Historically we would have a peak year and the following year is a dip," said Melissa Crane, marketing and sales director for the Magic Valley Arts Council. "Last year we had the highest amount of participants. This year we didn't get that dip. I think part of the rise is that word is getting out."
The event runs through April 27 and asks the public to determine the winners by voting. The grand prize is $12,000, second place will receive $6,000, third place receives $3,000 and fourth wins $1,500.
The youth category was split up into four categories; kindergarten through second grade, third through fourth grade, middle school, and high school. Student participants will win $100 for first place, $75 for second, $50 for third and $25 for fourth.
The key to helping your favorite piece of art win is by voting. Anyone 16 and older may register in person at the Twin Falls Center for the Arts. Voting ends April 27 at midnight.
The Magic Valley Arts Council insists that people physically register to vote to maintain the integrity of the event, Crane said.
When the competition started, mostly of the art hosts were downtown businesses. Now, the venues are spread into neighborhoods around Twin Falls. Places like Idaho Joes and many more will be hosting art. To see the art, visit the Twin Falls Center for the Arts for a complete list of locations or stop where you see a yellow Art & Soul flag.
Visit magicvalleyhasart.com to find Soul Searching events. These events are chances to meet the artists and learn about their craft. These events are scattered around April. Art & Soul will culminate on May 4 with the Art & Soul awards ceremony at the Orpheum Theater.
"This is an opportunity for us to learn more about art," Crane said. "It's about more than just looking at art. It helps us learn critical thinking."