TWIN FALLS — After 20 years, the Twin Falls Tonight concert series is barely recognizable from its humble beginnings.
When it started, you could count the spectators at the weekly series on two hands. The bands, while talented in their own right, were all local. Bands would perform in empty parking lots.
Now, the audience size ranges from 2,000 to 2,500, the acts range from Idaho talent to out-of-state gems and Downtown Commons houses the event. Needless to say, Twin Falls Tonight has experienced some growth and changes.
The one constant has been event organizers Tony Prater and Robin Dober. The couple was part of the original committee that put the series together — they've stuck with the event for the entire 20 years as volunteers hoping to pass it on to the next generation.
"She's the brains and I'm the face for radio," Prater said. "The inspiration for (Twin Falls Tonight) came from a need for something to do in the summer."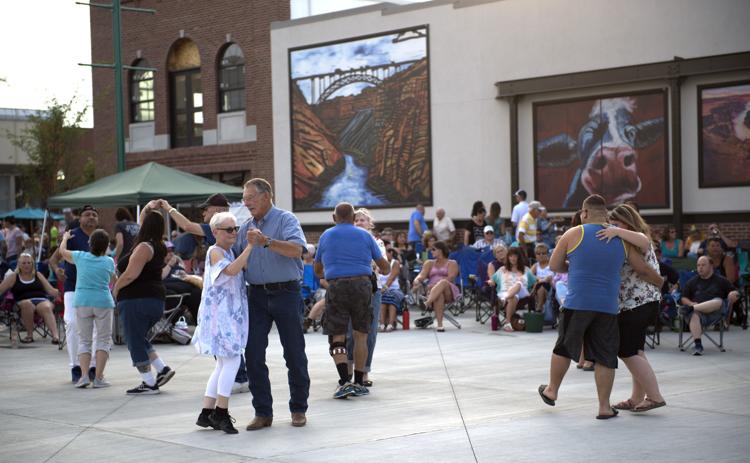 The Twin Falls Tonight kicks off its 20th year this Wednesday; the series will continue every Wednesday with the last show on August 14. All concerts are at 6 p.m. at the Downtown Commons. Food truck fare, extensive vendors and a bounce house will be included in the activities.
The line-up this year includes local favorites such as the Eric May Band and Idaho 75. American Idol's Britnee Kellogg will be the final performance of the season. The focus this year was to get as varied genres as possible, Dober said. From ska to country, there is something for everyone in Twin Falls Tonight.
"Back, in the beginning, we were struggling," she said. "Now they line up for us. So many people want to participate that we can't include them all."
Mississippi-based blues band Magnolia Bayou will be the first performance for Twin Falls Tonight. This is the band's second time performing in southern Idaho, the first being at last year's Hwy 30 Music Fest, lead singer Andrew Sulton said. The band gets another chance to make an impression in Idaho.
"We were worried about coming to Idaho because they may not like our sound," Sulton said. "Blues is a universal sound. After that show last year we quit worrying where we are playing."
During a concert last year, Prater brought his grandson on stage and told the audience that this is why they put the event on. The community-driven event is something he hopes that will be passed down to the younger generations.
"We want to continue this tradition so the younger generation will carry it on," Prater said.