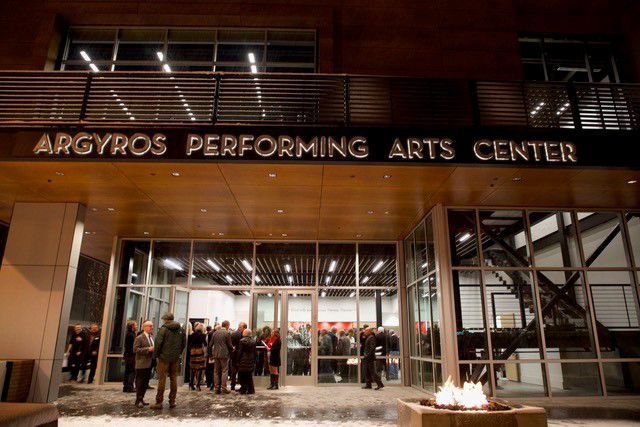 KETCHUM — The Argyros Performing Arts Center has announced its inaugural season, which begins this month and runs through August.
The Argyros' mission is to bring nationally and internationally recognized artists to the Wood River Valley, as well as providing a home for the region's non-profit organizations.
The Argyros will present a range of top-quality performances and genres:
Jan. 11 — World-renowned jazz guitarist Martin Taylor and two-time Grammy-winner Laurence Juber — lead guitarist in Beatle Paul McCartney's band Wings — will artfully fuse folk, jazz and pop styles.
Jan. 19 — The Jerry Herman Legacy Concert will feature a cast of New York's Broadway and concert stars celebrating the songs and stories of one of American theater's true giants.
Jan. 22 — A performance by Jean-Yves Thibaudet, who is hailed as one of the best classical pianists in the world.
Jan. 26 — Emmy and Tony Award-winning actress and singer Kristin Chenoweth will present a concert to support the Performance Fund.
February — Isabella and Friends: A night of ballet from Sun Valley native Isabella Boylston, now one of the world's foremost ballerinas as principal dancer with American Ballet Theatre.
Feb. 16 — Acclaimed actress, singer and songwriter Rita Wilson will perform her soulful and eloquent singer-songwriter pop music.
March — The Argyros' Tierney Theater will host actor-writer Dan Hoyle, called "riveting, funny and poignant" by the New York Times; the groundbreaking, category-shattering classical trio Time for Three; and pianist Jon Kimura Parker.
April — SOUNDspace by Dorrance Dance will smash your perceptions of tap in a performance that explores the unique setting and acoustics of the Argyros.
The season will also include a full schedule of events and performances from local artists and arts organizations including the Sun Valley Opera, Sun Valley Center for the Arts, Sun Valley Summer Symphony, Sun Valley Film Festival, Sun Valley Institute and Sun Valley Wellness Festival, among others.
For information and tickets, call 208-726-7872 or go to theargryos.org which is continuously updated with new information and events. Artists and dates are subject to change.
Founders Julia Argyros and Timothy Mott have also announced the establishment of a Performance Fund to support the presentation of name artists and productions that cannot depend solely on box office receipts, and for the commissioning of new work that will extend the reputation of the Argyros into national circles. Together, they have contributed a $1.5 million initial gift to the fund, toward a $2 million goal.
For fundraising and information on how to become a founding donor, call Sally Gillespie at 208-720-9593 or email sally@theargyros.org.