TWIN FALLS — Erin Taylor is in a bit of a predicament: She's in a puppet show at the College of Southern Idaho and she's afraid of puppets.
Taylor and eight other performers will help retiring CSI professor Laine Steel bring some 50 puppets to life Friday in Steel's new show, "The Puppet Tree."
Steel's work showcases poet Shel Silverstein's classic children stories "Runny Babbit," "The Giving Tree" and "The Missing Piece."
Taylor says she knows her fear of puppets is irrational, but she can't help but be creeped out by how lifeless they appear — until the actors breathe life into them.
Many of the puppets were made exclusively for the show, said Steel, who's been performing theater for 30 years. For this show, he is going back to what kicked off his career.
"I worked with puppets at the start of my career," Steel said. "I'm returning to my roots with this."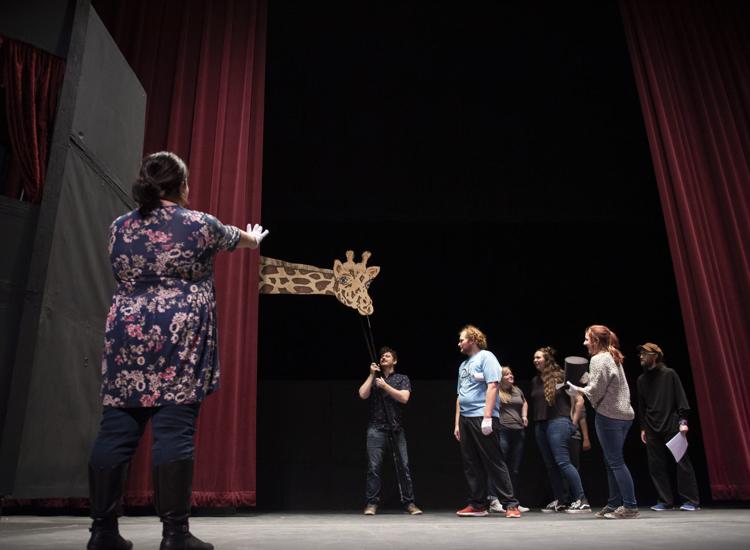 Stage manager Curtis Hopfenbeck handles scene changes and helps the actors when they need an extra hand. The audience can catch him on stage at one point as the skunk in the trunk during the charming "A Giraffe and a Half" sketch. While all the other performers feign exhaustion at the repeated lines, the skunk continually pops up and greets the audience.
"This show is so light-hearted and goofy. It's reminiscent of childhood," Hopfenbeck said. "During the show, I can't help but smile."
Controlling the puppets come with a new set of challenges, CSI theater major Kylee Lopshire said. Actors are trained to look out at the audience and to use their whole bodies to act; here they must have their puppets face down to look at the audience and the only body parts they use is their mouth and hands, she said.
Lopshire controls the titular "Giving Tree," and has to match the mouth movements to the other performers.
"As an actor, you don't think of working with your hands," Lopshire said. "In theater, we're trained to use our whole body."
Working with people they know and enjoy makes the work easier, Taylor said.
"This is a new experience for all of us," she said.
Steel said that his students finally understand what directors deal with during a show.
"You put a puppet on their hands and the actors gain more empathy for the director," Steel said. "They have to make the puppet do what they want and now they're the ones saying 'Why aren't you doing what I want you to do?'"
Correction: A previous version of this story included an incorrect performance date. The shows will be at 7:30 p.m. Wednesday through Saturday and at 2 p.m. Saturday. There will not be a performance on Sunday. The Times-News regrets the error.