FILER — It can be hard to keep audiences coming back for more in 103 years of operation. But the Twin Falls County Fair had a plan — the trick is to throw everything at the wall to see what sticks.
This year's event started with a bang with the one-stop action-packed show Ponies, Pistols & Pistons. The western-themed show took place in the Shouse Arena which can accommodate the freestyle motor sports, rodeo specialty acts, bullfighters, demo derby and cowboy-mounted shooting. The show was designed to entertain all audiences, Lydia Buffington, office manager for the fair, told the Times-News in an earlier interview.
"Just seeing it all fall into place is an amazing feat," Buffington said. "We're just looking forward to having families and everyone just have a good time."
Families bustled into the stands of the arena and waited in anticipation for the show to start. At 7 p.m., a voice erupted throughout the area.
"You might see something you've never seen before in this arena," the announcer said before the show's first act.
The Snake River Daredevils rode out onto the dirt track to kick off the performance with daring acrobatics — not for the faint of heart. Each rider performed moves bound to give audience members a spell of vertigo. The riders let go of their handlebars and held the very edge of their motorbikes, then threw their bodies toward the handlebars just in time for the landing.
Following that, the Oklahoma-based trick rider, Haley Ganzel, burst into the auditorium and leaned her body to impossible lengths on the side of her horse. She has been trick riding since she was 4 years old, and on Wednesday night, the 24-year-old rider showed off her years of work when she stood on one leg while her horse galloped around the stadium to a round of applause.
You have free articles remaining.
Before the show started, Skedaddle and Dandi had to warm up by running circles on a dirt track, reading their lengths for the burst of speed they would need to achieve. The horses were ridden by Kimber McIntyre and Larraine Robinson, members of the cowboy-mounted shooters club Idaho Regulators.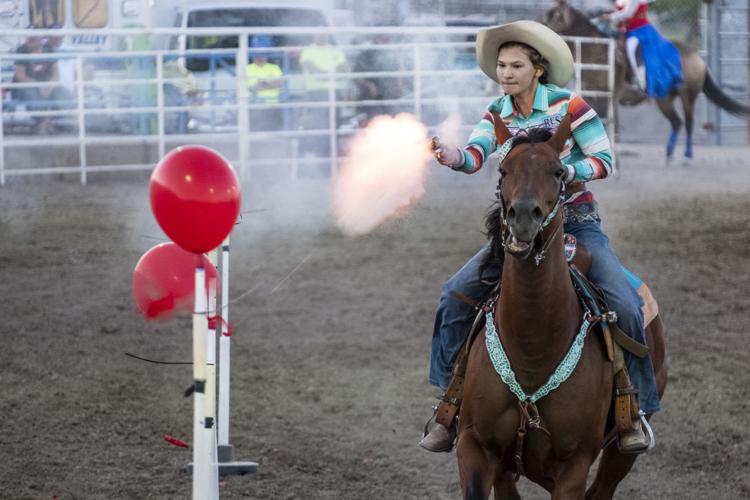 By the time the show started, the horses were warmed up and sprinted out into a row of balloons. The riders took out their pistols and shot every balloon with hawk-eyed precision.
"Our part — riding fast, riding hard and a lot of shooting," Robinson said.
The show continued with increasingly complex tricks and feats. And with that, the Twin Falls County Fair roared to life.