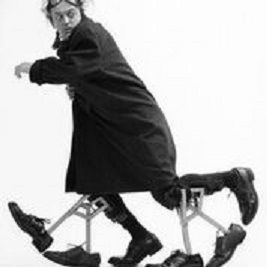 KETCHUM — The Sun Valley Center for the Arts has announced the lineup for its 2019–2020 Performing Arts Series, a special event and featured speakers.
Every year, these events bring award-winning authors, inspirational speakers, ground-breaking artists and brilliant musicians to the Wood River Valley to spark curiosity, stimulate conversation and bring the community together through the arts.
Kicking off the season in September will be Tomáš Kubínek, a self-proclaimed miracle man. Next up will be Buenos Aires-based Che Apalache, who will bring Latingrass to Ketchum in November. January will bring the young virtuoso ukulele player and songwriter Taimane.
The popular International Guitar Night will return for the fourth year in February. This year's performance will be hosted by Mike Dawes from England, considered the world's finest and most creative modern finger-style guitarist. Cenk Erdogan from Turkey, jazz virtuoso Olli Soikkeli from Finland and Hawaiian slack-key master Jim Kimo West will join Dawes on stage.
In March, the series will close out with a group from Ireland, We Banjo 3. Composed of two sets of brothers, the multi-award-winning bluegrass group is known for its combination of fiddle, guitar, mandolin and banjo.
All of the musicians and performers in the 2019–2020 Performing Arts Series will work in Wood River Valley schools — interacting with more than 1,000 students as a part of the center's commitment to art education through its Professional Artist Residency program.
In addition to the Performing Arts Series, the center will present two special performing arts events, starting in October with An Evening With Keb' Mo' and special guest Jontavious Willis — already sold out. The incomparable Storm Large will return in December to perform her Holiday Ordeal.
This season will also include two featured speakers whose presentations correlate with two of the center's 2019–2020 Big Idea projects. In September, as part of "Marketplaces: From Open Air to Online," author and Iraq War veteran Kirk Wallace Johnson will weave a true-life tale about the trafficking of rare birds and bird feathers that illuminates the connection between natural history, crime and the marketplace.
Next, as part of the Big Idea project "The Bottomlessness of a Pond: Transcendentalism, Nature and Spirit," the best-selling author, memoirist and novelist Cheryl Strayed will share her perspective on the fierceness of the human spirit, the power of nature and the grace and beauty that is found in between.
Performing Arts Series tickets and individual featured speaker tickets for Sun Valley Center for the Arts members are on sale now, by phone or in person only.
All individual tickets for center members will go on sale at 10 a.m. Friday. All tickets for the general public will go on sale at 10 a.m. Sept. 13.
To purchase series tickets, members must call or visit the center to select seats for individual performances. Individual tickets can be purchased by calling 208-726-9491 or by going to sunvalleycenter.org or in person from 9 a.m. to 5 p.m. Monday through Friday at the center box office, 191 Fifth St. E., Ketchum.
Stay up-to-date on what's happening
Receive the latest in local entertainment news in your inbox weekly!