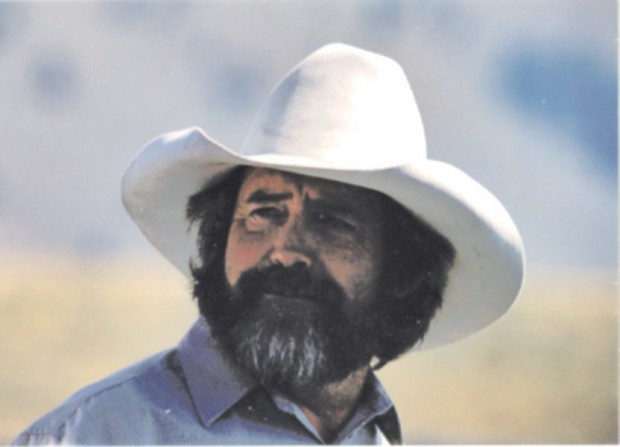 Muzzie Braun and Idaho go together like, well, Muzzie Braun and Idaho.
With song titles like "Tater Town" and "Stanley Stomp" — and lyrical lines about everything from rodeos to melting snow, greening grass and mountains reaching right up to the sky — Braun's country music wears Gem State nuance like a badge of honor.
The Clayton singer and acoustic guitarist is "authentic, iconic, Idahoan," said Sandra Beckwith, Idaho Rocky Mountain Ranch manager in Stanley. For more than 20 years, Braun has entertained ranch guests at least once a week, serenading them with his smooth vocals and guitar work.
"Muzzie is extremely engaging with the audience. He'll play on the porch, the lobby or the dining room, wherever the audience is, and he's a fabulous musician and people are drawn to him and his music," Beckwith said. "What really impresses upon people is the experience presented in his songs. Muzzie and his wife, Joann, are solidly rooted in this area, they raised their family, built their home and represent the best life experience you can have up here, and that is reflected in the music."
Braun, 61, has made a living making music for more than 40 years. But in recent years he's traded a schedule of months on the road — and hundreds of shows a year — for about 60 shows a year close to home. He plays music festivals, a few concerts, corporate events and private parties.
Today, he and Joann live in the mountains of central Idaho where they raised their four sons, Cody, Willy, Micky and Gary, now adults. Like Muzzie, they were born into a family where playing instruments and singing — even at the top of your lungs — was encouraged and not relegated to the garage.
"My father, Musty, was a terrific musician, and he encouraged us to play. He even built us a practice room in the house," Muzzie told the Times-News. "I had that same attitude of encouragement with my children."
It wasn't long before the boys were interested in the family business and Muzzie and the Boys was formed. The band got national attention and landed two appearances on "The Tonight Show Starring Johnny Carson" and another with Jay Leno.
Muzzie's and Musty's influences are present in the music of Reckless Kelly and Micky and the Motorcars, two Austin, Texas-area bands formed by Muzzie's sons Willy and Cody Braun, and Micky and Gary Braun, respectively.
"They grew up playing with me and we played together every day for years … it becomes a part of who we are," Muzzie said.
Dr. Mark McKain of Twin Falls has been a Braun supporter for decades. He even remembers The Syndicate, the rock 'n' roll band Muzzie formed with his brothers in high school.
"They were all very musically talented," McKain said, adding that Muzzie's soft voice has always been one to remember.
"His lyrics are simple and heartfelt. He's a good guitarist — not a lot of complicated guitar riffs — but it's meaningful and heartfelt," McKain said. "But his voice is a magical voice. It's a voice that when you hear it you stop and pay attention."
Although fans around Stanley can easily catch a live performance during the summer, most southern Idaho aficionados must wait for the yearly Braun Brothers Reunion in Challis. Not this year. Muzzie Braun is headlining Saturday's Clear Lake Country Club Summer Bash concert in Buhl, on the driving range.
Twin Falls-based BraunBand is also playing the gig. Muzzie's brother Gary Braun is BraunBand's front man, playing guitar, harmonica and vocals. The band features four other musicians — including Gary's wife, Cindy Braun, on guitar, mandolin and vocals.
Don Campbell of Buhl said the concert will be the first time in decades he's been able to see Muzzie play live.
"My wife and I used to listen to the music of Muzzie Braun, the Braun Brothers and associated bands (such as Tarwater and WhiteWater) years ago. Nearly 30-35 years ago, while in school, Diane and I would make time to go to whichever establishment they were playing. It was a guaranteed good time: good music, good dance tunes, a lot of fun, and a great evening," Campbell wrote in an email. "When we moved to Buhl and started building our farm, we no longer had the time to go to concerts or travel to Challis, Boise or Stanley for Braun Brother events."
Muzzie's alter ego, Buck Divot, will also make an appearance Saturday. Muzzie created the character in 1996 as a way to merge his two loves: golf and country music.
Stay up-to-date on what's happening
Receive the latest in local entertainment news in your inbox weekly!