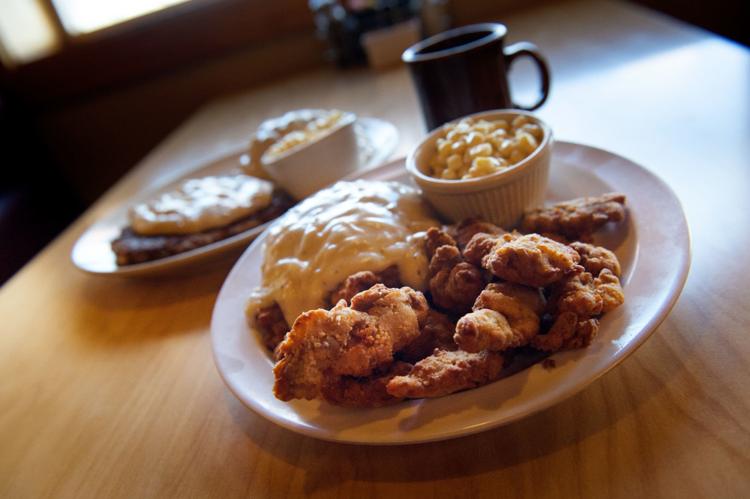 FILER — Without the sign, you wouldn't know the blockish, tan building along the train tracks was a restaurant. It's across the street from a cluster of silos and an RV dealership. Three ancient gas pumps sit out front.
Inside, the Curry Junction restaurant is cozy and out-of-time, with sloped, original hardwood ceilings and a menu full of comfort foods. Dan Nickel, who grew up in Twin Falls, has owned this place for 29 years, ever since he bought it from his brother in 1991. He says it's his baby.
"We pride ourselves in being a down-home type of atmosphere," Nickel said. "There's no strangers, just friends we haven't met yet."
Nickel already had a couple of decades of restaurant experience under his belt before he took over Curry Junction. He'd worked at Arctic Circle and been a regional director for Arby's. That background gave him a vision for the place when he took over.
Past owners of Curry Junction — which opened in 1948 under owner George Jasper — had sold food before. Nickel's brother ran a small cafe in the place. But for most of the store's history, the convenience store and gasoline were the main attractions. Under Nickel's direction, Curry Junction changed dramatically.
"I could see, coming from the big city (Denver), the restaurant was where the money was at," Nickel said. "It wasn't the convenience store, and it wasn't in the fuel."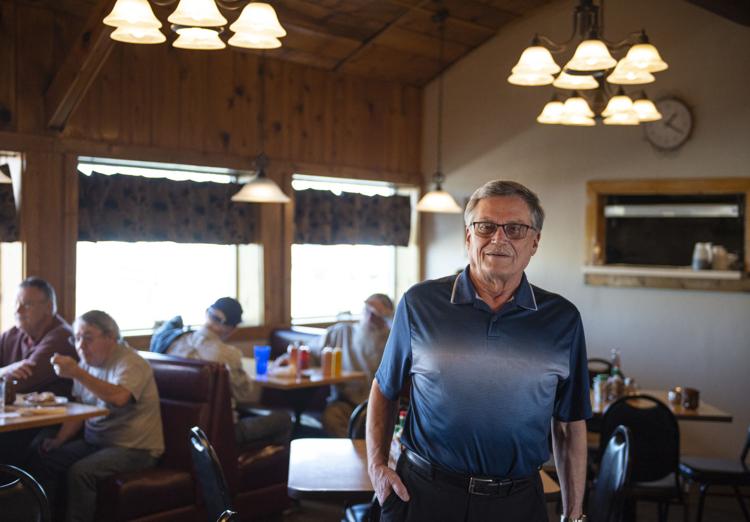 The pivot to a restaurant-centric store culminated in 2004 when Curry Junction underwent a $250,000 remodel. Much of the original building, a World War II-era quonset hut, is still intact, however. The interior still has that tubular quonset hut shape — the ceiling isn't flat, it essentially curves down into the walls, in a semicircle.
Nickel said he hopes customers feel the down-home vibe when they step into the restaurant. It'd be hard not to. Curry Junction sells breakfast all day, and the restaurant's two specialties are finger steaks and chicken-fried steak.
"Our finger steaks, I think, are probably the best you'll find anywhere," Nickel said. "I don't care where you go."
The down-home vibe doesn't just come from the decor and the food. Nickel pointed out that a lot of his customers are farmers. The restaurant sits smack dab in a transition zone where commercial properties give way to ag land. The place seems to straddle two worlds — it has a Twin Falls phone number and a Filer address.
You can practically feel the nostalgia in the air here, and Nickel himself talked about how things have changed at his store over the years.
"Probably the thing I feel the worst about is the demise of the family farm," he said. "The family farm is where my best employees came from. They all knew how to work. Very respectful of their elders, they were always on time, treated everybody they talked to with respect. It was great to have them working,"
There have been challenges over the years, Nickel said, periodic slow times — the U.S. Highway 93 reroute back in 2010 caused some stress and pain. But for the past two years, business has been good, up more than 10% last year and almost 20% so far this year.
Nickel hopes more and more people take a pit stop between Twin Falls and Filer.
"It's a down-home feel," he said. "You don't leave here hungry."