TWIN FALLS — The Twin Falls Municipal Band has been around for a long time. And its free concerts in City Park are an old-time tradition. But that doesn't mean they are stuffy and formal.
The concerts are meant to foster a sense of community, and etiquette for the summer series is modified to allow for that, band President Sandy Hacking said. Attendees are encouraged to bring a picnic and visit with friends, family and neighbors, even while the band is playing.
"It's OK to talk to your neighbor," Hacking said. "It's OK to get up and wave at a neighbor across the park. In fact, it's really OK to walk across the park and visit with that person while we're playing."
The band's 116th annual concert series will begin at 7:30 p.m. Thursday at the Twin Falls City Park and continue every Thursday evening through Aug. 5. Each show will have its own unique theme and is provided at no cost to Twin Falls residents and visitors.
The first concert — called "It's About Time" — will feature an array of pieces on the subject of time or that experiment with timing. Attendees will hear "My Grandfather's Clock," "Syncopated Clock," "Let the Good Times Roll" and more.
"I really think it's about time for summer to start," Director Elizabeth Thomsen said. "It's about time for the band to get to meet again without regulations. It's about time to hear some live music to a live audience."
The Twin Falls Municipal Band is composed of 45-60 musicians — including members and non-members — at any one time and is overseen by Thomsen. After two years of playing with the band, non-member musicians are eligible to be voted in as members for the next year.
Thomsen was raised in Twin Falls, graduating from Twin Falls High School before attending Boise State University for music education. After fulfilling her dream of teaching music in Montana, she returned to southern Idaho where her former music teacher, Ted Hadley, was stepping down as director of the Twin Falls Municipal Band.
"When he was ready to retire, he gave me a call, and I got the job," Thomsen recalled. "It's been a good fit for me."
After graduating, Thomsen received an invitation to play with the band and took them up on the offer. She has been playing with the band since 2009, even meeting her husband while working with the group.
Thomsen has also been teaching music at Canyon Ridge High School and Robert Stuart Middle School for seven years.
"I'm really lucky to be at the schools I'm at because we were still able to do performances [during COVID-19]," she said. "They let us play."
When the coronavirus pandemic swept the United States in the early months of 2020, no one had any idea of how long it would take to regain some semblance of control. A two-week quarantine dragged on into the summer months, and the city band was forced to modify its plans.
Instead of the 10-week series, the band started later in the summer — returning for its first concert on July 2, 2020 — and lasted only six weeks.
"That was the shortest series we ever had, and we still managed to do a six-concert run," Thomsen said. "That was lucky. We're one of the few city bands — that I've heard of — that didn't have to shut down entirely."
This year, the band is able to return for the full 10 weeks, without bell covers or spacing requirements.
Thomsen said it's important not only for there to be performance groups for people to be a part of but also for there to be a live and willing audience ready to listen, especially after the COVID-19 pandemic. The pandemic, she said, put countless performance jobs in jeopardy and swayed students away from the arts because of its uncertain future.
Despite this, Thomsen said it is important to show the younger generations just how important music is; simply attending the series is an act of support.
"Go be part of the community if you're part of the community," Thomsen urged.
For many musicians, the band has become family. Wayne Ford has played with the Twin Falls City Band for 72 years, but this year, the sound of his trumpet will be missing from the brass section.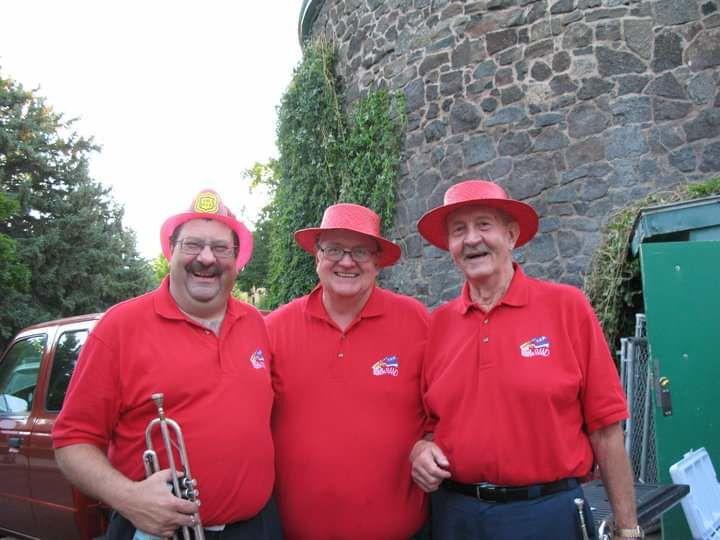 Ford retired from the band after his temporary retirement was broken for a handful of performances during last year's summer series.
Hacking worked beside him as he fulfilled the duty of both a musician and a band manager — overseeing the programs, paying for the cost, and ensuring the programs were printed in time for the series.
"He's a soft-spoken, kind-hearted gentleman who thinks of others before himself," Hacking said.
Thomsen recalled her time playing with him, just one row back, in the trombone section.
"When there were songs with really long rests, I would look over and he would kind of look like he was sleeping," she said with a chuckle. "One of his buddies next to him would elbow him a little bit, and he would wake up and play. He knew the music so well that he didn't necessarily need to count those 40 measures of rest that the trumpets had. He could just enjoy the music that was being played by everyone else."
When Thomsen had only recently become the band's conductor, she said Ford began to express his desire to retire from the group, promising her that it was because he was tired not because she "was a girl."
Even after selling or giving away his trumpet, Ford returned for the next three years, including the six-week series in 2020.
"He would give it (his trumpet) away to a relative or a student," Thomsen said. "By the time the next summer rolled around, he would say, 'Can I have that trumpet back? I need to go play with the city band.'"
Hacking said she is hoping Ford will break his retirement to perform with them again.
This year's theme for the series is "It's the Best Time of the Year."
"I know for a lot of our musicians and a lot of our concert-goers, it really is the best time of the year," Thomsen said. "You get to enjoy southern Idaho's beautiful weather, you get to be outside, sit and listen to some music, enjoy your neighbors and family and friends, and bring lots of people to the concerts."
The last show of the season is Thomsen's favorite show. Each of the musicians' votes on their favorite pieces they played throughout the summer. A list of the top favorites will then be compiled and played on Aug. 5.
Additional concerts are scheduled for July 4 at the College of Southern Idaho and on Aug. 3 at the Twin Falls Arts Council office.