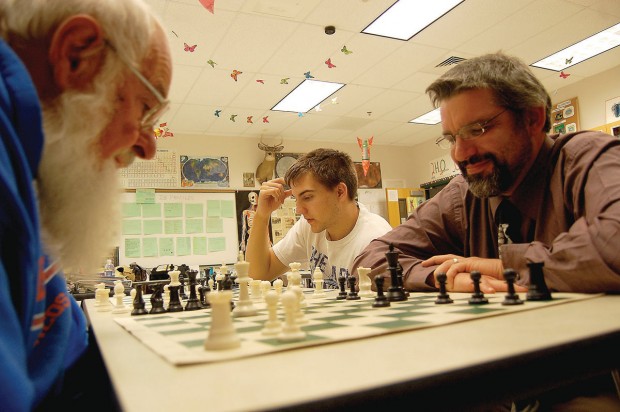 It's been a long time since the U.S. was as excited about chess as, say, football — remember Bobby Fischer?
But throughout the country, including south-central Idaho, it remains a pastime that draws people together. High school clubs and community clubs have small but dedicated memberships, disciples of the discipline who are eager to share their passion.
"If you like to think a lot, and use your brain, it's a good game for that," said eighth-grader Desmond Porth of Bellevue. "If you practice enough, a not very smart person can learn to play and win."
One of the myths of chess, say enthusiasts, is that you have to be a genius or a nerd to enjoy it or excel at it.
"People believe you have to be intelligent to play chess. No, you have to have a lot of common sense and eye for detail," said Adam Porth, Desmond's father and the organizer of the chess club at Wood River High School, where he teaches science. He said practice and the ability to recognize patterns is more important than IQ. "The more games you play, the better chess player you can become."
Games can pit a similarly rated 8-year-old against an 80-year-old — and either has a good chance to win. It's never too late to pick it up, say club organizers.
"People are afraid of it, they say, 'I can't learn chess.' Anybody can learn chess, and it doesn't take long to teach it," said Norman Friedman, organizer of the Wood River Chess Club. He has taught community ed classes through the College of Southern Idaho, and said four 1 1/2- to two-hour sessions can turn a newbie into a respectable player.
Of course, not everyone is interested.
"It's very fascinating, but if you're like my wife, she says she'd rather watch the paint dry. She calls it a 'geek convention' whenever we're playing," said Barry Eacker, organizer of Magic Valley Chess Club.
The game can be mentally intense, sometimes even grueling, especially for competitive players.
"It's the most warlike and unforgiving game. You can spend five or six hours nurturing a position and the slightest error can cause you to lose everything you fought for. (But) when you win, that you discovered you've achieved a combination on the board you've struggled for, it's very gratifying to see it come to fruition," Eacker said. "Bobby Fischer used to say, 'When you beat someone at chess, you crush their mind.' I've seen instances when people have lost games, and they've quit playing."
But it's also an awful lot of fun.
"I spent my weekend exhaustingly entertained," said Adam Porth, who won his category at a recent two-day tournament in Boise. He also often plays chess with his family; he and his wife will play as they relax at a wine bar, or he'll break out the four-person chess or other variants and get the kids involved at home.
Desmond Porth admits he likes video games a little more than chess, but has gotten his friends involved in the board game because he enjoys teaching it, and it's a good way to spend an hour or two after school or on the weekends.
Wood River High student Kevin Jensen said the board game is like many other sports — as when Boise State University botched field goals against Nevada, a few mistakes can cost the game. But it's different, too. "Chess doesn't have a scoreboard; you can have less pieces, and still be leading," Jensen said, describing the value of position on the board.
And you can play at any age. "This is something for a lifetime," said Erwin Kett, an immigrant from Germany who comes to almost every Wood River High club meeting to play.
These days, chess is available day or night, with opponents of every level going online to find a game. But advocates say over-the-board (in-person) chess has advantages over online games.
"If you have a bunch of people getting together and interacting about an activity they're all interested in, it's fun," Eacker said. Over-the-board chess also attracts spectators, whether they play or not.
"If you see a game going, there will be a herd of people around watching," Adam Porth said. Watching the game, watching the players — and hearing the smack talk, if it's a casual game. "Over-the-board is great socially. You get to talk, and occasionally play the player instead of just playing the board."
In person, it's a lot harder to break the rules, said Desmond Porth, who said some online players use cheat engines to win.
For those who practice rather than cheat, chess has been shown to improve mental abilities.
Students who play have improved grades in both math and reading, said Friedman, who participated in conducting a study of 1,000 New York City students when he was part of the Manhattan Chess Club. Half were taught chess as part of their academics, and half weren't, and then they were assessed by an independent firm.
"It was not just a casual difference — there was a significant difference in their school grades," Friedman said.
Eacker said it has similar benefits for older minds. Alzheimer's runs in his family, he said, and he took up chess after hearing about its benefits in forestalling or delaying onset of the disease.
All the clubs say they welcome new members, whether casual players or those interested in practicing and competing in tournaments. "Come take a look at what's going on," Friedman said. "You don't have to be smart, you don't have to be anything special — it's universal."
Stay up-to-date on what's happening
Receive the latest in local entertainment news in your inbox weekly!