TWIN FALLS — Fireworks run in the family.
These fiery explosions create lasting bonds that are passed through generations.
Miles Naylor's family has owned a fireworks stand for the past 20 years. It has become part of their lifestyle.
"We've always focused on family and being affordable so that everyone can enjoy fireworks," Naylor said.
The temporary shop is squeezed between the Cafe Rio and Dairy Queen on Blue Lakes Boulevard. It's a small booth, owned and operated by Naylor and his wife, Lucia Naylor. This is their third year running a firework stand together.
They are constantly learning the ins and outs of the business. The most important thing for these stands become returning customers.
"It feels good to be loyal to the country that you live in," Lucia said.
Luis Martinez, an operator at the TNT Fireworks by Fred Meyer, said that a fan favorite is the "Purple Rain firework" — a spectacle of pyrotechnics where purple flames fall from the container. Often uncles and aunts purchase fireworks trying to show off for their nieces and nephews, he said. But sometimes the simplest fireworks lead to the same amount of enjoyment.
"The little odds and ends are always a favorite with kids. They find a sparkler just as fun as anything else," Martinez said.
From June 23 to July 1 there is a slow trickle of customers, normally kids purchasing the smaller fireworks. But as soon as the stands open on July 2, the fireworks start flying off the shelves.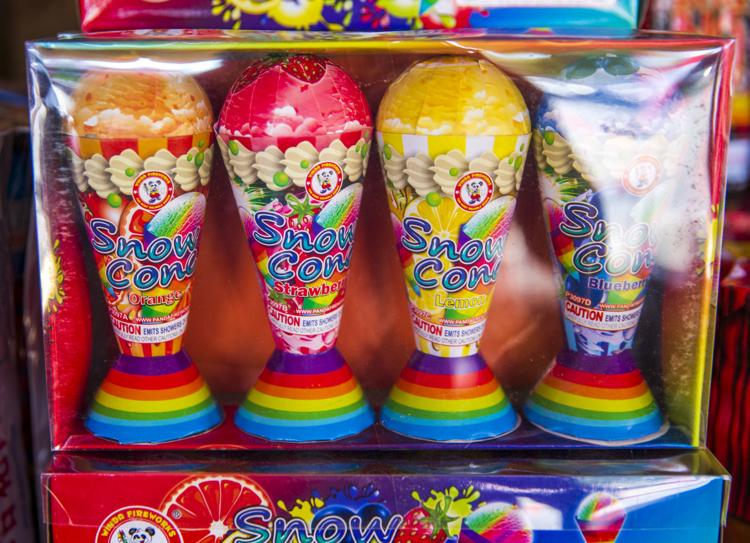 It's not uncommon for people to wait till July 4 to buy fireworks, said Erin Martinez, the co-operator of the TNT Fireworks tent. After the firework show, people want to continue the fun and buy their own fireworks, which often leads to their busiest day, she said.
"After the firework show, people get excited and they come to buy their own fireworks," Anne Wrobel said.
The Outlet Fireworks booth Wrobel runs is outside of Swensen's Market, right across the parking lot from another stand. Wrobel said it leads to fun competition.
"I always see kids go to both booths," she said. "Fireworks are just a good time for people."
David Weaver, the co-owner of The Red Dragon, said that most firework stands are family businesses. His father opened Red Dragon around 40 years ago and now has 42 stands throughout Southern Idaho. The fireworks business is one that is rarely impacted by economic trends; customers will always splurge for Independence Day, he said.
"Firework stands are run by sacrifice," Yergensen said. "People give up their Fourth of July and a week selling fireworks. It's worth it when you build a relationship with returning customers and know that they are having a good time."
Stay up-to-date on what's happening
Receive the latest in local entertainment news in your inbox weekly!