FILER — The Twin Falls County Fairgrounds are set to come alive — once again — on Saturday with the annual Filer Fun Days.
Joe Lineberry and his wife moved to Filer from their 180-acre homestead in Darby, Montana, 25 years ago, seeking specialized medical attention in the area. After setting down roots and starting his own business, Lineberry started getting more involved in his community.
While Lineberry was getting settled and learning more about his new home and new neighbors, Filer Fun Days almost met its end.
"Nobody would step up, nobody would help," he said. "The chief of our fire department came to me and said, 'Will you help us?' When the fire chief at the time said that was probably going to be the last year they were going to have the parade and the rest of the events weren't going to go off, it just broke my heart. I just thought, 'What are we going to do?'"
Lineberry agreed to help, and after that year, the fire chief turned the event over to him. With little experience organizing events, Lineberry spoke to locals and gathered enough interested people to create the Filer Events Committee, which now oversees Filer Fun Days.
Every year since, Filer Fun Days has continued to grow, and Lineberry said the committee is working hard to get younger generations involved. Earlier this year, a young woman approached Lineberry and asked to develop a website and monitor the group's social media accounts.
"That's important in this day and age," he said. "It's attracted so much attention that we're expecting a crowd of over 3,000 people this year, which is phenomenal."
This year's event will begin the night before with a Fair Foundation Fish Fry on Friday from 5-8 p.m. The fish fry is "all you can eat" for $10 per person or $30 per family of four. Saturday kicks off with a FFA Pancake Breakfast from 7-10 a.m. as well as the 5k and Fun Run, hosted by the Filer FFA Alumni.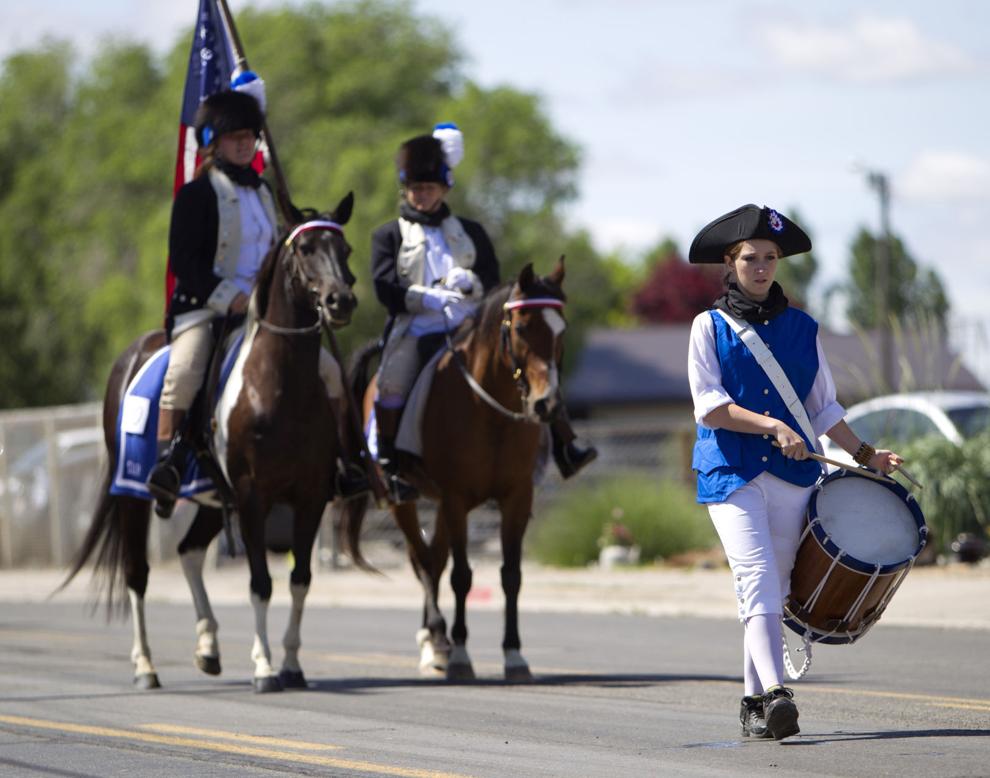 The parade is scheduled to begin at 11 a.m. and is set to have almost double the number of entrants of last year's parade.
The event continues well into the evening with live music and entertainment starting at noon, ending with a fireworks show at 10 p.m. This year's show will include more aerial fireworks than ever before, Lineberry said.
"People have told us that our fireworks are better than Twin Falls', I'm afraid," Lineberry said with a chuckle.
Throughout the day, attendees can take part in the petting zoo, dunk tank, free balloon animals, train and wagon rides, and more. The World Famous Chicken Drop has also returned after the coronavirus pandemic forced event organizers to cancel last year's drop.
Food vendors, an arts and crafts show, a car show, and a beer garden are also available, and the senior center and local library will be hosting their own respective yard sales.
"Everything is cost free, unless you want to eat something or buy something," Lineberry said. "You can just walk in and listen to all of the entertainment, and your kids can go in the back, in the kids zone, and play for free. The parade is free."
The low cost is a community effort, he said. The Filer City Council allocates money to the Filer Fun Days event each year, and since moving to the Twin Falls County Fairgrounds, fairgrounds administration donates all of their available space to the event.
Lineberry said the event has changed his life in many ways, especially by motivating him and his wife to volunteer wherever they are needed. Moreover, he said, Filer Fun Days continues to change the lives of those in the community.
The event is a community affair that brings people together toward a common goal, which is especially important in the growing city, Lineberry said.
"The community is the one that makes this happen," he said. "All of the community work together to get this done, and it's important that we stick together and keep this going."
Event organizers are asking for donations that will be put toward next year's parade. Volunteers are always welcome, as well, he said. Anyone interested in getting involved in Filer Fun Days can reach organizers online at filereventscommittee.com or by calling Lineberry at 208-731-4318.