I'm a casual cyclist at best.
I'll ride my bike to and from work and go for the occasional bike ride around town. But I don't venture too far outside of areas that I'm familiar with.
Suzzane Cawthra, an avid cyclist from Twin Falls, challenged me to give up my car for an entire week and only get around using my bicycle. Seeing as Bike to Work Week is in full swing, with Bike to Work Day on Friday, now seemed like the perfect time to take on this challenge. So I accepted.
I met with Cawthra for some tips on how to devote myself to my bike. She said that she is routinely harassed while cycling. She is flipped off, cars brake check her or she will be told to get off the road.
She spent some time cycling in Los Angeles while in grad school. That was when she started to really see its benefits. She no longer dealt with expensive parking or getting tickets. She got rid of her car and devoted all transportation to her bike; she continues to challenge herself with the occasional state long trek.
"It's a unique way to see the city," Cawthra said. "There is an adventurous aspect as well as something mundane about it."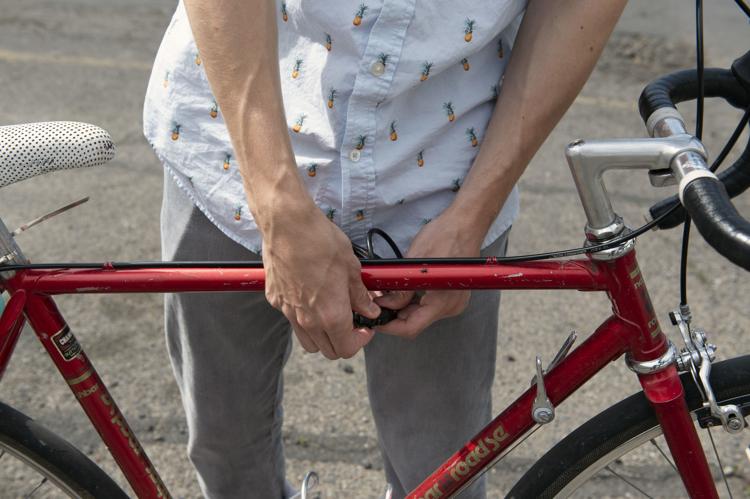 Her biggest piece of advice to me was to be as predictable as possible: Stay consistent so drivers know where you are going and what you are doing. For the first time, while biking, I tried to use proper hand signals. Unfortunately, my terrible sense of balance challenged me whenever I raise my hands out to signal a turn. I like to think I'm getting better.
The largest obstacle was grabbing groceries. My bike doesn't have a basket in the front. so I, in my infinite wisdom, decided to hold my bags in one arm. There are a hundred better solutions to how I did it. For anyone trying their hand at ditching their car, don't follow my example. I also learned that if I see storm clouds approaching I need to get to wherever I am going much faster.
Every day in the news I see new reports on rapidly rising CO2 emissions. It makes me feel a bit queasy when I consume any information on climate change. It's scary stuff and a part of me feels a little helpless. I want to lower my carbon footprint but at times it seems like an impossible task. While cycling, maybe I was patting myself on the back too much, but I felt like I was doing something instead of just feeling sad for myself while cruising around in my car. I don't want to say I'm a hero, but any other word doesn't do me justice.
When cycling, I discovered little parts of my ride that became highlights, such as stretches of the road that are particularly smooth or passing by Mi Pueblo Bakery and getting a whiff of what's being made or feeling the temperature cool as the sun sets. It becomes the little things while riding that I grew to appreciate. Cycling the extra couple of miles to a destination becomes an adventure and an appreciation of the place that I live.
At the time of writing this story, I still have two days to go to complete the challenge. But, I'm thinking I might extend this challenge indefinitely. The brief moments when I get to ride my bike somewhere has quickly become the highlights of my day. I don't miss my car one bit.