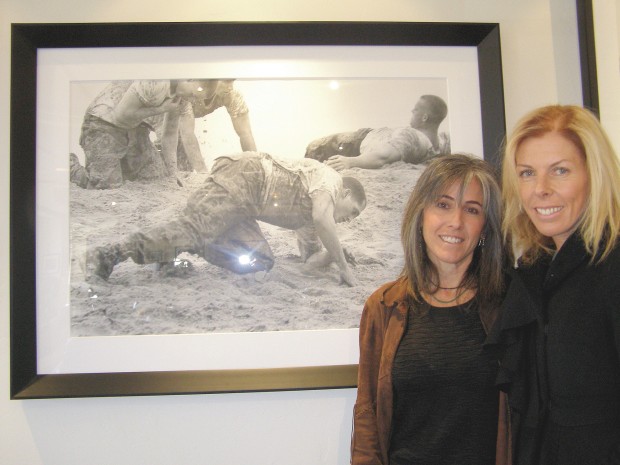 KETCHUM — When terrorists slammed two planes into the Twin Towers, Stephanie Freid-Perenchio's thoughts flashed back to a dinner party a year earlier where she had been seated next to Vice Admiral Robert S. Harward, deputy commander of the U.S. Joint Forces.
"I had met a number of Navy SEALs because of our acquaintance, and I began wondering: If it was my husband or a good friend, how would I feel about them leaving to fight in a place like Afghanistan?" she said.
The Sun Valley woman did more than wonder. She contacted Harward to see if, for a book, she might be granted rare access to the men who go to war for a living.
When he agreed, she and childhood friend Jennifer Walton embarked on a two-year journey that took them to the SEAL (Sea Air and Land) training facilities at Coronado near San Diego, Calif., and Virginia Beach, Va. They observed cold-water training at Kodiak Island, Alaska, river training along the Mississippi River, ocean training off San Clemente Island and desert gunnery training in the Chocolate Mountains straddling the border of California and Arizona. And they went to the Pentagon in Washington, D.C.
They got to observe much of what SEALs go through during three years of training, from parachute exercises to running a 45-pound bell across the bottom of a pool, to navigating an obstacle course of barbed wire, rope bridges and cargo nets.
They got to see Hell Week — two weeks of cold, wet and sleeplessness that pared a class of 140 to 18 men.
And they got to observe rare Medal of Honor awards being presented to two SEALs. One had fallen on his grenade to save fellow soldiers. The other had taken enemy fire to radio for help when his platoon was cornered.
"Most people have no idea who these men are and what they're about, even though they're fighting for our country," said Freid-Perenchio, a former television stylist, talent/music agent and journalist. "It's not known what their sacrifice is going to be. They don't talk about it. But they know going in that it will be beyond normal."
Getting the admiral's OK didn't mean immediate acceptance from the SEALs, a bastion of 2,300 males that is notoriously publicity shy. Freid-Perenchio and Walton learned the value of tenacity and tough skin as they worked to earn the respect and trust of the men and their families.
They did that primarily by backing off and respecting boundaries when the men didn't want their pictures taken. Still, they managed to capture some emotional moments — including the SEALs' first deployment to Afghanistan a few weeks after the 9-11 tragedy.
"There wasn't anybody there with a camera other than a wife or two," said Walton, who spent a decade working in artist management in the music industry.
"One man had his baby on his chest until the very end. As they were getting on the buses, someone yelled, 'Hey are we taking the baby with us?' He walked down the steps and his wife walked up, crying hysterically. It was so emotional I couldn't even take the photo," said Freid-Perenchio.
The experience was a wake-up call, said Walton, who lives in Los Angeles. "All of a sudden, we were driving less than 100 miles and seeing people's lives that were radically different. ... These families had no idea what the country was planning on doing. We went back home where we were safe in bed. And the wives went to bed thinking about their husbands and wondering where he is."
The book, "SEAL: The Unspoken Sacrifice," has received words of praise from many of the SEALs and their wives.
"The next time somebody asks me what it's like to be in the SEALs, I'm going to hand them this book," said U.S. Navy SEAL Peter Scobell.
Ketchum resident Dick Couch was active with the SEALs for 30 years and now is a consultant to U.S Military Special Operations. The book is worthwhile for anyone wanting to know about SEAL training, operations and families, he said.
"It's interesting and it's compelling," he said. "I know a great deal of time and effort went into it."