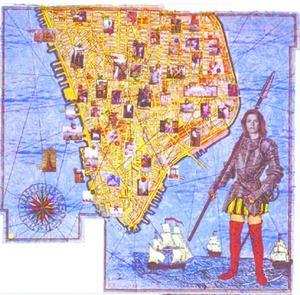 KETCHUM - A few years ago, Santiago Sierra directed the South Korean Army to excavate a hole on either side of the North Korea/South Korea border. The Spanish-born, Mexican-based artist then had the two bulldozers take the dirt they'd dug out of one hole and fill the other with it.
The gesture pointed out that no real difference existed on either side of the invisible line that divided the two countries, despite the hostilities that this arbitrary, imaginary line has prompted.
And the photographs of the event play perfectly into the Sun Valley Center for the Arts' new exhibition "Lines in the Earth: Maps, Power and the Imagination."
The exhibit, which opens Friday and runs through Dec. 14, features a variety of works based on maps.
Courtney Gilbert, who curated the exhibit, said her interest in the subject was piqued by the work of a Chilean artist Alfredo Jaar, who did a project in the 1990s that showed how many world maps tend to exaggerate the size of wealthy countries and downplay the size of poorer countries and continents, such as Africa.
"I've been interested in maps all my life," she said. "When I was a kid I loved looking through atlases and imagining where those maps would take me. And then I read Mark Monmonier's book 'How to Lie With Maps.'
"We tend to read maps as objective, truthful documents but, according to Monmonier, we use maps to tell some truths but with our point of view to represent our interests. There was, for instance, a surrealistic map of the world that the French made where they diminished all of the United States but Alaska but expanded Russia and Mexico."
Ironically, the Castle Rock Fire was lapping at the edges of Ketchum as Gilbert was readying the exhibit. And as the fire burgeoned, Wood River Valley residents huddled around fire maps that showed solid black lines where the fire had been "secured" and spiky red ones where it was still uncontrolled.
What they couldn't tell by the maps, Gilbert said, was where the smoke had exceeded those boundaries to seep into people's homes while they slept or the realities of the firefighters who were working to keep the fire from running roughshod over homes and businesses.
"Maps don't reveal everything," she said. "But, nevertheless, we have been using them for thousands of years to define our world."
Among those in the exhibition is an East Coast artist who inscribes book quotes, movie images and other things onto maps to address how the British, Spanish and other empires affected the conquered.
A pacifist, she believes that maps are a tool to war and colonialization, Gilbert said.
In addition to her wall art, which features images taken from her son's childhood drawings of wars and battles, she has made a 9-foot-by-9-foot globe titled "Target" for the exhibit that viewers can enter. The globe, which is assembled in 32 pieces, is covered with reproductions of maps Kozloff began ordering from U.S. government agencies during the Gulf War in the 1990s.
Each of the countries represented has, at some point, been an American military target.
New York artist Jane Hammond is similarly influenced by her distaste of war and colonialism in her pieces "The Wonderfulness of Downtown"and "All Souls (Villavicencio)."
Hammond once achieved acclaim for "Fallen," a piece in which she piled handmade fall-colored leaves on top of one another, each inscribed with a name of a U.S. soldier who had been killed in Iraq.
Her "All Souls" series of art takes a similar approach, layering realistic looking butterflies made of rice paper and horsehair over maps of Africa, Asia and South America.
The art was inspired by a dream Hammond had after watching a newscast about the carnage of the Iraq war. In her dream she saw a map of Iraq covered with butterflies.
The transitory nature of the butterflies parallels the precarious political and economic situations of troubled countries like Uganda.
And their short lifespan represents the idea that lives can be snuffed out prematurely just because they have the misfortune of being on the wrong side of an imaginary line set down on a map.
Meanwhile, Hammond's "Wonderfulness of Downtown" features a female conquistador next to a map of Manhattan overlain with snapshots of everyday life.The art acknowledges that maps enabled conquistadors to conquer new lands.
But, in turn, it's a map of home - a map the conquistadors never needed.
Here's a look at the other artists in the exhibition:
* Lize Mogel visited the valley in September, surveying adults and students about their migration patterns, including how far they travel from home to work or school and where they go for fun.
* She also interviewed Sun Valley Resort Vice President Jack Sibbach to learn where seasonal employees come from, Lava Lake and Lamb Manager Mike Stevens about the annual trailing of the sheep, Brian Sturges about bird migration, Blaine County Recreation District Trails Coordinator Eric Rector about recreational rails and Blaine County Historical Museum officials about historical migrations. She is constructing a folding map like a trail map that shows where we come from and where we go.
* Matthew Picton takes two-dimensional maps and translates the streets running through them into three-dimensional sculptures.
* Lordy Rodriguez creates artsy looking abstracts out of maps.
* Nick Lamia creates art out of maps on such a small scale that they underscore the futility in trying to completely organize and understand our world.
* Dan Mills offers a fictitious proposal for the United States acquiring new territories through such works as USAntarctica.
"I hope viewers will think a little more about who made the maps they use and why, about what kind of information we take away and about the long-term impacts maps have on earth and us as citizens," Gilbert said.
This article originally appeared in the Wood River Journal, a weekly newspaper in Hailey affiliated with the Times-News.
Drawing on lines

Events associated with "Lines in the Earth:"

• Oct. 12 and Nov. 23: Gallery walk with wine and hors d'oeuvres, 5:30-8 p.m. Free.

• Oct. 14: Concert featuring Zum, a British group whose music crosses real and imaginary borders, blending Eastern European gypsy fiddle music with the passion of Argentinean tango, klezmer, Celtic, salsa, bluegrass, Arabic, and calypso, 7 p.m. Presbyterian Church of the Big Wood, Ketchum. Tickets: $25, $10 for kids 12 and under.

• Oct. 15: Rob Satloff, executive director of The Washington Institute for Near East Policy, talks on "Middle Easts: Mapping the Political Geography of a Troubled Region," 7 p.m., nexStage Theatre, Ketchum. Tickets: $15.

• Oct. 19: Opening of Hailey artist Bruce Kremer's "Line in the Earth Journals" at The Center's Hailey location, 5:30-7 p.m. Free.

• Oct. 21: Family Day, ib which participants will create a life-size illustrated walking map, 3-5 p.m. The Center in Ketchum. Free.

• Nov. 17: "First Person: Stories from the Edge of the World" featuring Ensemble Galilei and National Public Radio host Neal Conan. Blends music of the world with narration of texts by world's explorers and National Geographic Society photographs, 7 p.m., Presbyterian Church of the Big Wood, Ketchum. Tickets: $25.

• Tuesdays: Free docent tours of exhibit at Ketchum Center.