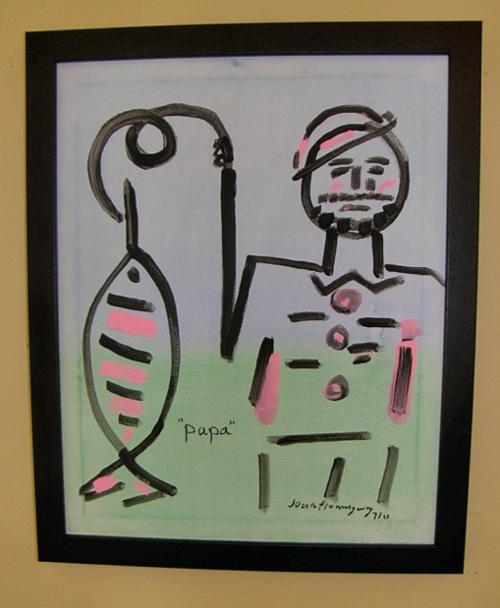 KETCHUM • Joan "Muffet" Hemingway — the eldest daughter of American writer and conservationist Jack Hemingway and granddaughter of Ernest Hemingway — is showing a couple dozen pieces of her work through May and June at The Coffee Grinder in Ketchum.
Coffee Grinder owner Nicola Potts will hold a reception celebrating the Joan "Muffet" Hemingway Spring Art Show from 5 to 7 p.m. May 5 at the iconic coffee shop, Fourth and Leadville streets.
Joan Hemingway, now a Magic Valley resident, grew up in Ketchum and, dating back to 1976, was a regular customer at The Coffee Grinder where she used to make daily sojourns for a latte and scone.
"She was always an artist and a fashionista, too," Potts said. "She studied fashion and she was always wearing the latest."
Part of the proceeds from artwork sales will go to The Wild Gift. The Ketchum-based program supports young social entrepreneurs who create sustainable living projects, said its director, Deborah Knapp. One young man, for instance, renovated a historic grange to provide a space for local farmers and artisans to sell goods.
Hemingway said she will also use part of the proceeds to benefit a charity of her choice, which she did not name.
"I thought this art show would be a way for Muffet to connect with the community," Potts said. "I hope that anyone who's known her or anyone who just enjoys her art will sign a little guest book that I have here."
Hemingway's works add a touch of spring to Ketchum's homey little coffee shop as the snow melts away from the mountains surrounding Sun Valley.
Her pastel pink-and-green floral works are simple yet profound. One depicts flowers comprised of big bold strokes with simple round circles on top.
Other works are taken from about 30 portraits that she did of "Papa" Hemingway, the grandfather who often entertained Joan on his knee during her early years.
A few of the portraits of her grandfather feature the acclaimed author of "The Old Man and the Sea" with fish in hand. Another shows him in the beret he wore while in Spain during the Spanish Civil War.
Others are of a dog, an angel, even Jesus.
Hemingway, now 61, lives a "very happy, very private life," Potts said.
"This artwork is a way for her to express herself," Potts said. "And it really shows what a bright space she's in. I especially love her self-portrait. I can see her face in it."