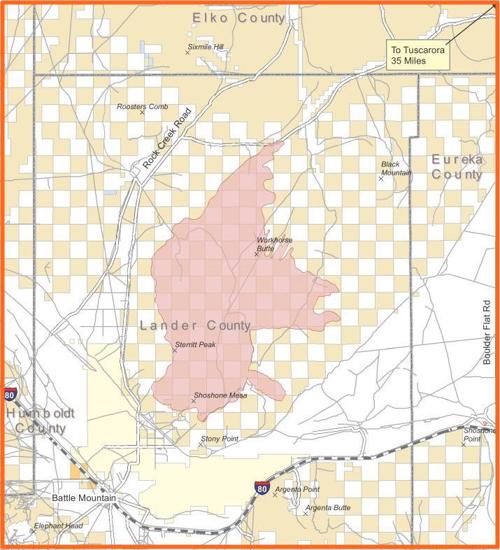 BATTLE MOUNTAIN – A fire that started after a helicopter crash and seriously injured two Lander County firefighters has been mapped at 57,417 acres north of Battle Mountain.
Two volunteer firefighters were injured Saturday when the fire burned over their engine. The fire started shortly after a Nevada Department of Wildlife helicopter crashed about 15 miles north of Battle Mountain.
Both firefighters were being treated at a hospital burn center. One has second and third degree burns on 14 percent of their body and the other has second and third degree burns on 33 percent of their body. Their names are not being released at this time to provide for privacy for them and their families.
"Please continue to keep both of these firefighters in your thoughts and prayers and thank you all for your continued support for the firefighters and families," said Lander County Manager Keith Westengard. "The names of the firefighters will be released when it is appropriate to do so."
Westengard said information about the incident and the injured firefighters will be provided to the public at 7 p.m. Wednesday during a community meeting at Battle Mountain High School.
Meanwhile, communication towers and transmission lines, private land and structures, sage grouse habitat and mule deer winter range are threatened by the fire.
The three people in Saturday's helicopter crash were in good condition. The contract helicopter carrying a pilot and two NDOW biologists was on a wildlife survey when it crashed at about 2 p.m. The pilot and one of the biologists had minor injuries and the other biologist had injuries to their neck and back.
A wildfire started shortly after the crash, and crews from the Battle Mountain Volunteer Fire Department and the Bureau of Land Management responded.
"During the response, an engine from the Battle Mountain VFD was burned over, injuring two firefighters," NDOW reported.
"We cannot stress enough the importance of safety with our employees and the public and we are grateful everyone on the flight is safe," said NDOW director Tony Wasley.
The Sheep Creek Fire was listed Tuesday as 50 percent contained. A total of 169 personnel were on the scene.
"This situation highlights the dangers faced by all partners and agencies who assist with battling wildfires," said acting BLM Nevada State Director Mike Courtney. "Our thoughts and prayers are with the firefighters and their families as they deal with the injuries and recovery."
"The Nevada Department of Wildlife will also continue to keep the injured firefighters and their families in our thoughts and prayers," added Wasley.
Anyone who wants to send a card or note to the firefighters, for support of a speedy recovery, can mail them to Lander County c/o HR, 50 State Route 305, Battle Mountain, NV 89820.
The helicopter crash is being investigated by the Federal Aviation Administration and National Transportation Safety Board.