Not your backyard pump track. Bike skills park coming to Auger Falls soon
TWIN FALLS — A proposed bike skills park at Auger Falls Park is one step closer to becoming a reality.
All members of the Twin Falls City Council voted yes Monday evening on approving a donation request from the Magic Valley Trail Enhancement Committee (MaVTEC) for the installation of a skills track on about 2 acres of land within Auger Falls Park.
"We are really excited to donate to the city of Twin Falls on behalf of MaVTEC and the Dirt Trails Alliance," Jaime Tigue, MaVTEC director said in opening remarks to the council.
From the past to the present
The vision for a bike skills park at Auger Falls had been on MaVTEC and the DTA's radar for many years, but only recently did pieces of the puzzle start moving with help from community members pedaling it into high gear from idea to action.
Small fundraisers initially held by previous DTA members yielded some money, but work on building the park sat idle and the group then more or less dissolved.
"That group kinda fell, everybody got busy, and the person I was having run it got injured and work took over," Tigue said.
Enter Mike Young, Outdoor Recreation program manager at the College of Southern Idaho.
Young has been instrumental in keeping a new group of DTA members together, Tigue said, including trail builder Tristan Greaves, on moving the idea forward.
Greaves has been working on Tristan's Trail, a downhill flow trail on the west end of Auger Falls Park, to enhance it for more skilled mountain bikers to ride faster and hone their skills.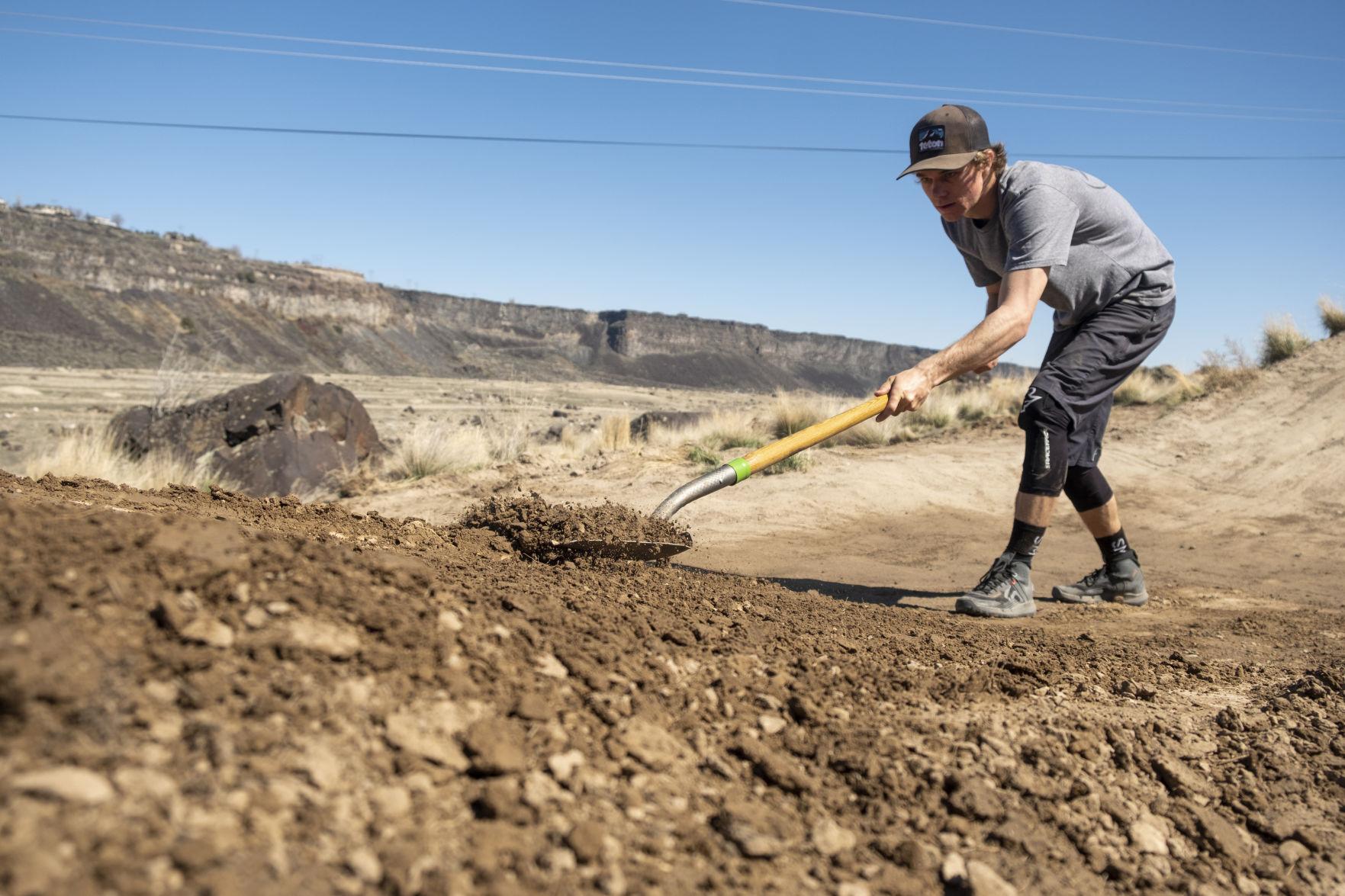 Combining the flow trail with bike skills park sets up a full step-up progression system or an all-in-one system at Auger Falls.
"The mountain bike skills park came from a desire to be able to develop multiple levels of challenge for riders in the valley to develop their skills," Young said at the City Council meeting. "We have an opportunity at Auger Falls to build some features in a controlled environment where people can slowly progress in their skills."
Features at Auger Falls Park and Indian Springs are pretty significant for new riders to hit as they come through, he said.
"Twin Falls has a middle school development team, two high school mountain bike teams, riders at the college, and five different bike shops in town," Young said.
Securing the money
Tigue, who will be stepping down in her role and passing the torch to Kami Grandeen Beukers later this year, was part of a Blue Cross Foundation for Health team. She helped write a Community Transformation Grant to help fund the build of the bike skills park.
The grant's purpose, as written out in October, is meant to promote physical activity and access to healthy and nutritious food for youth in Twin Falls.
In November, a request for proposal was released looking for local organizations that could use the grant funds to help kids get active and eat healthily. MaVTEC and the DTA submitted such a proposal for the bike skills park at Auger using those funds.
In December the $30,00 grant was awarded, with MaVTEC contributing $10,000 to the project in form of a sustainable maintenance plan. Along with a private donor supplying an additional $30,000, the total amount set to be used is $70,000.
"I put in at the beginning, that's what I wanted to do was use the money for this bike skills park because the grant is only for kids, and use in the Magic Valley or Twin Falls area," Tigue said.
Speaking during the City Council meeting, Twin Falls Area Chamber of Commerce President and City Councilperson Shawn Barigar said, "As the Impact Team has been looking at the requests for proposals at looked at this, this is another great opportunity to not only create a new amenity for Twin Falls."
"As we've heard, there are lots of new folks moving here and really create that opportunity to train, educate, provide that environment that is safe and sustainable to build a mountain bike community, is very exciting," he said.
Speaking from the Visitor Center's perspective, Barigar said the amount of people bringing in their mountain bikes to the area in the last 12 months is "insane" and promoting the great amenities we have is a good opportunity for young people in the community to build skills by creating the bike skills park.
Build it, and they will come
MaVTEC and the DTA are collaborating with Titus Trails out of Hailey on building the bike park. Titus Trails has been designing and building trails since 2009, including projects at Croy Canyon, Bald Mountain and Alden Gulch in Blaine County, and recently the downhill trails at Soldier Mountain in Camas County.
"Having seen first hand how trails with poor planning and lack of vision turn out, we know how important the planning stages are," Brian Vaughan from Titus Trails said. "Trails that are sustainably built with long-term vision and community support, impact the surrounding population for years to come."
The bike skills park would be about 1,000 feet west of the parking lot at the junction of Treb's Trail and Porcupine Trail.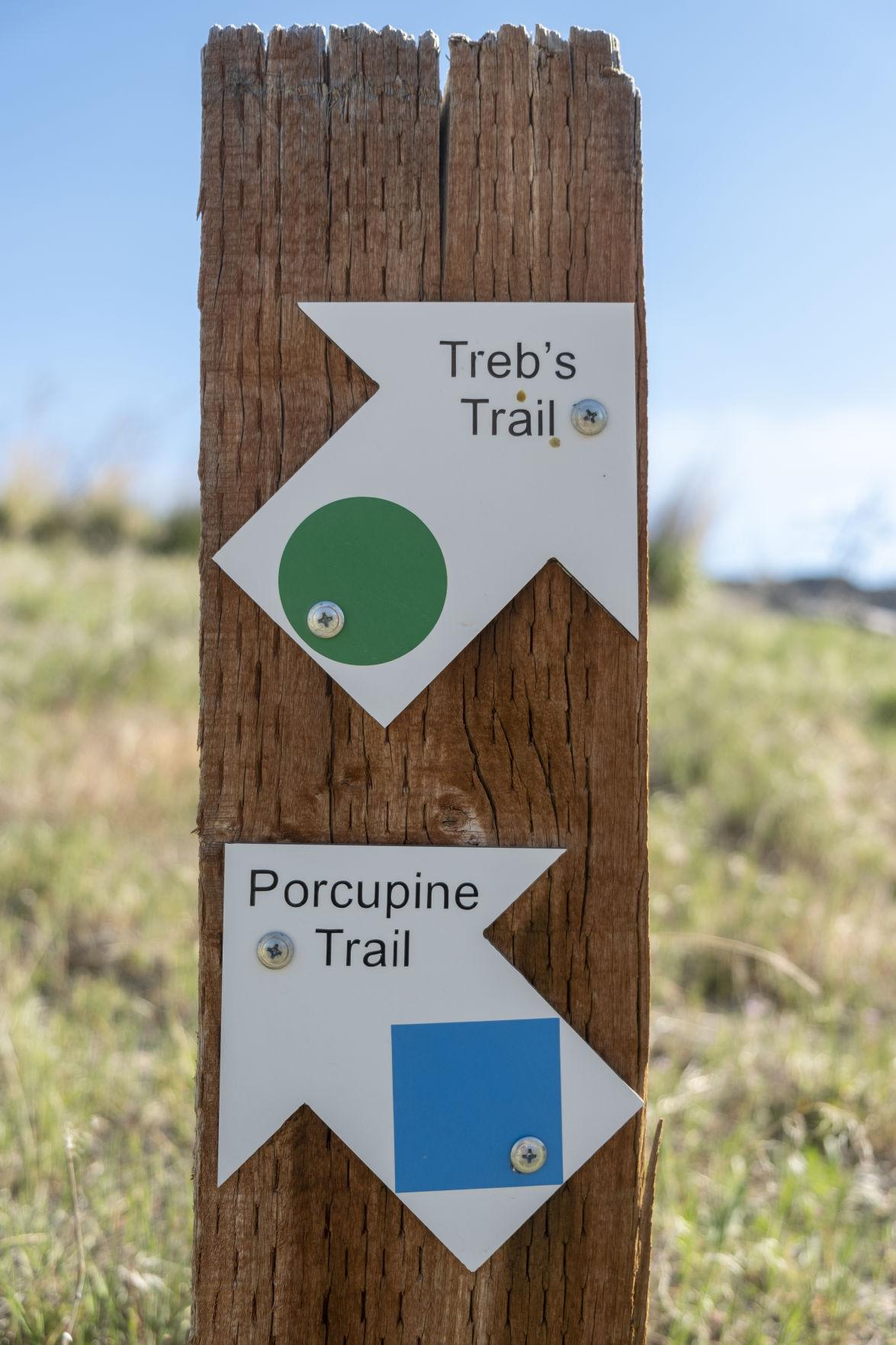 The park is to be 6,000 square feet, including a 200-foot jump line with small and medium-size jumps, skinnies at a variety of heights, widths and lengths, drops from short to tall, and improved access trail from the road.
The construction will initially need Porcupine Trail to be widened for access to allow earth-moving equipment to bring in dirt. The trail will be improved to Americans with Disabilities Act specifications.
The pump track and jump line will require a clay/sand mix to allow shaping, compaction and durability, and the skinnies will be built from dimensional lumber and/or milled logs ranging from on the ground to 18 inches tall.
The drops will be built with dimensional lumber and no more than 18 inches off the ground. Lands will range from eight inches to three feet in height.
"The general hope for starting the work is in the fall," Young said.