UPDATE: Magic Valley Cinema 13 expansion features reclining seats, beer and wine and 'Imax-like' auditorium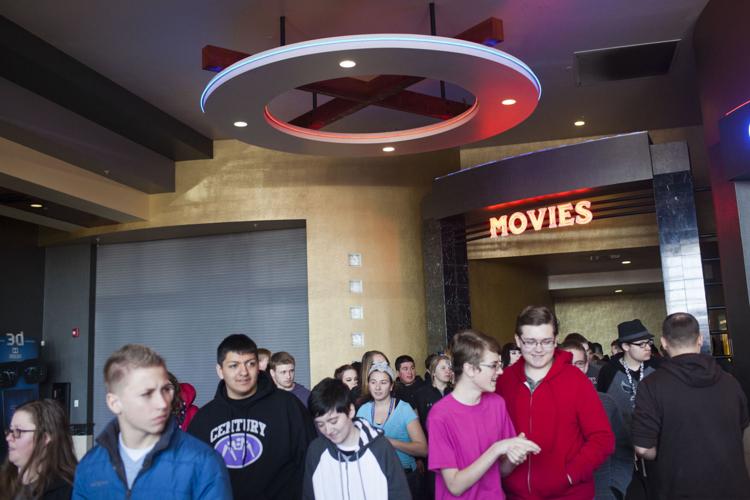 TWIN FALLS — Movie-goers in Twin Falls will have a different kind of experience once the Magic Valley Cinema 13 finishes a major upgrade and addition — as early as this year.
Woodbury Corp. and Cinema West announced their agreement on Wednesday. Woodbury Corp. is the real estate management and development company that owns the Magic Valley Mall. The expansion will bring six new theaters, all-new seating, plus one Imax-style theater.
Once complete, the cinema will have fewer seats and more auditoriums, offering a luxury-style entertainment experience that's all new to the area.
"There's a great deal of pent-up demand in Twin Falls for entertainment," said Brent White, regional manager for Woodbury Corp.
As the Magic Valley Mall experiences big changes with Macy's and Sears closing, White believes malls of the future will no longer be mostly retail. They will be about half entertainment and half merchandise and soft goods, he said. The Magic Valley Mall could look much like that with this addition, and as Woodbury Corp. looks for another type of entertainment to go into the Sears space.
Construction at Magic Valley Cinema 13 will begin as soon as possible, Cinema West CEO Dave Corkill told the Times-News. Work will be done in phases.
"The customers will generally not notice when they're doing any work," he said.
Here are some of the features Twin Falls movie-goers will see once the upgrades and expansion are complete:
Imax-style theater
A brand new large-format auditorium will have a floor-to-ceiling, wall-to-wall screen — quite similar to the Imax theaters in Boise and other places.
"It's designed to immerse you into the motion picture," Corkill said.
It will come at a slightly increased charge for patrons. Pricing is yet to be determined.
Reserved and reclining seats
All 13 theaters will be retrofitted with electric reclining seats. These seats are wider, longer and allow users to lay back and put their feet up just as they would at home. However, auditoriums will be able to accommodate only about half of the seats as they do now. Corkill believes this will result in fuller theaters.
The other thing that will change is how you pick your seat. Whether they go to the box office or buy tickets online, customers will see a seating chart and choose where they'd like to sit before the movie starts. This will not only make it easier for groups to sit together, but attendees also won't have to worry if they're running late.
It also means that opening-night crowds could look a lot different.
"There's just no reason to line up for hours just to get a good seat at the theater," Corkill said.
New theaters and alcoholic beverages
Six new auditoriums will allow the Magic Valley Cinema to show films that it currently can't because of limited screens. Think films like "The Shape of Water" and "Three Billboards Outside Ebbing, Missouri," Corkill said.
"We'll allow all ages in those auditoriums until 5 p.m.," he said.
But at night, they become VIP seating for those ages 21 and older. Each theater will offer patrons beer and wine plus food service that will be like a meal — much different than the standard popcorn and nachos. It'll create a sort of restaurant experience with a show, Corkill said.
"When it comes to movie theaters, it doesn't get any bigger than this!" Woodbury Corp. President Randy Woodbury said in a statement. "To be able to introduce a concept of this caliber to the Twin Falls market is just another example of how attractive Magic Valley Mall is to retailers."
The Magic Valley Cinema 13 opened in Twin Falls in 2012.
Parking lot changes
The addition to the cinema will mean there will be less parking. This is permitted by an updated agreement the mall made with the city earlier this year.
But White noted that Olive Garden will add another 150 parking stalls to the area, stretching from its building off the corner of Locust Street and Pole Line Road all the way to the former Columbia Bank building. The parking lot will have landscaping features.
Other changes
at the mall
The theater expansion isn't the only announcement Woodbury Corp. has made in recent weeks. Last month, the company announced that Hobby Lobby would occupy the current Macy's space at the Magic Valley Mall, probably by this fall. Macy's plans to close at the end of the month, and White said his company hoped to hand the space to Hobby Lobby within 24 hours of that closure, so renovations could begin quickly.
Additionally, Olive Garden will build a casual Italian-American cuisine restaurant near the cinema, at Locust Street and Pole Line Road.
Sears will close in early April. No tenant for that space has been announced.
"Twin Falls is experiencing lots of positive changes and growth at the moment, and as the premier cinema in this burgeoning community, we know we need to keep pace with that change," Corkill said in a statement.