Adding local sales tax, dropping grocery tax appear unlikely as Legislature prepares to meet
BOISE — Health care, education, and criminal justice are expected to take up much of the 2019 legislative session, as Idaho lawmakers grapple with a new school funding formula proposal, statewide prison and jail crowding, and the question of how to pay for Medicaid expansion.
Whether certain other issues will receive significant attention remains to be seen, legislative leaders said at an Associated Press question and answer session with reporters Thursday.
A bill from Sen. Lee Heider, R-Twin Falls, to let cities introduce local option taxes could face challenges in getting the support it needs to pass this session, leaders predicted. And reforms to the state's trespassing law, passed amid controversy in the 2018 session, may or may not be revisited.
Meanwhile, questions remain surrounding a potential repeal of the state's sales tax on groceries — and how such a repeal could interact with a law enacted this year requiring some internet retailers to collect Idaho's sales tax on online purchases.
Local option sales tax
Heider said at a Twin Falls policy summit in September that he was prepared, if necessary, to carry a bill this session that would let cities and counties vote to implement a local option sales tax to fund community projects. Under current law, only resort cities, such as Ketchum and Hailey, are allowed to introduce such a tax.
Sen. Michelle Stennett, a Democrat from Ketchum who serves as senate minority leader, said she would like to see the bill considered in the statehouse this year.
"Knowing what a local option tax does for communities with the communities I have … I'm hoping that the Legislature would entertain it," Stennett said.
But challenges may come from lawmakers in rural areas that depend on larger cities like Twin Falls for shopping and retail, House Minority Leader Rep. Matt Erpelding noted. Some legislators have opposed similar proposals in the past, arguing that people living in these rural communities do not directly benefit from the taxes they are paying when they shop in larger towns.
Ultimately, House Speaker Scott Bedke of Oakley said, he does not see a local option sales tax bill succeeding this session.
"I appreciate the efforts of Sen. Heider," Bedke said. "But I just don't think there's going to be support in that committee to do that. That's the cold hard facts."
Grocery sales tax repeal
In 2017, the Legislature passed a bill that would have repealed its sales tax on groceries, but the legislation was ultimately vetoed by Gov. C.L. "Butch" Otter.
Gov.-elect Brad Little supported the bill at the time, but has said his support for such a bill this year would hinge on how it affects other parts of the budget, such as education funding.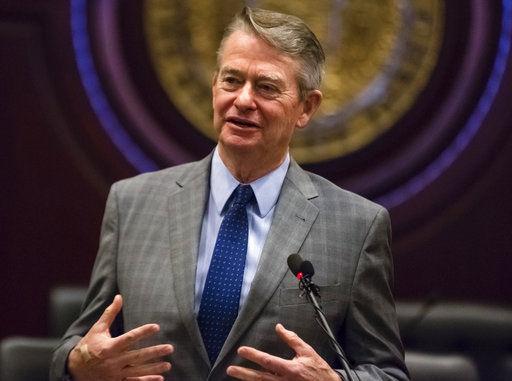 The repeal of the grocery sales tax could perhaps be offset by a law passed in 2018, brought by Rep. Lance Clow of Twin Falls, that requires some internet retailers to collect Idaho's sales tax on online purchases, Senate President Pro Tempore Brent Hill suggested Thursday.
But Erpelding, who voted in favor of repealing the grocery tax in 2017, said he would prefer to see the Legislature wait until the state has a clearer idea of how much revenue will be brought in by the online sales tax law — and how that law could be affected by a recent Supreme Court ruling that retailers do not need to have a physical presence in a state to be required to collect its sales tax.
Bedke agreed that there is uncertainty when it comes to the revenue stream.
But "I think there are things we can do preparatory to the removal of the sales tax on food," Bedke said, such as increasing the grocery tax credit.
Trespass law
A bill updating Idaho's trespassing laws, altering private property posting requirements and strengthening the penalties for those caught on someone else's land, proved to be one of the most controversial of the 2018 legislative session.
At the time of its passage, some lawmakers suggested that the Legislature take another look at the statute the following year to explore whether adjustments may be needed. But Bedke said Thursday he has not noticed a "groundswell" among legislators to revisit the law.
There was widespread agreement among lawmakers in 2018 that current trespassing laws could use a revamp, but critics of the bill cited concerns about potential unintended consequences. Opponents, including several outdoorsman groups, argued that the harsher penalties for trespassers, coupled with a more subjective standard for private property posting, could increase the chances that accidental trespassers face legal consequences.
In the six months since the law went into effect, Bedke said, he has "fielded way fewer calls from disgruntled land owners" than under the old statute.
"The number of complaints from trespassing has gone from a lot to very few," Bedke said. "Something seems to be working.
"Are there issues?" he continued. "I'm sure there are, and we'll take them up as they arise."
Stennett, who voted against the bill in 2018, said she has had "a very different experience" in terms of feedback. Since the law went into effect, Stennett said, she has heard from some professionals concerned with how the law may affect their work, such as surveyors who need to cross boundary lines.
"They're really uncomfortable with the lack of cover they have in existing legislation," Stennett said. "I think it's unfair for workers trying to do their job not to have clear language."
Hill said he didn't anticipate pushback to tightening up some of the language Stennett referenced.
"I don't think people are in disagreement with that," Hill said.