Local businesses offer 5 tips for finding (and saving on) fashionable professional-wear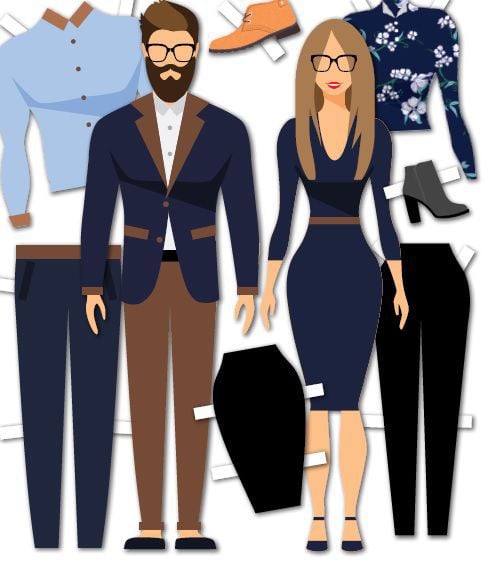 TWIN FALLS — If your New Year's resolution is to lose some weight or get a new job, it might be time to upgrade your professional wardrobe.
With a limited budget (and limited closet space), that's easier said than done. But there's good news: Business-wear is changing around the Magic Valley, and finding affordable clothing around Twin Falls isn't as hard as you think.
Not only that, but you can also get some fashion advice while you're shopping around.
"The professional wardrobe has changed more to what you would consider a business-casual almost, in a sense," said Erin Rigel, owner of Fashion 15 Below.
For example, she's seeing more companies allowing jeans in the workplace. Twin Falls County even recently updated its dress code to allow for jeans in certain settings and for casual Fridays.
Even leggings are OK at some places, Rigel said.
"Women want to be comfortable when they go to work," she said.
But if they aren't your workplace won't allow them, Rigel recommends the skinny-style ponte pants, which feel like a jegging and are a thicker material that's more acceptable for work. At Fashion 15 Below, they're $15 and come in multiple colors in sizes up to XXXL.
Still, business-casual isn't necessarily the best way to go, said Liyah Babayan, owner of Ooh La La! Boutique. Ooh La La!, Deseret Industries and even many restaurants won't allow employees to wear jeans.
"The dress code is there to set an expectation and a tone for the behavior to be professional among colleagues and people being served," Babayan said.
Deseret Industries Store Manager Wayne Tonge said it's important both in the interview process and beyond to wear what you're prospective employer wants.
"You can never make a good first impression twice," Tonge said. "Don't ever be afraid to overdress for a position."
His personal advice: Shine your shoes and don't wear tight-fitting clothing.
As for staying on budget, Babayan recently offered a training for clerks in Twin Falls County, where she talked about dressing professionally on a budget.
"What we talked about was fundamental pieces that every professional wardrobe should have," she said.
That is, those that are versatile, durable and easy to care for. Here are some more tips to get you started:
Think versatility
Having completely separate wardrobes for professional wear and casual-wear can be expensive, Rigel noted. So if you want to save money, it's important to find things that can create multiple outfits.
"It all comes down to versatility," she said. "Look for those key pieces that you have endless options on."
Solid colored tops, especially, have a greater ability to be mixed and matched with different accessories such as scarves and cardigans, which can change the look and dressiness of an outfit. But even a lightweight patterned top can also be easily layered with a cardigan and some solid colored pants.
Find key pieces
"You should always have some of the basics," Rigel said. "And you can build off of that."
Local business owners say most every professional wardrobe should contain at least one of the following:
A button-up shirt: A classic white button-up that's wrinkle free "can go from a meeting to a happy hour with just a few changes," Babayan said. And that applies to men and women.
A blazer: While black is usually best color for a blazer, Babayan said navy or other basic colors will also work. Look for something that is multi-functional, multi-seasonal and easy to clean.
Black slacks: Black slacks should be fitted and hemmed correctly to a flattering fit for that person's body type, Babayan said.
Cardigans: These are available all over town, but Babayan recommends finding them in complimentary, but not wild, colors.
For women — A black pencil skirt: Knee-length skirts are typically flattering on most women, she said. Longer skirts may be less flattering, but shorter skirts could look unprofessional.
Comfortable shoes and a warm winter coat are also a must, Babayan said.
When choosing clothing, don't pay attention to size — pay attention to fit, she said. Ask yourself questions such as, how loose are the sleeves, where is the shoulder stitch and how big is the collar?
For women looking for what's trending, floral shirts aren't going away, Rigel noted — though in the winter, colors change more to black, burgundy and olive. Short boots or "booties" are also popular. Rigel recommends TJ Maxx or Ross Dress for Less for deals.
De-clutter and audit
Quantity doesn't mean quality.
"Just because you have a lot of pieces in your wardrobe doesn't mean you have a functional wardrobe," Babayan said.
Which is one of the reasons her other business, Sterling Image Co., Babayan offers closet audits and personal shopping for men and women. The cost is typically $40 per hour and can include a closet audit, styling, photo shoots and shopping. Babayan said she tries to offer a neutral perspective, which is important if you need help with de-cluttering.
Rent a wardrobe
If you want to try new styles without committing to buying them, Babayan recommends several online services that allow you to rent a wardrobe. For $20 to $30 per month, you can subscribe to get access to high-end brands and rotate clothes every month.
What's nice is you keep only what you want, Babayan said, so you can send back anything you don't wish to rent. There are also options to purchase what you like.
These services can be especially helpful if you're trying to rebuild your wardrobe or in the process of dramatic weight loss.
"It's getting people to think outside the box," Babayan said.
Sites she refers clients to are Le Tote for women's clothing, Five Four Club for men's clothing and Dia&Co for plus-sized women's clothing.
Shop around
If you're tired of sorting through clearance racks, there are some other less costly options in town.
"Definitely, I encourage shopping vintage, shopping consignment," Babayan said.
Ooh La La! sells consignment items, and you can find what would usually be a $59 cardigan available for $12, for example. What's more, if you don't want to commit to something you buy, bring it back and consign it yourself.
Deseret Industries also carries professional wear year-round, Tonge said. He estimates about 40 percent of clothing donations are professional.
And they're typically far less expensive than buying new. At Deseret, you can find a skirt for $6. Tops and pants start at $4 and cost $12 at most, depending on the brand and condition. Ties cost $1-2.
"For under $20, you can get a whole outfit," Tonge said.
Plus, Deseret partners with 48 organizations in town that offer clothing vouchers.
But if you are looking for something new, Fashion 15 and Below offers a selection of women's clothing and accessories that's all $15 or less.