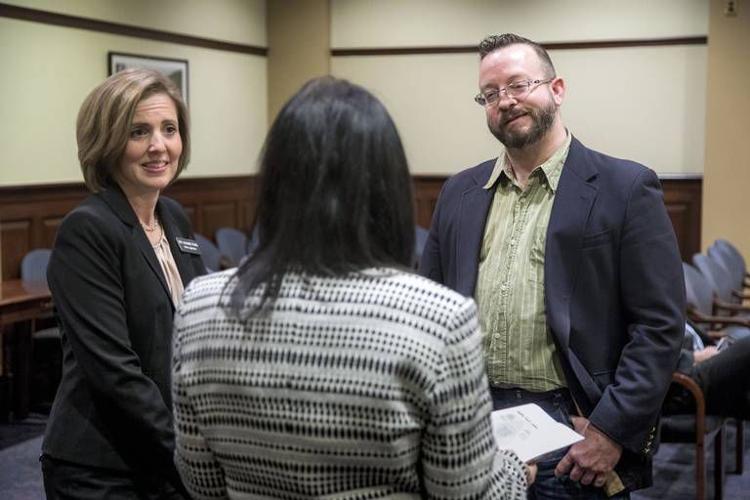 BOISE — Ballots in Idaho's general elections name the political parties of candidates for federal, state and county offices. But municipal elections are nonpartisan. A move is afoot to change that.
The Idaho Republican Party wants the Legislature to make local elections partisan. Identifying candidates' political parties on the ballot would help voters choose candidates whose values they share, party leaders say.
Democrats say the reforms are just designed to tip more elections in an already heavily Republican state further in the GOP's favor.
Leading the GOP effort is Ryan Davidson, chairman of the Ada County Republican Party.
Davidson is controversial within the party. He started out in Idaho politics as a marijuana activist. In the early 2000s, he chaired the Idaho Libertarian Party. Later he founded Idahoans for Liberty, which helped defeat Gov. Butch Otter's choice for state GOP chairman in 2008.
After Davidson became the county chair last year, two of the three incumbents in west Boise's all-Republican legislative District 15 blamed him in part for the November election defeat of two of the incumbents by Democrats and for the razor-thin margin of victory for the third.
Davidson pressed the partisan-election case at a state GOP meeting last June in Pocatello. "The Democrats have absolutely, 100 percent, captured the city of Boise," he said then, according to the Idaho State Journal.
In a video, Davidson said Democrats have stolen elections in Boise, and the Democratic Party has manipulated the nonpartisan system to gain power without having to disclose its candidates' party identity.
He cited a 2017 Idaho Statesman article about Democrats deciding to regroup and focus on local races after the 2016 election cost them four seats in the Legislature.
"In nonpartisan races, when we're not saddled with the 'D,' when we are able to run on our values, we have tremendous success in elections," Rep. Mat Erpelding, Idaho's House minority leader, told The Statesman at the time.
Davidson said that is evidence of the Democratic strategy. "They are admitting they have to hide the fact they are Democrats to get elected," he said.
November's losses contributed to a sense among both Democrats and Republicans that Ada County has turned purple. This year, Democrats flipped two of the three seats on the Republican-held Ada County Commission, as well as the two house seats in District 15. Every district wholly within Boise elected only Democratic state legislators, although those on the edge that encompass areas outside the city remained red.
Davidson has yet to line up a legislator to introduce a bill. He said Rep. Gayann DeMordaunt, R-Eagle, may sponsor one. DeMordaunt did not respond to several requests for comment over email and voicemail and to her secretary.
Making party alignment clear helps voters make informed decisions, Davidson said. "City councils deal with laws every bit as controversial as the Legislature," he told the Statesman in an interview.
Local city council members, even Republicans, do not all share Davidson's enthusiasm for the change. Several city council members from Nampa, Meridian and Boise said they don't see the work they do at the local level falling within partisan lines.
"As a city councilman, I have been elected to represent everyone of every party of every affiliation," said Nampa City Councilman Victor Rodriguez, a Republican, in a phone interview.
Boise City Council member Holli Woodings, the 2014 Democratic nominee for secretary of state, asked, "Is this something that voters really want, or is this a partisan solution in search of a problem?"
Sometimes, though, even nonpartisan city councils find themselves confronting issues that tend to be partisan on a national level. For instance, the Nampa, Meridian, and Boise councils have considered adding ordinances to protect LGBT citizens from discrimination, a cause generally favored by Democrats nationally but sometimes resisted by Republicans. Ordinances have passed in Boise and Meridian but not in Nampa.
And each year they consider whether to raise taxes — a decision that often signals party ideology, said Meridian City Council Vice President Luke Cavener, a Republican, in an interview.
"Tax policy is tied with the national party," Cavener said. "The Republican Party is associated with fiscal conservatism."
Cavener said he is undecided about partisan elections. "If making them partisan benefits the voter I'm open to learning more, but there is no Republican or Democratic way to pick up trash," he said.
By making elections partisan, candidates who might not have the funds to run alone could access party resources and networks, allowing more people to enter a race, Davidson said. City council members interviewed by the Statesman said they sometimes have made use of Democratic or Republican networks or email lists but have not typically received money from the parties.
Frank Terraferma, executive director of the Idaho Republican Party, stands by the proposal. "It's not a question of advantaging a party but getting people this information," he said.
The nonpartisan nature of municipal elections is a legacy of the Progressive era, which saw a variety of reforms meant to combat the one-party rule in cities. Those reforms also saw many cities move their municipal elections from November to the spring, to encourage voters to select individual candidates rather than voting for their party down the ballot.
While Davidson said partisan elections would make the elections more honest, that was the same reason Theodore Roosevelt and Woodrow Wilson gave in advocating the nonpartisan model a century ago. Both presidents rose to power on a Progressive wave in American politics. The National League of Cities says three quarters of U.S. cities use nonpartisan elections.
Questions remain about what partisan local elections would look like. Would there be primaries? A resolution passed by the Idaho Republican Party in June called for them, but Davidson said he is still working out what the final changes could look like.
Jackie Groves, chair of the Ada County Democrats, noted that in cities where one party dominates, the election would effectively play out in the primary, "disenfranchising the minority."