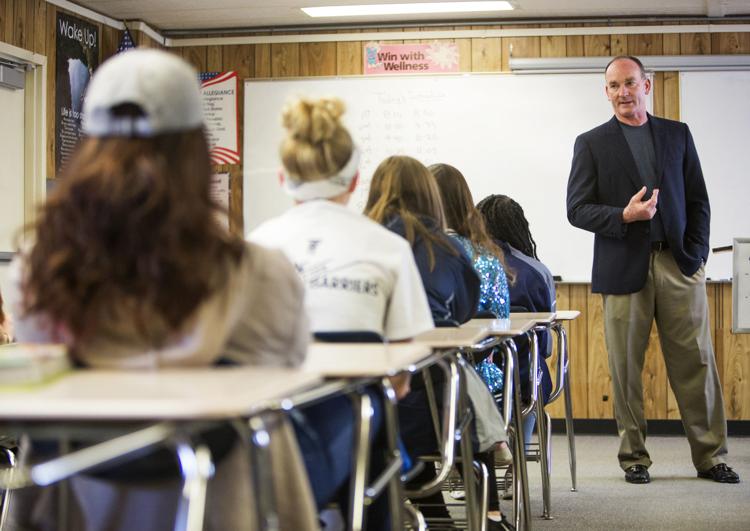 TWIN FALLS — When it comes time for sex education, Magic Valley schools notify parents about what will be taught and they can choose to opt their child out of the class.
A bill moving through the state Legislature, however, seeks to change that. It would implement an "opt in" system where children at Idaho public schools wouldn't participate unless their parent specifically gives permission.
House Bill 120 cleared the Idaho House on Wednesday with a 56-14 vote: all Republicans voted in favor and all Democrats voted against. The bill — sponsored by Republican Rep. Barbara Ehardt of Idaho Falls — now heads to the Senate.
Across Idaho, it's up to local school boards to decide whether to include sex education in school curriculum, according to state law. School districts involve families and community groups in developing instruction for sex education. And there are state content standards for health education.
Schools communicate with parents in advance of when the lessons will be taught, Cassia County School District Superintendent Jim Shank said Thursday.
"We have nothing to hide," said Shank, who has six children of his own. If parents don't want their student to participate, "there's no argument. I can certainly respect the parents' point of view."
Parents dictate what happens in their own home and understand how each of their children learns, he said.
"I think we need to honor that," Shank said.
Shank said he hasn't heard any outcry in Cassia County about the current opt-out policy, or any indication educators or parents want to see it change.
In Cassia County, reproductive health is covered in grades five, seven, eight and 10 as part of health curriculum and it aligns with Idaho's content standards.
"As kids grow, we address those in age-appropriate types of contexts," Shank said.
When it comes to sex education, "abstinence, of course, is one of our strong tenants," he said.
Twin Falls School District officials weren't available to comment or refer the Times-News to a health teacher to talk with by deadline Thursday. The Jerome School District also wasn't able to find a health teacher available to comment Thursday.
If the legislation passes, it adds a layer of bureaucracy for schools, said Adria Masoner, adolescent pregnancy prevention coordinator for South Central Public Health District.
What's important to remember is "Idaho is a local control state for school district policy," Masoner said. Regardless of what happens at a state level, she said, each individual school district can make decisions about what's taught or not for sex education.
And when Masoner goes into schools to lead lessons, "we definitely cater the curriculum to the culture of each community," she said.
Masoner — who has been the health district's adolescent pregnancy prevention coordinator for about 20 years — goes into schools periodically in Mini-Cassia to teach lessons about preventing pregnancy and sexually transmitted diseases. She has used a curriculum called "Reducing the Risk" since 2010.
"We have focused most of our efforts in Mini-Cassia just due to the historically high pregnancy rate in Cassia and Minidoka counties," Masoner said, but she also teaches at other schools, depending on their needs.
She only teaches in schools that have requested the curriculum or where she has taught already.
At Mt. Harrison High School in Heyburn, for instance, she teaches once a quarter. Most of her instruction in schools is in health classes.
The main message in the "Reducing the Risk" curriculum is "choosing abstinence is the best choice for high school students," Masoner said.
However, there's a recognition that not all high schoolers are going to choose abstinence, she said, so there's a section on pregnancy and STD prevention.
"Reducing the Risk" is used in 18 Idaho high schools, Masoner said, but many have chosen to adopt other curricula that are also evidence-based.
The health district is seeing a recent trend, though: an increasing rate of STDs.
"We do have to continue that (education that) birth control only prevents pregnancy and not STDs," Masoner said.
The South Central Public Health District released an announcement in August 2018 urging residents to practice safer sex — including using condoms and getting tested after having sex with a new partner — to reduce their risk of infection. It came about after an uptick in reported HIV, syphilis and gonorrhea cases in the region compared with the previous year.
Gonorrhea cases were the fastest rising, with a 203 percent increase, the health district said.
But teen pregnancy rates in the U.S. — and here in Idaho — have dropped sharply over the last decade, Masoner said, by at least 50 percent.
One major factor is easier access to birth control, coinciding with the Affordable Care Act and its coverage of birth control, she said, and better access to long-term options such as IUDs and implants.
Masoner said she has found many parents aren't comfortable talking with their children about sex, but that it's best for students to hear that information from their parents.
For a few years, the district has held a "Bridging the Gap" dinner to help facilitate those conversations. The next one is slated for 6:30 p.m. Tuesday at Doc's Pizza in Rupert and sign-ups are required in advance by calling the district's Heyburn office.
Local high schoolers attend the event so that parents can practice having conversations with teenagers.
In the state Legislature, Ehardt says sex education classes have normalized sexual behavior and parents don't understand what's being presented to their kids, the Associated Press reported Wednesday. She says the bill will allow parents to better direct their children's education.
Rep. Jake Ellis, a Democrat from Boise, said currently between 2 and 3 percent of students opt out of sex education, and the bill would make the exception the rule, the Associated Press reported.
The vast majority of people — 18 of 21 — who testified during a committee hearing Feb. 26 spoke against the bill, Idaho Education News reported. That included some high school students.
The topic of sex education came up during the 2018 legislative session, too. State legislators wanted to update the 1970 sex education law with more contemporary language, but the bill didn't advance.
The law emphasizes helping youth cultivate good values before choosing a "mate," controlling sex drive and understanding sex in relation to the "miracle of life."