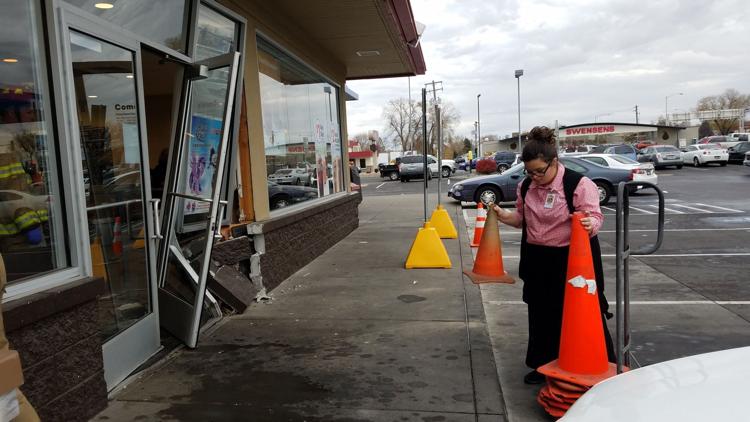 TWIN FALLS — A teen boy has been charged in the hit-and-run accident at a Twin Falls McDonald's that was a close call for restaurant diners.
Police say a 14-year-old boy drove into the front of the McDonald's building at 110 Addison Ave. W. Nov. 3 while he was waiting for a friend who was inside the adjacent convenience store. The Ford Explorer came close to hurting two children inside the restaurant, Valley Food Service President Bill Kyle told the Times-News.
The boy fled the scene in the truck before police could arrive, leaving his friend at the service station, police reports say.
"His vehicle died a few blocks away from the location of the accident," Lt. Terry Thueson said. "He did get out and ran on foot."
Police worked to track him down as he fled to his home on the north side of town. Hours later, his parents turned him in, Thueson said.
The boy was taken into custody and charged with leaving the scene of an accident — a misdemeanor crime because there were no injuries.
But it was a close call, said Kyle, who went to the restaurant as soon as he found out about the crash. One child inside said a portion of the wall hit in in the leg, but he wasn't hurt enough to need medical attention.
Another younger child, Kyle said, had been walking toward the door to go out, but got out of the way just in time.
Police have not confirmed whether the 14-year-old driver had a valid driver's license. In Idaho, children are eligible for driver's education at 14 ½ years.
The driver was not cited with any lesser violations, but Thueson said the responding officer wouldn't necessarily add lesser charges, if applicable, because a guilty plea could nullify the higher charge.
"The kid was using somebody else's vehicle, and the owner of the vehicle has no insurance," Kyle said.
He'd also been told that the owner of the vehicle was in jail at the time of the accident. Kyle said his priority is to make necessary repairs first, but then he would probably pursue getting payment for the damages from the driver's parents. He estimates damages to be at least $5,000
"My deductible won't even touch that, so it's going to be entirely out-of-pocket," Kyle said.
The loss to business due to the boarded-up entrance has been "detrimental," he added. A sign posted on the boards outside tells customers they can enter the restaurant from the convenience store.
Repairs will probably not be complete until the end of the month, and include replacing metalwork, brickwork, tiles and damaged furniture.