Thanksgiving at the hospital: For a Jerome couple welcoming their first child, 'we're super thankful'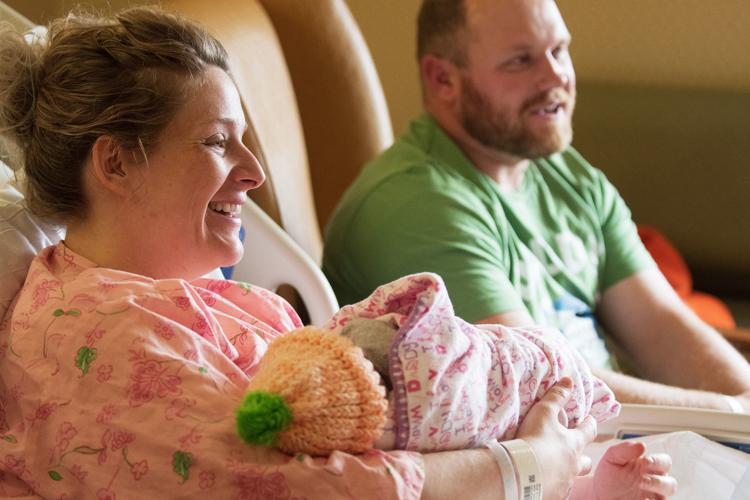 TWIN FALLS — It's only fitting Kayla and Trent Bingham's miracle baby made her debut on Thanksgiving.
The Jerome couple tried for five years to get pregnant. On Thursday, they welcomed their first baby — Abigail — one day early at St. Luke's Magic Valley Medical Center in Twin Falls.
Five hours after her birth, Abigail was swaddled and sleeping in her mother's arms. Abigail was born at 7:06 a.m., weighing in at 6 lbs., 13 oz., and measuring 19 ½ inches long.
From now on, Thanksgiving will have a whole new meaning because of her, Kayla said. "We just have full hearts. We're super thankful."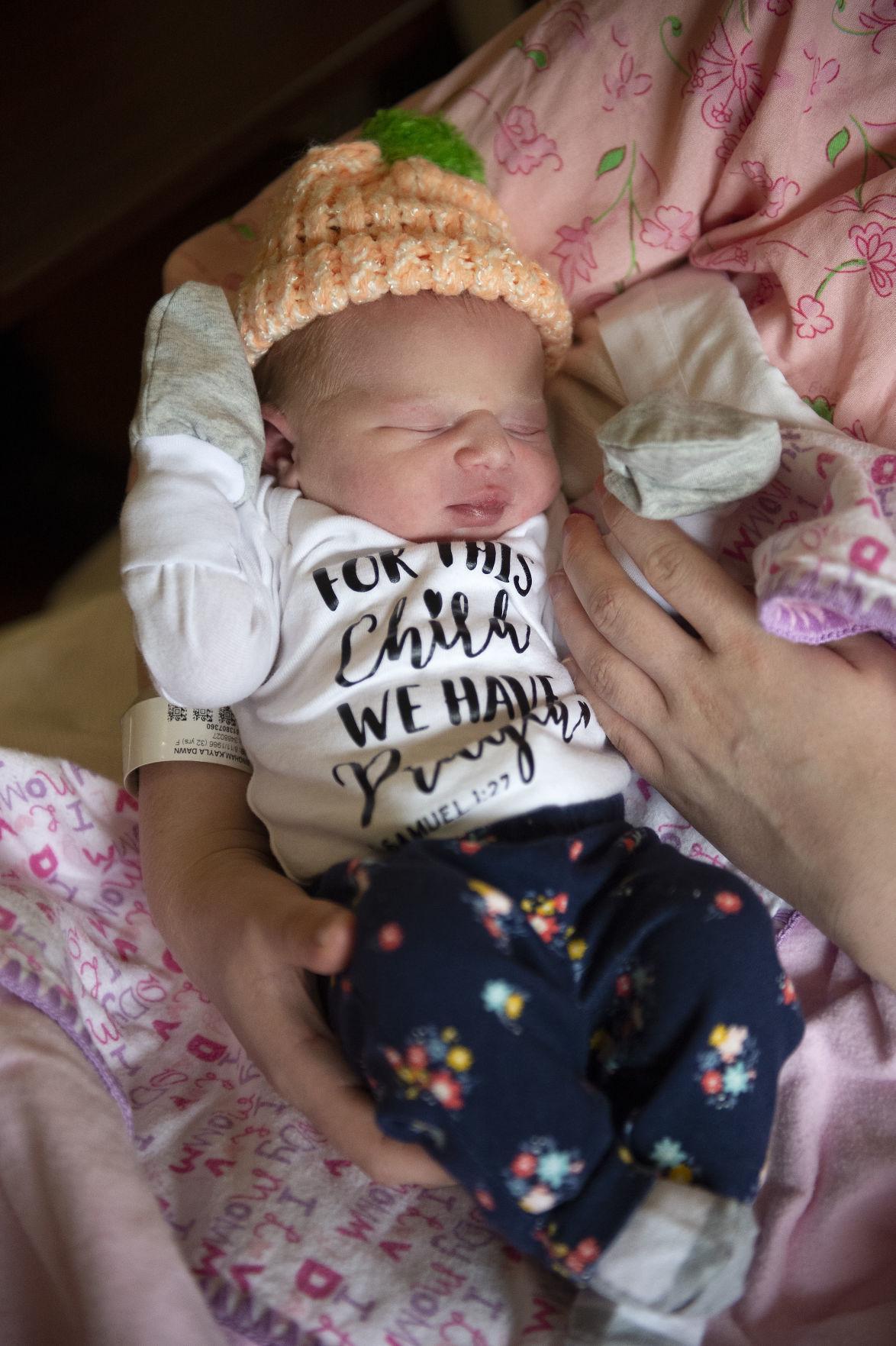 At south-central Idaho's hospitals, medical emergencies — and big life events such as births — didn't stop Thursday just because it was a holiday. Employees were hard at work caring for those in the emergency room and patients who'd been admitted to the hospital. Magic Valley Paramedics and Air St. Luke's were also busy responding to calls.
On the hospital's third floor, a family waiting area was full of people waiting for loved ones' babies to make their debut. In the postpartum wing, it was quiet except for the sound of nurses opening and closing doors to rooms, and the faint sound of a baby crying.
Abigail was among two babies born at St. Luke's Magic Valley on Thanksgiving, as of 2:30 p.m.
With the birth of their baby expected right around Thanksgiving, the Bingham family's holiday plans were up in the air. Originally, Kayla was planning to work this week at her job as a hair stylist, but she said she's glad she didn't.
As she held Abigail, Kayla said: "She's been super sweet." Abigail had been making quiet sounds but not crying, even when she got her shots.
Kayla unwrapped a blanket swaddling her daughter to reveal a white onesie with a phrase based on a Bible verse from 1 Samuel 1:27 displayed in black letters: "For this child, we have prayed." Nearby, Trent was sporting a "Daddy Shark" t-shirt.
Less than a five-minute drive away, it was a typical work day for employees at Magic Valley Paramedics' station one on Martin Street.
"It's not any different than any normal day," said Jeff Webster, field supervisor for Magic Valley Paramedics. "In professions such as ours, you don't typically get holidays."
In his nearly 40 years as an emergency responder, he has worked about half of the Thanksgivings.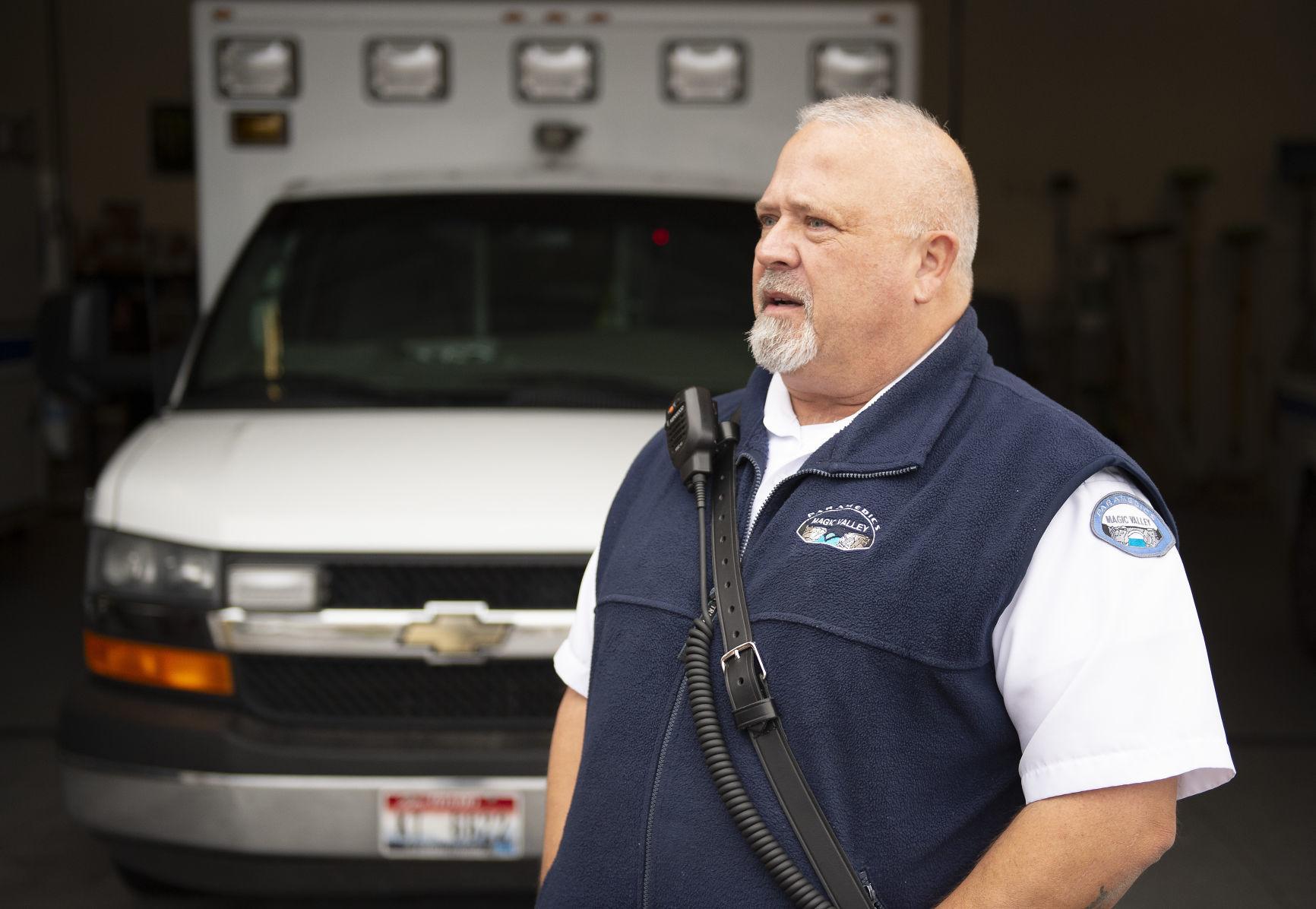 Magic Valley Paramedics — which is owned and operated by St. Luke's — had 13 employees working a 24-hour shift Thursday, which started at 7 a.m. Six two-person crews, plus Webster, were disbursed among four locations in Twin Falls, Kimberly and Jerome.
By 11 a.m., they'd responded to 10 calls. "It was a little hectic this morning," Webster said. Typically, they respond to 25-30 calls per day — oftentimes, in quick succession.
The calls ranged from car crashes — "nothing really serious," Webster said — to medical issues. Some people were weak and sick, and some were depressed and "really despondent about the holiday."
Around the holidays, the number of calls about people who are depressed or having suicidal ideations tends to increase, Webster said, and it can be a difficult time of year.
As Magic Valley Paramedic crews worked Thursday morning, they had something to look forward to: gathering at 2 p.m. at the main station for a Thanksgiving meal, which their managers were preparing.
"Hopefully, we'll be able to eat it while it's warm," Webster said.
Back at the Twin Falls hospital campus, food service employees were serving a Thanksgiving meal. Unlike other days when there are offerings from a salad bar, deli and grill, "it's pure Thanksgiving today," cook Gina DeValera said.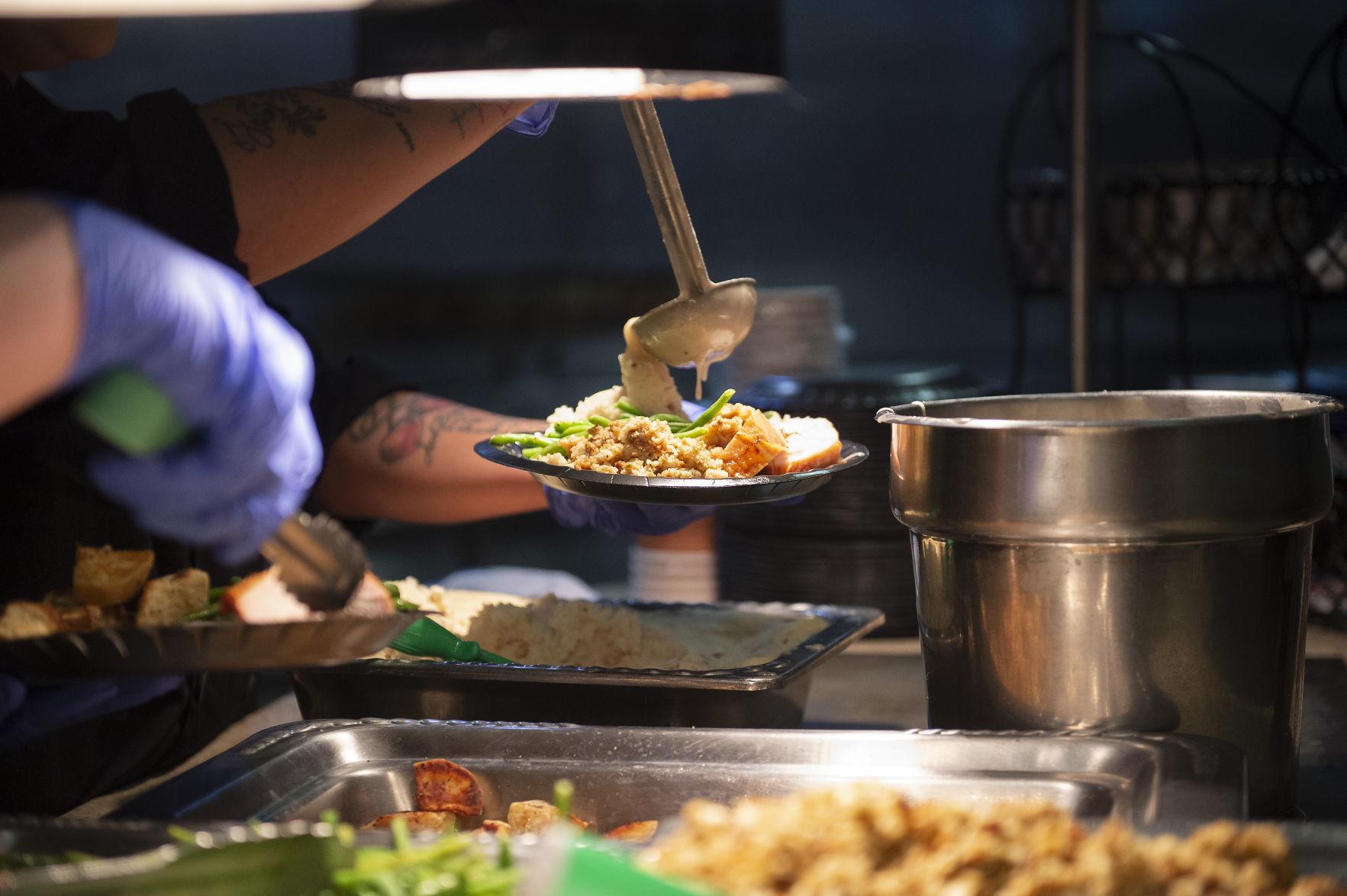 Menus are put together a week in advance and employees did meal preparation for Thanksgiving the day beforehand.
With 152 patients in the hospital as of Thursday morning, food service employees were expecting to serve up to 300 Thanksgiving meals — including for patients, their family members and employees.
It was still a less hectic day than normal in the cafeteria — particularly, with clinics closed for the holiday and fewer menu options. "It's actually a lot easier and smoother," DeValera said.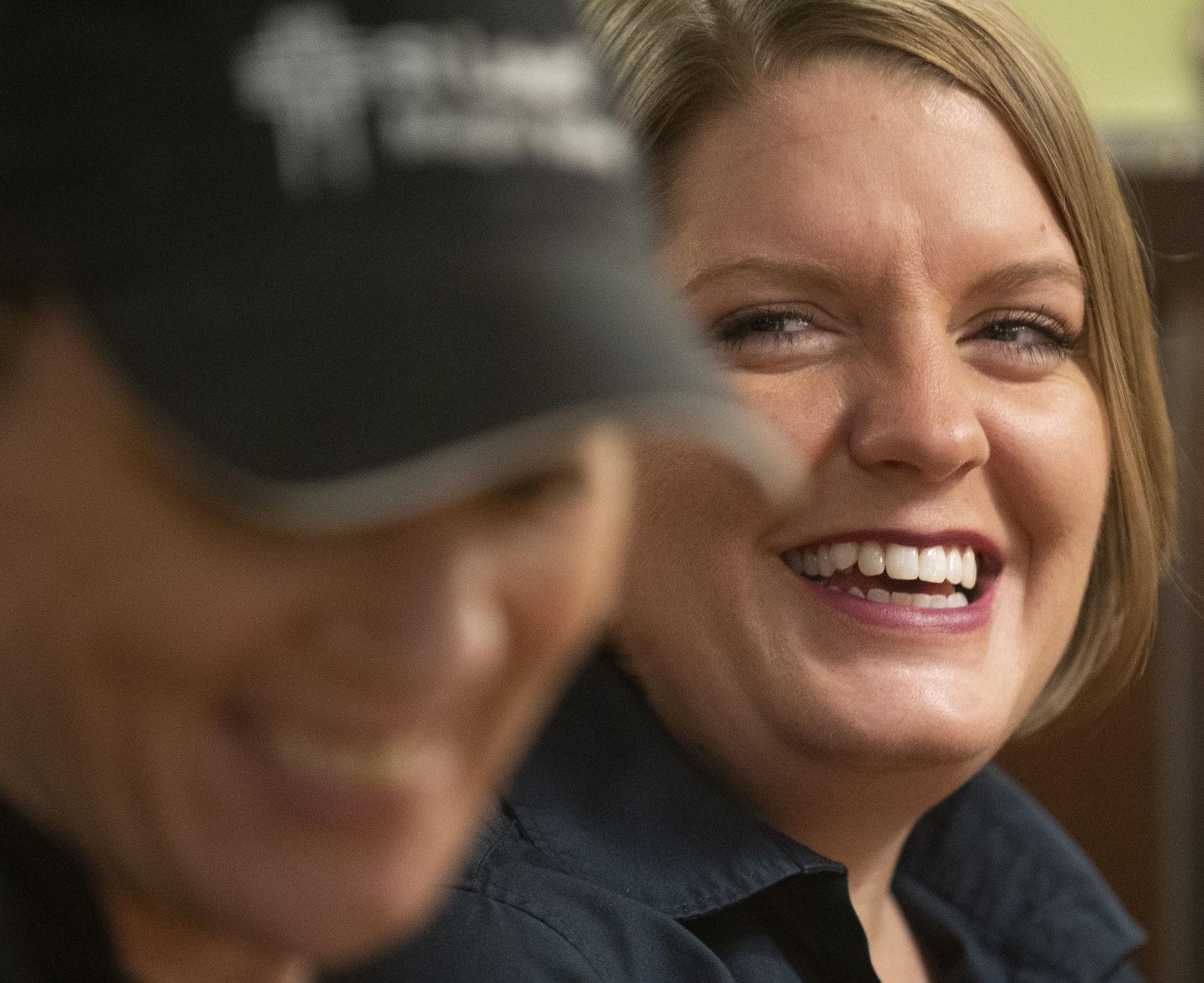 About 20 people were eating in the cafeteria's seating area around 11:30 a.m. Cafeteria countertops were decorated with fall and pumpkin-themed décor.
As for the food, it's definitely not what you'd expect when you think of a hospital cafeteria, café lead Dayna Biorn said, adding it's more like restaurant quality.
DeValera said she takes pride in serving excellent food and she wants those at the hospital to get a Thanksgiving meal. "It's kind of sad they can't be at home."