RUPERT — The first 55 years of Minidoka County's newspapers are scanned, in a digital format and available for public viewing.
Volunteers who have worked on the project will unveil the new system at 1 p.m. Saturday at the Minidoka County Historical Society Museum, 99 E. Baseline Road.
A copy of the digital papers is also available at the Rupert DeMary Library.
"The Minidoka County newspapers we have from 1905 to 2008 give us a bird's eye view of the people in the community at that time," said Gary Schorzman, who led the project. "The editors, pastors and preachers were the barometers of the community, and if they saw something going on they didn't let it slide by."
The digital archive is available at no cost to the public and has a search function that allows people to search the data by name, date or event.
"Looking up your family history or local history is literally at your fingertips now," Melissa Alley, museum curator and secretary, said.
Schorzman spent countless hours combing through old newspaper archives as he did research for several local history books that he has written.
He also donated $5,000 from the sale of his history books to help get the newspapers scanned.
The entire digital project encompasses 118 volumes including papers from the Minidoka County News, Rupert Pioneer Record, The Rupert Pioneer, Rupert Record, Rupert Democrat, Minidoka County Patriot and the Rupert Republican.
About 48 years of papers still need to be processed.
Volunteer Margaret Stevens said they must collect more donations before they can get any more completed.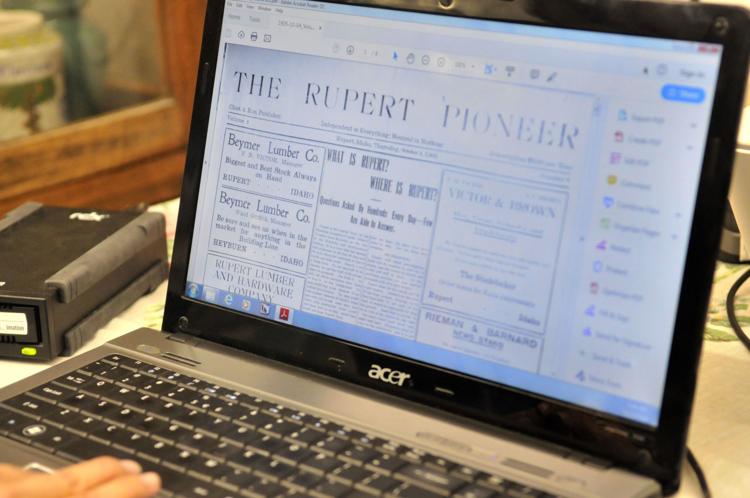 "There are two reasons why this is so valuable," Stevens said. "First, it's valuable for the people who don't know the history of this area. People can go through these papers and see how people solved problems at the time. It's also valuable for people who want to do family research."
The first two batches took two years of work to complete as volunteers donned white gloves, removed the torn, crumbling pages from book bindings, repaired them with tape and hand delivered them to a Boise company for scanning, while fundraising and writing grants.
The cost to complete the first two batches was $28,000. Approximately $39,000 needs to be raised to complete the remainder of the project.
Schorzman said the volunteers will continue to apply for grants and any donations are tax deductible.
All of the scanned books will be returned to the museum and stored.
"They will be kept in archival boxes that will keep them preserved," Alley said.