RUPERT — Timmy, a rescue dog born without functioning front legs, will soon get a wheeled prosthetic to make his life a bit easier thanks to a rescue group, a veterinarian and The Wizard of Paws.
Timmy, who is a pit bull and golden Labrador cross, and his brother Gizmo were surrendered by their owner to the Minidoka County Joint Powers Animal Control and Shelter about a month ago, said Deb Hopkins, who runs a non-profit rescue organization called Waggin Tails.
Both dogs are available for adoption. "But they are a package deal," Hopkins said.
Gizmo does not have any disabilities and Timmy, who came to the shelter with the name of Gimpy and was renamed after the character Tiny Tim Cratchit from Charles Dickens' "A Christmas Carol," was born with small non-working front legs.
Both animals have been neutered.
Timmy is about four years old and walks on his elbows, which has caused callusing. Sometimes he stands up on his hind legs.
"He is a happy guy and he loves attention. He's a really good boy," Hopkins said.
Waggin' Tails launched a fundraiser for "Timmy's Wheels" and raised $1,300 within a week from local donors, which was enough to pay for the prosthetic and any expenses.
Hopkins had enlisted the help of Dana Gunnell for the project, who for years took pictures of the dogs available for adoption at the shelter.
"I took a picture of him and showed it to her and said 'isn't he a cutie'," Hopkins said.
Gunnell was hooked and wanted to help.
"There are so many good people in our area," Gunnell said about the quick fundraising. "And this is such an uplifting story."
They reached out to Derrick Campana, who custom makes prosthetics and braces for animals and is featured on a show called "Wizard of Paws" on BYUtv, to see if he could help.
Campana began his career building orthotic and prosthetics for people but in 2004 he helped his first canine patient and found a passion for giving all kinds of disabled animals the freedom of mobility, according to his company's website.
Although Timmy was too far away for Campana, who is based in Virginia and now heads a company called Bionic Pets, to feature him on the show, his company agreed to make the prosthetic if a local veterinarian could make the soft cast of Timmy's torso.
The company sent a cast kit and a video on how they make them.
Burley veterinarian Trevor Stapelman watched the video and took on the challenge.
"I thought it was a really cool project and I like learning new things," Stapelman said.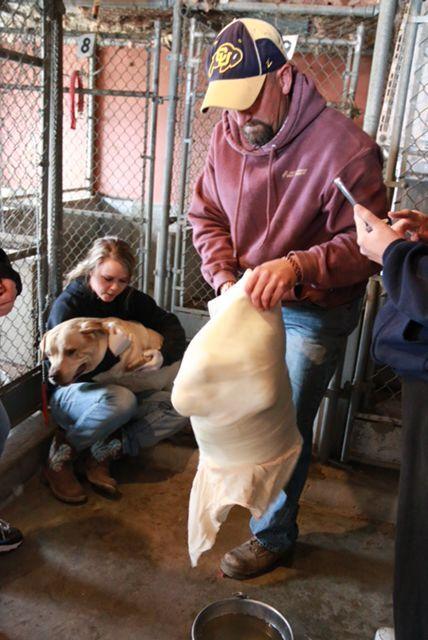 Stapelman said when he and his assistant Danica Harper made the cast the most challenging part was holding Timmy, who weighs more than 80 pounds, up during the process.
The cast was made with fiberglass and will be shipped back to the company this week, Hopkins said.
"He was pretty low key during the process," Stapelman said.
Gunnell, who photographed the procedure, said Timmy seemed to know they were helping him.
"It really touched my heart," she said.