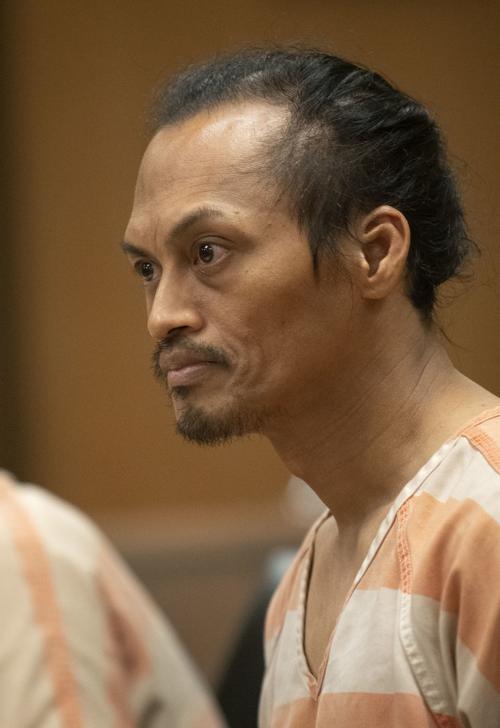 He is now being held at the Box Elder County Jail on charges of aggravated first-degree murder, aggravated attempted first-degree murder, and six counts of felony first-degree discharge of a firearm, Utah court records say.
The charges were filed after police said Llana shot and killed Dennis Gwyther, 50, of Salt Lake City and injured Gwther's passenger during a May incident on Interstate 84 in between Tremonton and Snowville.
Shortly after the shooting, Llana crashed his car in Idaho and led law enforcement on a chase in rural southeast Cassia County for two days before he was captured and arrested.
Police said Llana stole an all-terrain vehicle and approached a child asking for directions to a nearby town before he was arrested. After his arrest, officers found a handcuff key hidden in his sleeves halfway up his arm, court documents say.
In Cassia County, he was charged with grand theft and eluding officers. Cassia County District Judge Michael Tribe dismissed those charges without prejudice on June 25 at the request of the prosecutor. Llana was then transferred to the Box Elder jail.
Utah courts spokesman Geoffrey Fattah said there is little information on the case in court files, which contains a one-sentence probable cause statement.
Fattah said in Utah the prosecutor is not required to file a probable cause statement or narrative of events in aggravated murder cases. The statement reads, "while traveling on I-84, (the) defendant fired at least six rounds from a firearm at the occupants of another vehicle, killing the driver and wounding the passenger."
Llana is being held without bond.
A competency evaluation for Llana is set for Aug. 26.
Be the first to know
Get local news delivered to your inbox!