BURLEY — Portions of Minidoka and Cassia counties are flooding due to recent rainfall combined with warmer temperatures that are melting existing snow.
"We are starting to feel like here we go again and having flashbacks from two years ago," Roger Davis, emergency management operations chief for Minidoka County, said. "Although I don't think it will be as bad as it was then."
Davis spoke with irrigation district and county highway district officials on Feb. 26 about flooding in the county.
Davis said some roads have washed out and closed and there are numerous areas where water is running across roads making travel extremely hazardous.
"There is sporadic flooding in other low-lying areas in the county," Davis said.
A weather forecast for Wednesday calls for heavy rain, which may extend into Thursday and will likely make the flood conditions worse, he said.
"The silver lining in this is there is not as much snow on the ground as there was in 2016-2017," Davis said. "So we can see a light at the end of the tunnel."
The National Weather Service in Pocatello has issued a flood advisory for Cassia and Minidoka counties until 2:45 p.m. Wednesday due to heavy rain and snowmelt.
The agency advises drivers to be especially cautious at night, when it is harder to recognize flooding dangers. Areas expected to experience flooding include: Burley, Rupert, Heyburn, Oakley, Declo, Albion, Minidoka, Elba, Almo, Acequia, Yale Rest Area, Mt. Harrison, City of Rocks, Idahome, and the Interstate 84/Interstate 86 junction and bridge.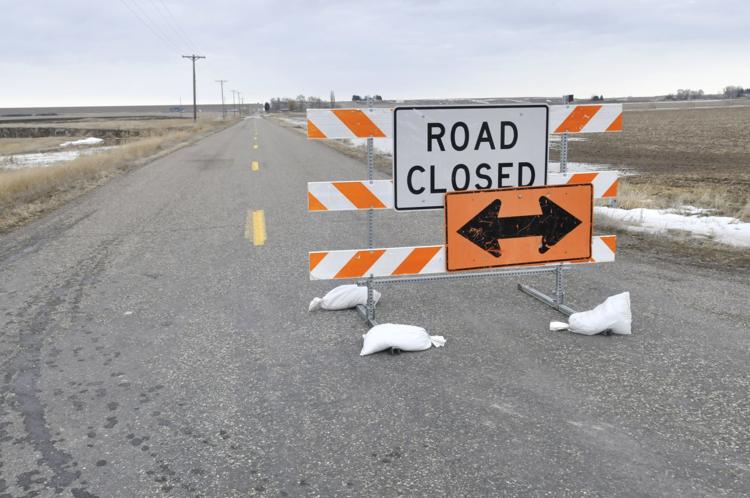 A winter weather advisory has also been issued for a long-duration winter storm in the Lincoln County area, including the Shoshone Lava Beds extending to Craters of the Moon. The advisory will be in effect until 5 p.m. Wednesday.
The National Weather Service warns drivers about slippery road conditions, especially Wednesday morning, and poor visibility due to blowing snow. Up to 4 inches of snow are expected in the Snake River Plain area. Wind gusts will reach 35 miles per hour.
Davis said motorists need to be cautious when driving on roads with water on them.
"Just because a road is open is no guarantee that it is safe to travel on," Davis said.
There are a couple of spots that have flooded in Cassia County on U.S. Highway 30 near Murtaugh, Cassia County Undersheriff George Warrell said.
I-86 at milepost 14 also has water on the road and the Idaho Transportation Department has put up a caution sign in the area, he said.
A week ago there was some reported flooding in Malta in the Jim Sage Mountain area, but it was resolved.
"The flood district got ahead of it and it was taken care of," Warrell said.
Idaho 24 also has a surface water hazard between Baker Road and 400 West Road, 11 to 12 miles east of the Minidoka area, according to the Idaho Transportation Department.
Further north, the U.S. Forest Service Sawtooth Avalanche Center has extended an avalanche warning for all of Blaine County through Thursday morning. Avalanche danger will be extreme as heavy snow and rain hit the area.
Several avalanches have already run to the valley floor, blocking roads and impacting at least two homes south of Ketchum.
U.S. 20 is closed due to drifting snow on the roadway between Airport Lane in Carey and U.S. 93 in Arco.
Idaho 75 is also closed because of snow between Chocolate Gulch Road north of Ketchum and Frenchman Creek Road south of Stanley.