OAKLEY — Lisa Hitt is bringing real-world math into her classroom, and she's earned $20,000 in prizes for the school along the way.
Her efforts have put her at the state level twice in a national contest.
This month she claimed the title of state winner in the Samsung Solve for Tomorrow contest, bringing Oakley High School a $20,000 technology prize. She also gets a chance to build her proposed project with a class of advanced math students and possibly travel to the national contest.
During the company's contest last year, she was named one of five state winners.
"She is innovative with the kids and a good teacher," Oakley High Principal David Wagner said. "And every once-in-a-while, she has a dinosaur costume that she wears in class. She really knows how to motivate the students and I'm very happy to have her here."
Wagner, whose background is also in mathematics, said it is crucial for a teacher to show students how math is used in the real world.
"They have to come out of here understanding how math is used and not with just a bunch of numbers floating around in their heads," he said.
"Kids tend to think math is something they have to do and that it's hard," Hitt said. "I like to change their perception of math."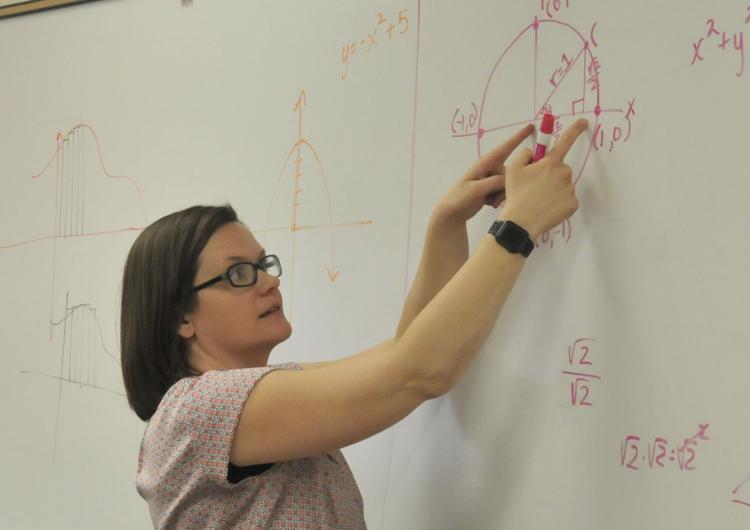 To get her students thinking about real-world math this fall, she challenged the football team's wide receiver to a race on the track, which was videotaped. The students then calculated how much of a head start she would need to keep up with him and then they began figuring out how much difference it would make in the outcome if she lost 40 lbs. of weight.
"So I'm working on losing the weight and we'll have a rematch at the end of the year," she said. "These types of exercises are huge. It's all about the buy-in for the students. If they can't see how it can be applied in the real world they aren't going to be as involved."
For the contest this year, Hitt submitted a plan to build a set of lungs, complete with bronchial tubes, with a 3D printer. The lungs can be used to demonstrate to the students the negative impact on lung capacity that is caused by vaping.
The 3D lung educational solution was inspired by her 13-year-old son, Dylan, after he received a 3D printer at Christmas and used it to print a squid with hinged arms.
Hitt said the project idea came to her after learning that the district's number one cause for suspension is vaping.
"I think the project is going to be really good," calculus student Ethan Baker, 16, said. "I know a lot of people who vape, and I think it will be cool to learn the facts behind it."
The contest required a topic that addressed a community issue or problem.
"I've had her as a teacher since I was a freshman and she's one of the best teachers I've ever had," Baker said.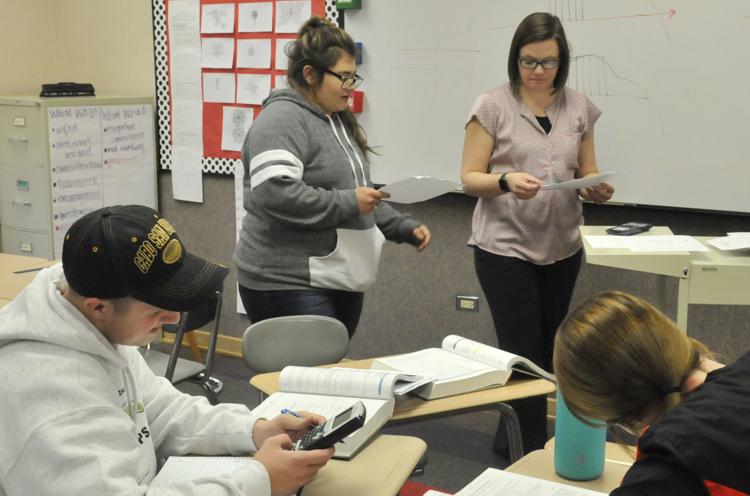 Hitt's project will involve a class of three advanced math students, including Baker, who will use a ballistics gel recipe found online to fill a mold created by the school's 3D printer for the lungs.
"Actually being able to experience something like that for a student makes more of an impact," Hitt said.
The company will supply each state winner with a video technology package that will be used to record the project's construction.
If the project then advances to the top 10 nationwide, Hitt and the three students will travel to the national competition in April.
The location of that contest has not been announced, she said.
"I think the project is going to be awesome," trigonometry student Jazmin Paz, 18, said. "I'm excited to see how it turns out and I hope it will keep younger generations from vaping."
Paz said Hitt really focuses on her students and is "an awesome teacher."
Calculus student Emma Seamons, 17, said she just moved to the area and she likes how Hitt makes sure she understands math concepts. Last year as a state finalist, Hitt's project was based on solving the Oakley dam flooding issue, using student math calculations. Her placement in the contest netted the classroom a Chromebook.
She hopes to be able to use some of the money won this year to buy more laptops for the students and bring the student-to-device ratio closer to one-to-one.