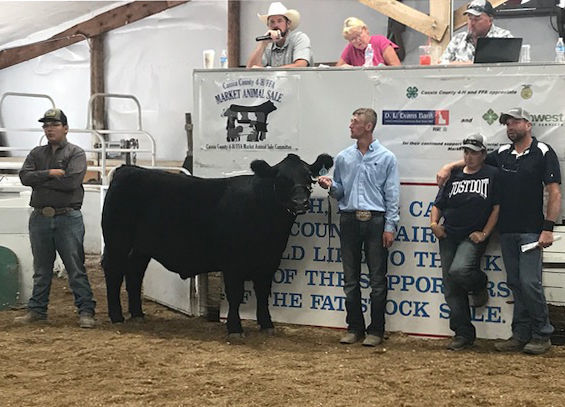 The Cassia County Fair & Rodeo Livestock Sale had a special closing act Aug. 17: The sale of a 4-H steer that belonged to 12-year-old Sean David Loughmiller, who died in an ATV crash while moving cattle this summer.
Joel Packham, extension educator with the University of Idaho Extension Center in Cassia County, said because of the rules governing the prices of the animals during the sale, the steer was taken out of the sale and auctioned alone afterward.
A simple statement was passed out to the crowd about the owner of the steer prior to the sale, David Andreason, one of Sean's co-leaders at the Cassia Creek 4-H Club, said.
After the first person bought the animal, it was donated back and sold again.
"That happened again and again and again," Packham said.
The steer was auctioned 13 times. After the sale ended, the auctioneer continued to take donations by bidders in $1,000, $500 and $100 increments. In all, the event brought in $63,000.
"There was not one crusty old guy at that sale that didn't have tears in his eyes," Packham said.
This was Sean's first year raising a 4-H steer, Andreason said.

"Sean was really apprehensive about the calf at first," Andreason said. "But, once he started leading that calf around he started beaming. He loved that calf."
Sean had previously raised 4-H sheep.
When a discussion came up about someone finishing Sean's 4-H steer after his death, Sean's brother, Ryan Loughmiller, spoke up, said Cami Schumann, agriculture and FFA advisor at Raft River High School.
"Ryan said, 'I can do it. I want to do it,"' Schumann said. "I think it was a way for him to do something for his brother."
Schumann, a friend of the Loughmillers, said Sean's parents have always instilled in their children the importance of finishing projects.
Packham said Sean's parents, Heber and JuliAnn Loughmiller, did not want to participate in the auction.
"They didn't want this. The family just wanted to complete his project," Packham said. "It was the community that needed it. I think it helped the community come to terms with this tragedy."
Andreason said some people who had left the sale came back inside again for the sale of Sean's steer.
"I think it really blessed the community. It was really something to see everyone walking out crying, but you could tell they were happy to do it," Andreason said. "The whole county felt this, not just Elba."
Schumann said it is hard to describe the feeling that was inside the sale barn during the auction.
"It was kind of a special spirit, if you will," she said. "You could tell people were outside of themselves and they were all about helping this family."
In a world where there is so much negativity, hospitality and violence, the act showed the humanity of a community, Schumann said.
"It was enough to give anyone hope that there is still good in this world."
Be the first to know
Get local news delivered to your inbox!